Vaginal progesterone in prevention of preterm labour
Dr. Prativa Sahoo

Junior Resident, Department of Pharmacology, Veer Surendra Sai Institute of Medical Sciences and Research, Burla, Odisha, India

Dr. Nayan Kumar Patel

Assistant Professor, Department of Cardiology, Veer Surendra Sai Institute of Medical Sciences and Research, Burla, Odisha, India

Dr. Ojaswini Patel

Associate Professor, Department of Obstetrics & Genecology, Veer Surendra Sai Institute of Medical Sciences and Research, Burla, Odisha, India

Dr. A.K Panigrahi

Associate Professor, Department of Pharmacology, Veer Surendra Sai Institute of Medical Sciences and Research, Burla, Odisha, India

Dr. S.B. Biswal

Associate Professor, Department of Pharmacology, Veer Surendra Sai Institute of Medical Sciences and Research, Burla, Odisha, India

Dr. Bhabagrahi Rath

HOD, Department of Pharmacology, Veer Surendra Sai Institute of Medical Sciences and Research, Burla, Odisha, India
Keywords:
Gestational age, Preterm birth, Singleton gestation, Vaginal progesterone
Abstract
Introduction: Preterm birth, defined as childbirth occurring at less than 37 completed weeks or 259 days of gestation since the first day of a woman's last menstrual period, is one of the leading causes of neonatal morbidity and mortality. Across 184 countries, the rate of preterm birth ranges from 5% to 18% of babies born. Out of 27 million babies born every year (2018 data ) in India, 3.5 million babies born are premature. Recent literature review has shown that the use of Progesterone reduces risk of preterm birth. But there is little information available regarding the role of Progesterone in preventing preterm labour.
Objectives: Primary objective of the study is to find out the incidence of preterm labour among pregnant women taking vaginal progesterone. Secondary objective is toassess the safety and efficacy of progesterone in feto-maternal outcome.
Methods: This is a cross sectional study where100 prescriptions from IPD of Dept of O&G, VIMSAR, Burla of women who had recently undergone labour with singleton gestation and with previous history of preterm labour were analysed. Incidence of preterm labour among those taking and not taking vaginal progesterone were compared.
Results: There was decreased incidence of preterm labour as there is prolongation mean Gestational age by 9.383 weeks among pregnant women taking vaginal progesterone.
Conclusions: In the present study, women taking vaginal progesterone had significantly lowered incidence preterm birth rate.
Downloads
Download data is not yet available.
References
Lomazzi M, Borisch B, Laaser U. The millennium development goals: experiences, achievements and what's next. Glob Health Action. 2014; 7: 23695.
Steer P. The epidemiology of preterm labour. BJOG. 2005; 112 Suppl 1: 1-3.
Wen SW, Smith G, Yang Q, Walker M. Epidemiology of preterm birth and neonatal outcome. Semin Fetal Neonatal Med. 2004; 9(6): 429-435.
World health Organization. international Statistical classification of Diseases and related health Problems, 10thedition.,Vol. 1, Geneva, 1992
Meis PJ, Klebanoff M, Thom E, Dombrowski MP, Sibai B, Moawad AH, et al; Prevention of recurrent preterm delivery by 17 alpha-hydroxyprogesterone caproate. N Engl J Med. 2003; 348(24): 2379-3285.
Fonseca EB, Celik E, Parra M, Singh M, Nicolaides KH. Progesterone and the risk of preterm birth among women with a short cervix. N Engl J Med. 2007; 357(5): 462-469.
Hassan SS, Romero R, Vidyadhari D, Fusey S, Baxter JK, Khandelwal M, et al; Vaginal progesterone reduces the rate of preterm birth in women with a sonographic short cervix: a multicenter, randomized, double-blind, placebo-controlled trial. Ultrasound Obstet Gynecol. 2011; 38(1): 18-31.DOI: 10.1002/14651858.CD003511.pub2
Bhadra B et al. Roll of progesterone in prevention of pre-term labour among women with short cervix. International medical journal. August 2014;1 (8):451-454.
AlaviA et al; Effect of vaginal progesterone suppository ( 200mg) in preventing preterm labor after the inhibition of uterine contraction : randomised clinical trial . international journal of medical research and health sciences. 2016, 5, 10:21-26.
Garg R et al. Progesterone and prevention of pre-term labour. Indian journal of clinical practice. Vol 25, no 4, September 2014:362-363.
Gupta A et al;Vaginal progesterone in asymptomatic women with short cervical length on ultrasound:is it beneficial .Journal of fetal medicine. June 2015, vol 2, issue 2 , pp69-72
Levine L.; Habitual abortion, a controlled clinical study of Progestational therapy. West J Surg Obstet Gynecol 1964;72:30-36.
El-Zibdeh M.Y; Dydrogesterone in the reduction of recurrent spontaneous abortion. J Steroid biochem Mol biol 2005; 97:431-434.
Wahabi Ha, Abed Althagafi NF, Elawad M, Al Zeidan R; Progestogen for treating threatened miscarriage. Cochrane Database Syst rev 2011;(3):cD005943.DOI: 10.1002/14651858.CD005943.pub3
Haas DM, Ramsey PS. Progestogen for preventing miscarriage. cochrane Database Syst rev. 2009: cD003511.
SwyerGiM, Daley D. Progesterone implantation in habitual abortion. bMJ1953;1:1073-1086.
Goldzieher JW. Double-blind trial of a progestin in habitual abortion. JaMa1964;188:651-654.
Furcron AE, Romero R, Plazyo O, et al;Vaginal progesterone, but not 17alpha-hydroxyprogesterone caproate, has antiinflammatory effects at the murine maternal-fetal interface. Am J Obstet Gynecol 2015;213:846.e1-19.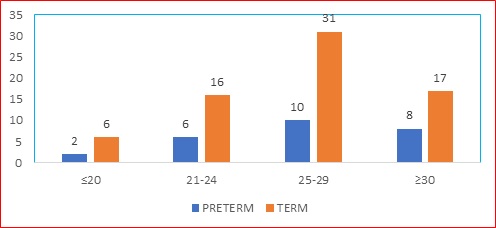 CITATION
DOI: 10.17511/ijmrr.2020.i06.13
How to Cite
1.
Dr. Prativa Sahoo, Dr. Nayan Kumar Patel, Dr. Ojaswini Patel, Dr. A.K Panigrahi, Dr. S.B. Biswal, Dr. Bhabagrahi Rath. Vaginal progesterone in prevention of preterm labour. Int J Med Res Rev [Internet]. 2020Dec.31 [cited 2021Jan.23];8(6):451-6. Available from: https://ijmrr.medresearch.in/index.php/ijmrr/article/view/1225
Copyright (c) 2021 Author (s). Published by Siddharth Health Research and Social Welfare Society
This work is licensed under a Creative Commons Attribution 4.0 International License.