A comparative clinical and echocardiography study of acute myocardial infarction, patients above and below 40 years of age
Dr. Nayan Kumar Patel

Assistant Professor, Department of Cardiology, Veer Surendra Sai Institute Of Medical Sciences And Research, Burla, Odisha, India

Dr. Gouri Oram

Assistant Professor, Department of Medicine, Veer Surendra Sai Institute Of Medical Sciences And Research, Burla, Odisha, India

Dr. Prafulla Kumar Bariha

Assistant Professor, Department of Medicine, Veer Surendra Sai Institute Of Medical Sciences And Research, Burla, Odisha, India
Keywords:
Coronary Artery Disease (CAD), Young AMI, Echocardiography in AMI
Abstract
ABSTRACT
BACKGROUND
Myocardial infarction is one of the major health problems in both developed and developing countries and is the leading cause of premature death among adults in developed countries while its incidence is on an increase in developing countries as well, including India. Coronary Artery Disease (CAD) in young (<40 years) has aroused considerable interest in recent years.
OBJECTIVES.
To determine the prevalence of various risk factors in young AMI patients and to compare them with that of older patients. To compare the clinical presentation, course and complications among both the groups.
METHODS:
Clinical Criteria : Severe excruciating retrosternal pain with or without radiation to upper extremities, abdomen, back, neck or jaw, not relieved by rest, lasting more than 30 minutes and frequently for a number of hours suggested the diagnosis of MI. Where the pain was not a prominent feature other features like severe diaphoresis, syncope, shock, sudden dyspnoea, and sudden onset of pulmonary oedema in the absence of other known cause of acute left ventricular failure were taken into consideration. When any of these features including a prolonged retrosternal pain especially in a person with known coronary risk factors were present the possibility of acute MI was strongly suspected and further laboratory investigations were done to settle the diagnosis.
RESULTS & DISCUSSION
AMI was found to have male preponderance with M:F ratio of 9:1 and 2:8:1 in group I & II patients respectively. Smoking habit was found to be the commonest risk factors. Equal patients in each group had TC/HDL-C ratio in excess of 4.5.
Anterior wall infarction was the commonest form of infraction in both Groups. Among the early complications, the occurrence of heart failure was found to be significantly high in Group II patients. Other complications such as arrhythmias, & conduction defects, shock, pericarditis, post infarction angina, thromboembolic episodes & mitral regurgitation did not differ significantly in incidence when both groups were compared. Heart failure occurred in significantly higher percentage in group II patients than in Group I patients.  
Anterior apical, septal, anterolateral, inferior, basal & posterior, wall motion abnormalities were found in both groups. Death was more in Group II patients during early hospitalization period.
CONCLUSION:
In the present study it is clearly evident that the natural course, extent of ventricular dysfunction arrythmias / wall motion abnormalities/ mortality in acute myocardial infarction bears many similarity in both younger and older patient population; but not in all aspects. Family history of coronary heart disease and obesity may be more associated with younger and older patient groups respectively while incidence of heart failure in older patients are significantly higher when compared with that is seen in younger patients.
Key words: Coronary Artery Disease (CAD), Young AMI, Echocardiography in AMI
Downloads
Download data is not yet available.
References
Underwood DA, Proudfit WL, Lim J, MacMillan JP. Symptomatic coronary artery disease in patients aged 21 to 30 years. Am J Cardiol. 1985;55(6):631-634. doi: 10.1016/0002-9149(85)90126-2.
Khalilulla M; Coronary artery disease: the angiographic profile : Indian Heart J. 1983;35(4):197-199. doi: 10.1016/j.ihj.2012.07.001.
Glover MU, Kuber MT, Warren SE, Vieweg WV. Myocardial infarction before age 36: risk factor and arteriographic analysis. Am J Cardiol. 1982;49(7):1600-1603. doi: 10.1016/0002-9149(82)90234-X.
Bergstrand R, Vedin A, Wilhelmsson C, Wallin J, Wedel H, Wilhelmsen L. Myocardial infarction among men below age 40. Heart. 1978;40(7):783-788. doi: 10.1136/hrt.40.7.783.
Truett J, Cornfield J, Kannel W. A multivariate analysis of the risk of coronary heart disease in Framingham. J Chronic Dis. 1967;20(7):511-524. doi: 10.1016/0021-9681(67)90082-3.
Pahlajani DB, Chawla MH, Kapashi KA. Coronary artery disease pattern in the young. J Assoc Physician India. 1989;37(5):312-314.
Gohlke H, Stürzenhofecker P, Thilo A, Droste C, Görnandt L, Roskamm H. Coronary angiographic findings and risk factors in postinfarction patients under the age of 40. InMyocardial infarction at young age 1981 (pp. 61-77). Springer, Berlin, Heidelberg. doi: 10.1007/978-3-642-68294-0_10.
Virmani, R. & Mc. Allister, H.A.: "Myocardial infarction at young age". Ed. H. Roskamm, 1981;92-103. doi: 10.1007/978-3-642-68294-0_13.
Gertler and white; Coronary Heart Disease in Young Adults: Science. 1954;120(3125):835-836. doi: 10.1126/science.120.3125.835-a.
Uhl GS, Farrell PW. Myocardial infarction in young adults: risk factors and natural history: Am Heart J. 1983;105(4):548-553. doi: 10.1016/0002-8703(83)90476-3.
Atkins JM, Matthews OA, Blomqvist CG, Mullins CB. Incidence of arrhythmias induced by isometric and dynamic exercise. Heart. 1976 May 1;38(5):465-471. doi: 10.1136/hrt.38.5.465.
Garg R, Yusuf S, Bussmann WD, Sleight P, Uprichard A, Massie B, et al. Overview of randomized trials of angiotensin-converting enzyme inhibitors on mortality and morbidity in patients with heart failure. Jama. 1995 May 10;273(18):1450-1456. doi: 10.1001/jama.1995.03520420066040.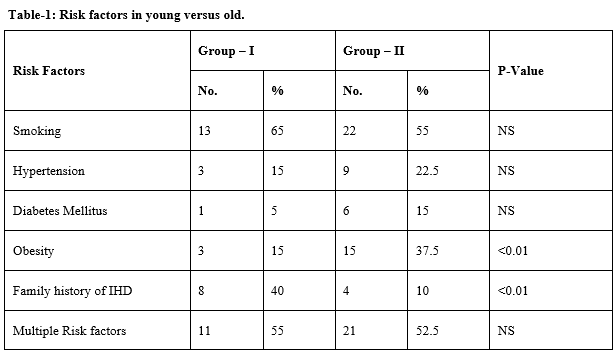 CITATION
DOI: 10.17511/ijmrr.2020.i06.06
How to Cite
1.
Dr. Nayan Kumar Patel, Dr. Gouri Oram, Dr. Prafulla Kumar Bariha. A comparative clinical and echocardiography study of acute myocardial infarction, patients above and below 40 years of age. Int J Med Res Rev [Internet]. 2020Dec.31 [cited 2021Jan.23];8(6):410-5. Available from: https://ijmrr.medresearch.in/index.php/ijmrr/article/view/1223
Copyright (c) 2021 Author (s). Published by Siddharth Health Research and Social Welfare Society
This work is licensed under a Creative Commons Attribution 4.0 International License.