Pattern of admissions into the newborn unit of university of Uyo Teaching Hospital, Nigeria
Mkpouto U. Akpan

Department of Paediatrics, University of Uyo Teaching Hospital, Uyo, Akwa-Ibom State, Nigeria

Dr Eno E. Nyong

Department of Paediatrics, University of Uyo Teaching Hospital, Uyo, Akwa-Ibom State, Nigeria
Keywords:
Morbidity, Mortality, University of Uyo teaching hospital, Neonates
Abstract
Background: Neonatal conditions have been noted to contribute significantly to under-five mortality rate. Knowledge of its pattern in our environment will help in planning for improved health care delivery.
Aim: To determine the morbidity and mortality patterns of patients admitted into the neonatal unit of the University of Uyo Teaching Hospital, Nigeria.
Methods: A retrospective analysis of the medical records of patients admitted into the neonatal unit of the University of Uyo Teaching Hospital over a period of twelve months from 1st of January, 2011 to 31st of December, 2011 was carried out. Information extracted from the records included age at presentation, gender, duration of hospitalisation, main diagnosis, and outcome.
Results: A total of 997 neonates were admitted during the period of review. The male to female ratio was 1.1:1 in favour of the males (529:468). Of these, the commonest diagnoses were: neonatal sepsis 253(25.38%), prematurity 188(18.86%), neonatal jaundice 181(18.15%) and birth asphyxia 137(13.74%). Mean duration of admission was9 days. The overall mortality rate was 12.9% with a male to female death ratio of1.3:1. Gender-related fatality rate was higher in males than females at 13.8% and 12.0% respectively. Majority (80.6%) of the deaths occur among the out-born while (43.4%) occur within 24 hours of admission.
Conclusion: Most of the neonatal deaths were from preventable diseases. Good antenatal care is advocated for all pregnant women. This will help in screening, identification and timely referral of high risk pregnant women from primary health facilities to secondary and tertiary health facilities.
Downloads
Download data is not yet available.
References
Lerberghe WV, Manuel A, Matthews Z, Wolfheim CI. Make every mother and child count. World Health Report, 2005. Genevas: World Health Organization, WHO Press; 2005. P9.
Lawn JE, Cousens S, Zupan J. Lancet Neonatal Survival Steering Team. 4 million neonatal deaths: when? Where? Why? Lancet. 2005 Mar 5-11;365(9462):891-900.
Lawn JE, Cousens SN, Wilczynska K. Estimating the causes of four million neonatal deaths in the year2000: statistical annex. In: The world health report 2005. Geneva: WHO; 2005.
Ekwochi U, Ndu IK, Nwokoye IC, Ezenwosu OU, Amadi OF, Osuorah D1. Pattern of morbidity and mortality of newborns admitted into the sick and special care baby unit of Enugu State University Teaching Hospital, Enugu state. Niger J ClinPract. 2014 May-Jun;17(3):346-51. doi: http://dx.doi.org/10.4103/1119-3077.130238.
Eke CB, Ezomike UO, Korie FC, Chukwudi N, Ukpabi IK. Pattern of neonatal mortality in a tertiary health facility in Umuahia, South East, Nigeria. Int J Trop Disease and Health. 2014; 4(2): 136-46. DOI: 10.9734/IJDH/2014/4985.
Torma BO, Ige OO, AbokII, Onwuanaku C, Abah RO. Pattern of neonatal admissions and outcome in a tertiary institution in north central Nigeria. J Med Trop. 2013; 15(2): 121-5.
Okechukwu AA, Achonwa A. Morbidity and mortality patterns of admissions into the Special Care Baby Unit of University of Abuja Teaching Hospital, Gwagwalada, Nigeria. Niger J ClinPract. 2009 Dec;12(4):389-94.
Adebami OJ, Joel-Medewase AVI, Oyedeji OA, Oyedeji GA. A review of neonatal admissions in Osogbo, South-western Nigeria. Nig Hosp Pract. 2010; 5(3-4): http://dx.doi.org/10.4314/nhp.v5i3-4.57848.
Southgate WM, Pittard WB. Classification and physical examination of the newborn infant in: Klaus and Fanaroff, eds. Care of the high risk neonates, 5th ed. Philadelphia. W. B. Saunders company; 2001: pp 100-29.
Eke EU, Modupe OO. Pattern of diseases and care outcomes of neonates admitted in Special Care Baby Unit of University College Hospital, Ibadan, Nigeria from 2007 to 2011. IOSR J of Nursing and Health Sci. 2015;4(3): 62-71. DOI: 10. 9790/1959-04316271.
Rakholia R, Rawat V, Bano M, Singh G. Neonatal morbidity and mortality of sick newborns admitted in a teaching hospital of Uttarakhad. Chrismed J Health and Research. 2014; 1(4): 228-34.
Salem M, Ali M, Anwer J, Babar MI, Rafi M, Mahamood R et al. Clinical audit of neonatal admissions in a tertiary care hospital. JSZMC 2011; 2(4): 231-35.
Doctor AV, Bairagi R, Findley SE, Helleringer S, Dahiru T. Northern Nigeria Maternal, Newborn and Child Health Programme: Selected analyses from population-based baseline survey. The open demography Journal 2011; 4: 11-21.
Aijaz N, Huda N, Kauzar S. Disease burden of NICU at a tertiary care hospital, Karachi. J Dow university of Health Sciences Karachi. 2012; (6)1: 32-5.
Orimadegun AE, Akinbami FO, Tongo OO, Okereke JO. Comparison of neonates born outside and inside hospitals in a children emergency unit, southwest of Nigeria. PediatrEmergCare. 2008 Jun;24(6):354-8. doi: https://doi.org/10.1097/PEC.0b013e318177a73c.
Ugwu GI. Pattern of morbidity and mortality in the newborn special care unit in a tertiary institution in the Niger Delta region of Nigeria: A prospective study. Glob Adv Res J Med Sci. 2012; 1: 133-8.
Omoigberale AI, Sadoh WE, Nwaneri DU. A4year review of neonatal outcome at the University of Benin Teaching Hospital, Benin City. Niger J ClinPract. 2010; 13: 21-5.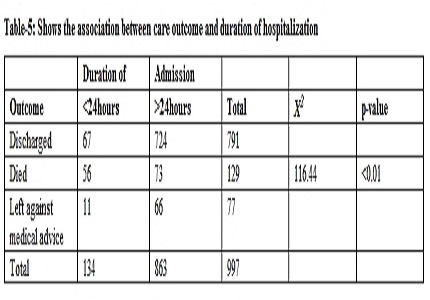 CITATION
DOI: 10.17511/ijmrr.2017.i09.04
How to Cite
1.
U. Akpan M, Nyong EE. Pattern of admissions into the newborn unit of university of Uyo Teaching Hospital, Nigeria. Int J Med Res Rev [Internet]. 2017Sep.30 [cited 2021Jun.18];5(9):851-6. Available from: https://ijmrr.medresearch.in/index.php/ijmrr/article/view/920