Role of CB-NAAT in diagnosing Mycobacterial tuberculosis and rifampicin resistance in tubercular peripheral lymphadenopathy
Dr. Krishna Gopal Singh

P.G Resident, Department of Pulmonary Medicine, People College of Medical Sciences RC, Bhanpur, Bhopal, MP, India

Dr Sanjay Tandon

Professor and Head, Department of Pulmonary Medicine, People College of Medical Sciences RC, Bhanpur, Bhopal, MP, India

Dr S.T Nagdeote

Professor, Department of Pulmonary Medicine, People College of Medical Sciences RC, Bhanpur, Bhopal, MP, India

Dr. Kapil Sharma

Assistant Professor, Department of Pulmonary Medicine, People College of Medical Sciences RC, Bhanpur, Bhopal, MP, India

Dr. Ajay Kumar

P.G Resident, Department of Pulmonary Medicine, People College of Medical Sciences RC, Bhanpur, Bhopal, MP, India
Keywords:
Extra Pulmonary Tuberculosis (EPTB), Cartridge Based Nucleic Acid Amplification Test (CB-NAAT), Multi Drug Resistant Tuberculosis (MDR-TB), Fine needle aspiration cytology (FNAC)
Abstract
Introduction: Diagnosis of Extra Pulmonary TB (EPTB) remains a challenge. This study assessed the applicability of CB-NAAT in early diagnosis of EPTB, especially peripheral lymphadenopathy and early identification of MDR-TB in TB lymphadenopathy.
Material & Method: This was a prospective, cross sectional study, carried out on all patients of age group 10 to 80 years, who were suspected cases of tubercular peripheral lymphadenopathy, visiting the OPD of the Department of Pulmonary Medicine, People's Hospital, Bhopal, over a period of 1 year 6 months. FNA of peripheral lymph nodes of 57 patients was sent for cytology and CB-NAAT.
Result: This study showed that statistical difference in diagnostic yield of FNAC (47/57 i.e. 82.4%) and CB-NAAT (44/57 i.e. 77.19%) in tubercular peripheral lymphnode sample was not significant. This implies that there was not much difference in these two test results. There was no rifampicin resistance in the population studied.
Conclusion: CB-NAAT did not diagnose more cases of TB-LN than FNAC.
Downloads
Download data is not yet available.
References
Ardizzoni E, Fajardo E, Saranchuk P, Casenghi M, Page AL, Varaine F, Kosack CS, Hepple P. Implementing the Xpert® MTB/RIF Diagnostic Test for Tuberculosis and Rifampicin Resistance: Outcomes and Lessons Learned in 18 Countries. PLoS One. 2015 Dec 15;10(12):e0144656. doi: https://doi.org/10.1371/journal.pone.0144656. eCollection 2015.
Lee JY. Diagnosis and treatment of extrapulmonary tuberculosis. Tuberc Respir Dis (Seoul). 2015 Apr;78(2):47-55. doi: https://doi.org/10.4046/trd.2015.78.2.47. Epub 2015 Apr 2.
Aljafari AS, Khalil EA, Elsiddig KE, El Hag IA, Ibrahim ME, Elsafi ME, Hussein AM, Elkhidir IM, Sulaiman GS, Elhassan AM. Diagnosis of tuberculous lymphadenitis by FNAC, microbiological methods and PCR: a comparative study. Cytopathology. 2004 Feb;15(1):44-8.
Louis J.Ligthelm Xpert MTB/RIF for Rapid Diagnosis of Tuberculous Lymphadenitis from Fine-Needle-Aspiration Biopsy Specimens. Journal of clinical microbiology, Nov. 2011, p. 3967–3970 Vol. 49, No. 110095-1137. doi: https://doi.org/10.1128/JCM.01310-11.
Catherina CB, Rapid molecular detection of TB and Rifampicin resistance, NEJM, 2010, Sep; 363:11. Doi: https://doi.org/10.1056/NEJMoa0907847.
Tadesse M, Abebe G, Abdissa K, Aragaw D, Abdella K, Bekele A, Bezabih M, Apers L, de Jong BC, Rigouts L. GeneXpert MTB/RIF Assay for the Diagnosis of Tuberculous Lymphadenitis on Concentrated Fine Needle Aspirates in High Tuberculosis Burden Settings. PLoS One. 2015 Sep 14;10(9):e0137471. doi: https://dx.doi.org/10.1371%2Fjournal.pone.0137471. eCollection 2015.
Dandapat MC. Diagnosis of tubercular lymphadenitis by fine needle aspiration cytology. Indian J Tuberc 1987; 37: 139-142.D.
Golden MP, Vikram HR. Extrapulmonary tuberculosis: an overview. Am Fam Physician. 2005 Nov 1;72(9):1761-8.
D Vijay sekaran. Extra pulmonary tuberculosis an review. Indian journal of Pediatrics, 2006; vol.23.
Nayak S, Acharjya B. Mantoux test and its interpretation. Indian Dermatol Online J. 2012 Jan;3(1):2-6. doi: https://dx.doi.org/10.4103%2F2229-5178.93479.
Zuber Ahmed. Antimicrobial drug resistance. Journal, Indian Academy of Clinical Medicine 2003; Oct. Vol. 4, No. 4.
R. K. Narang. Place of fine needle aspiration cytology in the diagnosis of lymphadenopathy. Ind. J. Tub. 1990, 37, 29.
Malakar ILN. Aspiration Cytology for the Diagnosis of Tuberculous Lymphadenopathies: A Five-year Study. Ind. J. Tub., 1991, 38, 17.
Denkinger CM, Schumacher SG, Boehme CC, Dendukuri N, Pai M, Steingart KR. Xpert MTB/RIF assay for the diagnosis of extrapulmonary tuberculosis: a systematic review and meta-analysis. Eur Respir J. 2014 Aug;44(2):435-46. doi: https://doi.org/10.1183/09031936.00007814. Epub 2014 Apr 2.
Mark pinto Nicole Molecular method in node. Current Respiratory Medicine Reviews, 2013, Vol. 9, No. 3.
Pamra S. Cervical lymphadenopathies. Indian J Tuberc 1987; 96-100.
Ergete W. Acid fast bacilli in aspiration smears from tuberculous patients. Ethiop J Health Dev 2000; 14(1): 99-104.
Purohit MR. Gender differences in the clinical diagnosis of tuberculous lymphadenitis - a hospital-based study from central India. International Journal of Infectious Diseases 2009 Sep;13(5): 600-05.
Rajsekaran S. Tuberculous cervical lymphadenitis in HIV positive and negative patients. Indian J Tuberc 2001; 48: 201-4.
Ahmad SS. Incidence of tuberculosis from study of fine needle aspiration cytology in lymphadenopathy and acid fast staining. Ind J Community Medicine 2005; 30(2).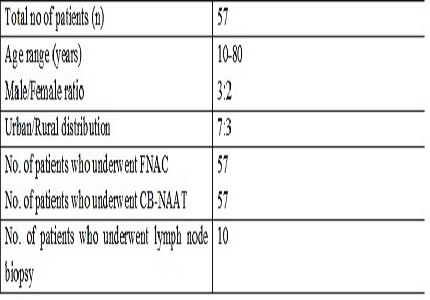 CITATION
DOI: 10.17511/ijmrr.2017.i03.05
How to Cite
1.
Singh KG, Tandon S, Nagdeote S, Sharma K, Kumar A. Role of CB-NAAT in diagnosing Mycobacterial tuberculosis and rifampicin resistance in tubercular peripheral lymphadenopathy. Int J Med Res Rev [Internet]. 2017Mar.31 [cited 2023Sep.26];5(3):242-6. Available from: https://ijmrr.medresearch.in/index.php/ijmrr/article/view/831