Role of Information Communication and Technology (ICT) in the Treatment of Brain Ailments
Dr Narayani Srivastav

Gujarat Energy Research and Management Institute (GERMI), Gandhinagar, Gujarat, India

Dr Shabana Urooj

School of Engineering, Gautam Buddha University, Greater Noida, Uttar Pradesh, India
Keywords:
Cognitive functions, Synapses, Neuro-informatics, Neuromorphic technology, Connectome
Abstract
The emphasis on understanding the human brain and its functioning has been captivating since ages. Rising to this challenge, it gives us an insight of who we are. Significant and profound research is taking place in medical field to understand the structure and functioning of the brain in micro detailing aspect. There are many techniques and methodologies used in the study and diagnosis of brain ailments. ICT has proven to be a strong and supportive hand in this field for better understanding and analysis. In this paper the role of ICT in the field of neuro-sciences has been elaborated.
Downloads
Download data is not yet available.
References
Black AD, Car J, Pagliari C, Anandan C, Cresswell K, Bokun T, McKinstry B, Procter R, Majeed A, Sheikh A. The impact of eHealth on the quality and safety of health care: a systematic overview. PLoS Med. 2011 Jan 18;8(1):e1000387. doi: https://doi.org/10.1371/journal.pmed.1000387.
Lucas H. Information and communications technology for future health systems in developing countries. Soc Sci Med. 2008 May;66(10):2122-32. doi: https://doi.org/10.1016/j.socscimed.2008.01.033. Epub 2008 Mar 14.
Haux R, Howe J, Marschollek M, Plischke M, Wolf K-H. Health-enabling technologies for pervasive health care: on services and ICT architecture paradigms. Informatics Heal Soc Care [Internet]. 2008 Jan 12 [cited 2017 Feb 6];33(2):77–89. Available from: http://www.tandfonline.com/doi/full/10.1080/17538150802127140.
Culham JC, Kanwisher NG. Neuroimaging of cognitive functions in human parietal cortex. Curr Opin Neurobiol. 2001 Apr;11(2):157-63.
Sporns O, Zwi JD. The small world of the cerebral cortex. Neuroinformatics. 2004;2(2):145-62.
Goel S, Goel SA, Bhavsar NM, Makwana H, Lil NA, Patel PR. Epidemiology and patterns of lower limb injuries at a tertiary care hospital in Ahmedabad. Int J Med Res Rev [Internet]. 2015 [cited 2016 Dec 31];3(5). Available from: http://medresearch.in/index.php/IJMRR/article/view/294
Goel S, Modi H, Dave B, Patel P. Socio-Economic Impact of Cervical Spinal Cord Injury Operated in Patients with Lower Income Group. Glob Spine J [Internet]. 2016 Apr 4 [cited 2016 Dec 31];6(S 01):GO264. Available from: http://www.thieme-connect.de/DOI/DOI?10.1055/s-0036-1582921.
Kim HJ, Kang KT, Park SC, Kwon OH, Son J, Chang BS, Lee CK, Yeom JS, Lenke LG. Biomechanical advantages of robot-assisted pedicle screw fixation in posterior lumbar interbody fusion compared with freehand technique in a prospective randomized controlled trial-perspective for patient-specific finite element analysis. Spine J. 2016 Nov 17. pii: S1529-9430(16)31094-4. doi: https://doi.org/10.1016/j.spinee.2016.11.010. [Epub ahead of print]
Niehaus R, Schilter D, Fornaciari P, Weinand C, Boyd M, Ziswiler M, Ehrendorfer S. Experience of total knee arthroplasty using a novel navigation system within the surgical field. Knee. 2017 Jan 20. pii: S0968-0160(16)30189-2. doi: https://doi.org/10.1016/j.knee.2016.10.021. [Epub ahead of print]
Goel SA, Modi HN, Desai YJ, Thaker HP. A Rare Case of Pheohyphomycotic Lumbar Spondylodiscitis Mistreated as Koch's Spine. Case Rep Orthop. 2016;2016:8705204. doi: https://doi.org/10.1155/2016/8705204. Epub 2016 Dec 18.
Duan Q, Du Z, Yu H, Wang Y, Dong W. Error Analysis and Experimental Study of a Bi-Planar Parallel Mechanism in a Pedicle Screw Robot System. Sensors [Internet]. 2016 Nov 30 [cited 2017 Feb 6];16(12):2022.
Phan K, Sgro A, Maharaj MM, D'Urso P, Mobbs RJ. Application of a 3D custom printed patient specific spinal implant for C1/2 arthrodesis. J Spine Surg. 2016 Dec;2(4):314-318. doi: https://doi.org/10.21037/jss.2016.12.06.
Seth AK, Edelman GM. ConsciousnessConsciousness and ComplexityComplexity. In: Encyclopedia of Complexity and Systems Science [Internet]. New York, NY: Springer New York; 2009 [cited 2017 Feb 6]. p. 1424–43. Available from: http://link.springer.com/10.1007/978-0-387-30440-3_94.
H.L.Atwood. The Biology of Crustacea: Volume 3: Neurobiology, Structure and Function - Gerard Meurant - Google Books [Internet]. [cited 2016 Dec 31]. Available from: https://books.google.co.in/books?hl=en&lr=&id=y6d7oKo700gC&oi=fnd&pg=PA105&dq=synapses+and+neurotransmitters&ots=0y0nqe_6Zb&sig=-aizI0LitFKy5-as0TGO1yB8zV4#v=onepage&q=synapsesandneurotransmitters&f=false
Shepherd GM, Mirsky JS, Healy MD, Singer MS, Skoufos E, Hines MS, Nadkarni PM, Miller PL. The Human Brain Project: neuroinformatics tools for integrating, searching and modeling multidisciplinary neuroscience data. Trends Neurosci. 1998 Nov;21(11):460-8.
Plakitsi K. Rethinking the Role of Information and Communication Technologies (ICT) in Science Education. In: Activity Theory in Formal and Informal Science Education [Internet]. Rotterdam: SensePublishers; 2013 [cited 2016 Dec 31]. p. 57–81. Available from: http://link.springer.com/10.1007/978-94-6091-317-4_4
Baltes PB, Lindenberger U. Emergence of a powerful connection between sensory and cognitive functions across the adult life span: a new window to the study of cognitive aging? Psychol Aging. 1997 Mar;12(1):12-21.
ROCO MC. Science and Technology Integration for Increased Human Potential and Societal Outcomes. Ann N Y Acad Sci [Internet]. 2004 May [cited 2016 Dec 31];1013(1):1–16. Available from: http://doi.wiley.com/10.1196/annals.1305.001.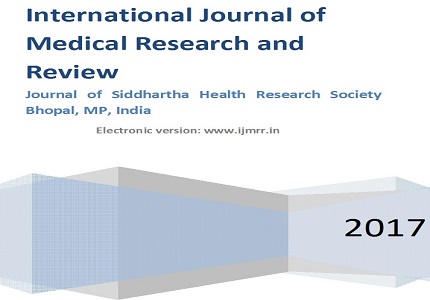 CITATION
DOI: 10.17511/ijmrr.2017.i02.04
How to Cite
1.
Srivastav N, Urooj S. Role of Information Communication and Technology (ICT) in the Treatment of Brain Ailments. Int J Med Res Rev [Internet]. 2017Feb.28 [cited 2021Jun.19];5(2):119-23. Available from: https://ijmrr.medresearch.in/index.php/ijmrr/article/view/826