Awareness of palliative care among general practioners of Bhopal: a cross sectional study
Dr Roopesh Jain

Associate Professor of Anaesthesiology, LN Medical college, Bhopal, MP, India

Dr Bhupendra Kumar Ratre

Associate Professor of Medicine, LN Medical college, Bhopal, MP, India

Dr Narmada Prasad Patel

Associate Professor of Medicine, LN Medical college, Bhopal, MP, India
Keywords:
Palliative care, Hospice, Analgesia, Terminally ill, Quality of life
Abstract
Introduction: Palliative medicine is one of the developing medical specialities. This study was undertaken to enquire about the level of awareness regarding various aspects of palliative care among general practitioners of city of Bhopal.
Material and method: This study was undertaken with the help predesigned questionnaire among the general practioners enquiring them about various aspects of Palliative medicine.
Results: The opinion about diseases requiring palliative care varied to large extent. Majority of subject reported pain control as the main objective of palliative care. There were varied response to various other aspects of palliative care but majority had considered it important.
Discussion: Palliative care is an important aspect of comprehensive care which needs to be given to terminally ill patients. Awareness regarding same variable even among doctors and improved awareness through various means is essential to improve quality of life of patients and their families facing the problems associated with life-threatening illness.
Downloads
Download data is not yet available.
References
Geneva: World Health Organization; 2007. Cancer Control: Knowledge into Action: WHO Guide for Effective Programmes: Module 3: Early Detection.
Riley J. The General Medical Council and the right to specialist palliative care. Palliat Med. 1997;11:317–18.
London: National Health Services; 2000. Manual of Cancer Services Standard.
Sureshkumar K, Rajagopal MR. Palliative care in Kerala. Problems at presentation in 440 patients with advanced cancer in a south Indian state. Palliat Med. 1996 Oct;10(4):293-8.
Saunders C. London: Edward Arnold; 1984. Appropriate treatment, appropriate death: The management of terminal malignant disease.
Jarrett N, Payne S, Turner P, Hillier R. 'Someone to talk to' and 'pain control': what people expect from a specialist palliative care team. Palliat Med. 1999 Mar;13(2):139-44.
Waldron D, O'Boyle CA, Kearney M, Moriarty M, Carney D. Quality-of-life measurement in advanced cancer: assessing the individual. J Clin Oncol. 1999 Nov;17(11):3603-11.
Barnett M. Netherlands: The Hague; 2003. Apr 3rd, Lecture at 8th Congress of European Association of Palliative care.
Waitzkin H, Stoeckle JD. The communication of information about illness. Clinical, sociological, and methodological considerations. Adv Psychosom Med. 1987;8:180–215.
Buckman R. 2nd ed. London: Oxford University Press; 1999. Communication in palliative care: A practical guide. Oxford Textbook of Palliative Medicine.
Weisman A. New York: McGraw-Hill; 1979. Coping with cancer.
Penson J. A hope is not a promise: fostering hope within palliative care. Int J Palliat Nurs. 2000 Feb;6(2):94-8.
Wilson-Barnett J, Richardson A. London: Oxford University Press; 1999. Nursing research; pp. 98–104.
Sykes NP, Pearson SE, Chell S. Quality of care of the terminally ill: The carers' perspective. Palliative.1992;6:227–36.
Geneva: WHO; 1986. World Health Organisation. Cancer pain relief.
Dwyer L. Palliative medicine in India. Palliat Med. 1997 Nov;11(6):487-8.
Larue F, Colleau SM, Fontaine A, Brasseur L. Oncologists and primary care physicians' attitudes toward pain control and morphine prescribing in France. Cancer. 1995 Dec 1;76(11):2375-82.
Zenz M, Zenz T, Tryba M, Strumpf M. Severe undertreatment of cancer pain: a 3-year survey of the German situation. J Pain Symptom Manage. 1995 Apr;10(3):187-91.
Takeda F. Results if filed-testing in Japan of the WHO draft interim guidelines on the relief of cancer pain. Pain Clin. 1986;1:83.
Fishman B. The treatment of suffering in patients with cancer pain. In: Foley K, Bonica J, Ventafridda V, editors. Advances in pain research and therapy. Vol. 16. New York: Raven Press; 1990. pp. 301–16.
Spilka B, Spangler JD, Nelson CB. Spiritual support in life threatening illness. J Relig Health. 1983 Jun;22(2):98-104. doi: https://doi.org/10.1007/BF02296390.
Schrijvers D, Joosens E, Vandebroek J, Verhoeven A. The place of death of cancer patients in Antwerp. Palliat Med. 1998 Mar;12(2):133-4.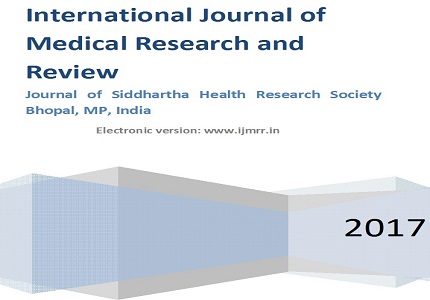 CITATION
DOI: 10.17511/ijmrr.2017.i02.08
How to Cite
1.
Jain R, Kumar Ratre B, Prasad Patel N. Awareness of palliative care among general practioners of Bhopal: a cross sectional study. Int J Med Res Rev [Internet]. 2017Feb.28 [cited 2021Jun.19];5(2):144-8. Available from: https://ijmrr.medresearch.in/index.php/ijmrr/article/view/816