Effect of progressive muscle relaxation on post-operative analgesia
Dr Ms. Rajita Devi

Lecturer, Medical Surgical Nursing, College of Nursing, Hayat Institute of Nursing Education, Hayat Hospital, Guwahati, Assam, India

Dr. Hiranya Kumar Saharia

Anaesthesiology, Assistant Professor, Anaesthesiology and Critical Care, Gauhati Medical College, Guwahati, Assam, India
Keywords:
Abdominal surgery, Post-operative pain, Numerical pain rating scale, Progressive muscle relaxation
Abstract
Background: Postoperative pain begins with surgical trauma, the intensity reduces gradually and ends with tissue recovery. Effective pain management is essential to minimize unnecessary distress and potential complications.
Aim: The study aimed to assess the effect of progressive muscle relaxation technique on post-operative analgesia in patients undergoing abdominal surgery.
Materials and Methods: Evaluative research approach, quasi experimental time series design and simple random sampling technique were used to select 20 samples in experimental and control group respectively.
Results: Progressive muscle relaxation was the only influencing factor on reducing pain on 1st and 2nd post-operative day and no significant association was found between the research variables and level of pain. Mean arterial pressure was positively correlated with level of pain (<0.05).
Conclusion: Progressive muscle relaxation technique was effective in reducing post-operative pain and the results of this study can be incorporated in surgical units for proper management of post-operative analgesia.
Downloads
Download data is not yet available.
References
Lewis, Heitkemper, Dirksen, O'Brien, Bucher. Medical-Surgical Nursing. Elsevier, a division of Reed Elsevier India Pvt. Ltd. 2011, pages: 109.
Mackintosh C. Assessment and management of patients with post-operative pain. Nursing Standard 2007;22:5, 49-55. Available from http://www.uptodate.com/contents/management-of-postoperative-pain
http://spradlinbodyworks.wordpress.com/2013/10/14/abdominal-surgery-statistics/
Arslan & Çelebioğl. Level of post-operative pain after abdominal surgery. J Res Med Sci. 2013; 18: 172–177. Available from: http://www.medscape.com/viewarticle/759618_2.
McCaffery M, Pasero C. Teaching patients to use a numerical pain-rating scale. Am J Nurs. 1999 Dec;99(12):22.
Chanif C, Wongchan P, Wimonrat C. Acute Postoperative Pain of Indonesian Patients after Abdominal Surgery. medianurs. 2012;2: 409- 420. Available from http://ejournal.undip.ac.id/index.php/medianers/article/view/3986
Jeffrey L. A, Connie C, Mehta S.S, and Tong J. Gan. Postoperative Pain Experience: Results from a National Survey Suggest Postoperative Pain Continues to Be Undermanaged. Anesth Analg 2003;97:534–40. Available from http://clinicaldepartments.musc.edu/medicine/education/residency/Acute%20pain%20Apfelbaum.pdf
Topcu SY, Findik UY. Effect of relaxation exercises on controlling postoperative pain. Pain Manag Nurs. 2012 Mar;13(1):11-7. doi: https://doi.org/10.1016/j.pmn.2010.07.006. Epub 2010 Sep 21.
Good M, Stanton-Hicks M, Grass JA, Cranston Anderson G, Choi C, Schoolmeesters LJ, Salman A. Relief of postoperative pain with jaw relaxation, music and their combination. ) Pain. 1999 May;81(1-2):163-72.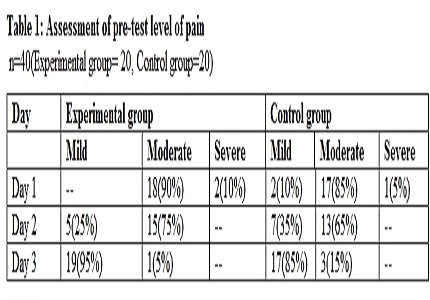 CITATION
DOI: 10.17511/ijmrr.2017.i02.03
How to Cite
1.
Devi R, Kumar Saharia H. Effect of progressive muscle relaxation on post-operative analgesia. Int J Med Res Rev [Internet]. 2017Feb.28 [cited 2021Jun.19];5(2):113-8. Available from: https://ijmrr.medresearch.in/index.php/ijmrr/article/view/812