Prevalence and Antifungal Susceptibilities of Candida spp from a South Indian Tertiary Care Hospital
Dr Swapna Kurup Rajgopal

Associate Professor, Department of Microbiology, Karpagam faculty of Medical Sciences and Research, Coimbatore, Tamil Nadu, India
Keywords:
Antifungal susceptibilities, Azole resistance Candida species, Species distribution
Abstract
Introduction: Candida sp. is increasingly being implicated as the cause of both community acquired and Nosocomial infections. With development of new resistance patterns versus the inherent resistance present in some of the species isolated from critical care areas, the complications resulting from long term antibiotics, surgical and medical interventions and environmental colonization by the Candida sp. is becoming more prevalent.
Method: Prevalence of different species and their antifungal susceptibilities grown from various samples received in 20 months were studied using semi-automated MiniAPI kits. Results of tests done on 356 isolates were collated and analysed retrospectively.
Results: Of the 356 samples, C. tropicalis showed prevalence of 37.07% as compared to C.albicans 31.1%, C guilliermondii (11.8) and C parapsilosis (6.74%). Candida sp were found to sensitive to 5-Flucytocine and Amphotericin B. Resistance to Itraconazole was noted more than to Fluconazole.
Conclusions: Infections with Candida spp are usually of low virulence and are associated with a few well-defined risk factors as immunocompromised state, Malignancy and steroid therapy. Understanding these risk factors, identifying the species with changing trends in antifungal resistance, instituting infection control practices to reduce morbidity and mortality in critical care areas can improve outcomes.
Downloads
Download data is not yet available.
References
Fishman JA, Rubin RH. Infection in organ-transplant recipients. N Engl J Med. 1998 Jun 11;338(24):1741-51.
Nucci M, Marr KA. Emerging fungal diseases. Clin Infect Dis. 2005 Aug 15;41(4):521-6. Epub 2005 Jul 11.
Pfaller MA, Diekema DJ. Epidemiology of invasive candidiasis: a persistent public health problem. Clin Microbiol Rev. 2007 Jan;20(1):133-63.
Krcmery V, Barnes AJ. Non-albicans Candida spp. causing fungaemia: pathogenicity and antifungal resistance. J Hosp Infect. 2002 Apr;50(4):243-60.
Papon N, Courdavault V, Clastre M, Bennett RJ. Emerging and emerged pathogenic Candida species: beyond the Candida albicans paradigm. PLoS Pathog. 2013;9(9):e1003550. doi: https://dx.doi.org/10.1371%2Fjournal.ppat.1003550. Epub 2013 Sep 26.
Walker LA, Gow NA, Munro CA.Elevated chitin content reduces the susceptibility of Candida species to caspofungin. Antimicrob Agents Chemother. 2013 Jan; 57(1):146-54. doi: https://doi.org/10.1128/AAC.01486-12.
Pfaller MA, Diekema DJ, Gibbs DL, Newell VA, Ellis D, et al. Results from the ARTEMIS DISK Global Antifungal Surveillance Study, 1997 to 2007: a 10.5-year analysis of susceptibilities of Candida Species to fluconazole and voriconazole as determined by CLSI standardized disk diffusion. J Clin Microbiol. 2010 Apr;48(4):1366-77. doi: https://doi.org/10.1128/JCM.02117-09.
Pfaller MA, Moet GJ, Messer SA, Jones RN, Castanheira M. Candida bloodstream infections: comparison of species distributions and antifungal resistance patterns in community-onset and nosocomial isolates in the SENTRY Antimicrobial Surveillance Program, 2008-2009. Antimicrob Agents Chemother. 2011 Feb;55(2):561-6. doi: https://doi.org/10.1128/AAC.01079-10. Epub 2010 Nov 29.
Low CY, Rotstein C. Emerging fungal infections in immunocompromised patients. F1000 Med Rep. 2011;3:14. doi: https://dx.doi.org/10.3410%2FM3-14. Epub 2011 Jul 1.
Pfaller MA, Diekema DJ. Rare and emerging opportunistic fungal pathogens: concern for resistance beyond Candida albicans and Aspergillus fumigatus. J Clin Microbiol. 2004 Oct; 42 (10):4419-31. doi: https://doi.org/10.1128/JCM.42.10.4419-4431.2004.
Karabinis A, Hill C, Leclercq B, Tancrède C, Baume D, Andremont A. Risk factors for candidemia in cancer patients: a case-control study. J Clin Microbiol. 1988 Mar;26(3):429-32.
Bross J, Talbot GH, Maislin G, Hurwitz S, Strom BL. Risk factors for nosocomial candidemia: a case-control study in adults without leukemia. Am J Med. 1989 Dec;87(6):614-20.
Chitasombat MN, Kofteridis DP, Jiang Y, Tarrand J, Lewis RE, Kontoyiannis DP. Rare opportunistic (non-Candida, non-Cryptococcus) yeast bloodstream infections in patients with cancer. J Infect. 2012 Jan;64(1):68-75. doi: https://doi.org/10.1016/j.jinf.2011.11.002. Epub 2011 Nov 11.
Walsh TJ, Groll A, Hiemenz J, Fleming R, Roilides E, Anaissie E. Infections due to emerging and uncommon medically important fungal pathogens. Clin Microbiol Infect. 2004 Mar;10 Suppl 1:48-66.
Bassetti M., Taramasso L., Nicco E., Molinari M.P., Mussap M., Viscoli C. Epidemiology, species distribution, antifungal susceptibility and outcome of nosocomial candidemia in a tertiary care hospital in Italy. PLoS One. 2011;6(9):e24198. doi: https://doi.org/10.1371/journal.pone.0024198.
Spellberg BJ, Filler SG, Edwards JE Jr. Current treatment strategies for disseminated candidiasis. Clin Infect Dis. 2006 Jan 15;42(2):244-51. Epub 2005 Dec 2.
Magill SS, Shields C, Sears CL, Choti M, Merz WG. Triazole cross-resistance among Candida spp.: case report, occurrence among bloodstream isolates, and implications for antifungal therapy. J Clin Microbiol. 2006 Feb;44(2):529-35. doi: https://doi.org/10.1128/JCM.44.2.529-535.2006.
CLSI. 2008. Reference method for broth dilution antifungal susceptibility testing of yeasts, 3rd ed. M27–A3. Clinical and Laboratory Standards Institute, Wayne, PA.
Melvin P. Weinstein, Michael L. Towns, Seth M. Quartey, Stanley Mirrett, Larry G. Reimer, Giovanni Parmigiani, L. Barth Reller; The Clinical Significance of Positive Blood Cultures in the 1990s: A Prospective Comprehensive Evaluation of the Microbiology, Epidemiology, and Outcome of Bacteremia and Fungemia in Adults. Clin Infect Dis 1997; 24 (4): 584-602. doi: https://doi.org/10.1093/clind/24.4.584
Chien-Yuan Chen1,2, Shang-Yi Huang1, Jih-Luh Tang1.Clinical features of patients with infections caused byCandida guilliermondii and Candida fermentati and antifungal susceptibility of the isolates at a medical centre in Taiwan, 2001–10. J Antimicrob Chemother. 2013 Nov;68(11):2632-5. doi: https://doi.org/10.1093/jac/dkt214.
Verma AK, Prasad KN, Singh M, Dixit AK, Ayyagari A. Candidaemia in patients of a tertiary health care hospital from north India. Indian J Med Res. 2003 Mar;117:122-8.
Chakrabarti A, Mohan B, Shrivastava SK, Marak RS, Ghosh A, Ray P. Change in distribution and antifungal susceptibility of Candida species isolated from candidaemia cases in a tertiary care centre during 1996-2000. Indian J Med Res. 2002 Jul;116:5-12.
Hajjeh RA, Sofair AN, Harrison LH, Lyon GM, Arthington-Skaggs BA, Mirza SA, Phelan M, Morgan J, Lee-Yang W, Ciblak MA, Benjamin LE, Sanza LT, Huie S, Yeo SF, Brandt ME, Warnock DW. Incidence of bloodstream infections due to Candida species and in vitro susceptibilities of isolates collected from 1998 to 2000 in a population-based active surveillance program. J Clin Microbiol. 2004 Apr;42(4):1519-27.
Koenig SM, Truwit JD. Ventilator-associated pneumonia: diagnosis, treatment, and prevention. Clin Microbiol Rev. 2006 Oct;19(4):637-57.
Pfaller MA, Diekema DJ, Mendez M, et al. Candida guilliermondii, an opportunistic fungal pathogen with decreased susceptibility to fluconazole: geographic and temporal trends from the ARTEMIS DISK antifungal surveillance program, J Clin Microbiol. 2006 Oct;44(10):3551-6. DOI: https://doi.org/10.1128/JCM.00865-06.
Vimal S. Rathod, Jayant S. Raut, S. Mohan Karuppayil. In Vitro Antifungal Susceptibility reveals occurrence of Azole Resistance among clinical isolates of Candida albicans. Asian J Pharm Clin Res, Vol 5, Issue 3, 2012, 170-173. http://www.ajpcr.com/Vol5Issue3/1100.pdf
Kothari A, Sagar V. Epidemiology of candida bloodstream infections in a tertiary care institute in India. Indian J Med Microbiol. 2009 Apr-Jun;27(2):171-2. doi: http://www.ijmm.org/text.asp?2009/27/2/171/49440.
Takakura S, Fujihara N, Saito T, Kudo T, Iinuma Y, Ichiyama S. National surveillance of species distribution in blood isolates of Candida species in Japan and their susceptibility to six antifungal agents including voriconazole and micafungin. J Antimicrob Chemother. 2004 Feb;53(2):283-9. Epub 2003 Dec 19.
Kanafani ZA, Perfect JR. Antimicrobial resistance: resistance to antifungal agents: mechanisms and clinical impact. Clin Infect Dis. 2008 Jan 1;46(1):120-8. doi: https://doi.org/10.1086/524071.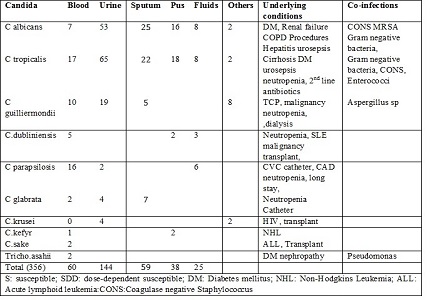 CITATION
DOI: 10.17511/ijmrr.2017.i02.01
How to Cite
1.
Kurup Rajgopal S. Prevalence and Antifungal Susceptibilities of Candida spp from a South Indian Tertiary Care Hospital. Int J Med Res Rev [Internet]. 2017Feb.28 [cited 2021Jun.18];5(2):98-104. Available from: https://ijmrr.medresearch.in/index.php/ijmrr/article/view/810