Histopathological spectrum of lesions of tonsil- A 2 year experience from tertiary care hospital of Maharashtra, India
Dr. (Mrs.) Kalpana Ranjitsingh Sulhyan

Sulhyan, Professor and Head, Department of Pathology, Government medical college, Miraj, Maharashtra, India

Dr. Bhakti Dattatraya Deshmukh

Assistant Professor, Department of Pathology, Government medical college, Miraj, Maharashtra, India

Dr. Reshma Pramod Wattamwar

P.G student, Department of Pathology, Government medical college, Miraj, Maharashtra, India
Keywords:
Tonsillitis, Tonsillectomy, Histopathology, Chronic, Tonsil
Abstract
Background: Palatine tonsils are paired masses of lymphoid tissue which act as immunologic barrier against the entry of pathogenic agents into the respiratory and digestive tracts. Despite their protective function, tonsils are prone to infection. Tonsillitis is a common disease especially among the children. Chronic tonsillitis is a disease with repeated attacks of acute tonsillitis or a subclinic form of a resistant or poorly treated infection.
Aim: To study histopathology of various lesions of tonsil.
Material and Methods: We studied histopathology of 211 cases representing surgical samples from 115 patients [Tonsillectomy- 104 patients (Unilateral-08, Bilateral-96) and tonsillar biopsy in 11 patients]. Representative bits were taken from formalin fixed tonsillectomy specimens whereas biopsies were submitted entirely. Routine hematoxylin and eosin staining was done.
Results: Amongst 211 cases, histopathological examination in 190 cases showed tonsillitis. The other lesions were cartilagenous choristoma in six patients, epidermal inclusion cyst in three cases and reactive lymphoid hyperplasia in one case. One case of inflammatory myofibroblastic tumour was observed. The malignancies were observed in ten cases- squamous cell carcinoma in nine cases and Non-Hodgkin lymphoma in one case.
Downloads
Download data is not yet available.
References
Alnori HA, Mahmod KA, Mohammed AM. Bacteriological, Serological and Histopathological Study on Tonsillectomy Specimens. The Iraqi postgraduate medical journal 2014;13:219-225.
Mogoanta CA, Ionita E, Pirici D, Mitroi M, Anghelina FL, Ciolofan S et al. chronic tonsillitis: histological and immunohistochemical aspects. Romanian Journal of Morphology and Embryology 2008, 49(3):381–386.
Singh I. Lymphatics and Lymphatic Tissue Textbook of human histology. 4th ed. Jaypee brothers medical publishers, India. 2002.pg 191.
Mal RK, Oluwasanmi AF, Mitchard JR. tonsillar crypts and bacterial invasion of tonsils: Clin Otolaryngol. 2008 Jun;33(3):293-5. doi: https://doi.org/10.1111/j.1749-4486.2008.01691.x.
Ugras S, Kutluhan A. Chronic tonsillitis can be diagnosed with Histopathological findings. Eur J Gen Med 2008;5:95-103.http://www.bioline.org.br/pdf?gm08018.
Bhargava D, Raman R, Khalfam Al Abri R, Bushnurmath B. Heterotopia of the tonsil. J Larangol Otol 1996; 10(6): 611-12.doi: https://doi.org/10.1017/s0022215100134401.
Ambawade VD, Sonawane SS, Kothavade HV, Kate MS. Catilagenous Choristoma of Palatine Tonsil- Rare Entity. National Journal of Laboratory Medicine. 2014;3: 16-17. http://www.njlm.net/articles/PDF/2008/5-%207280_F(H)_PF1(PAG)_PFA(AK)_PF2(AGAK).pdf.
Priyadarshini SA, Shubhashree AR, Ganapathy H. Actinomycosis of tonsils- incidental or pathological?- A case report. Int J Pharm Bio Sci 2014; 5(4):164–168.
van Lierop AC, Prescott CA, Sinclair-Smith CC. An investigation of the significance of Actinomycosis in tonsil disease. Int J Pediatr Otorhinolaryngol. 2007 Dec;71(12):1883-8. Epub 2007 Oct 4.doi: https://doi.org/10.1016/j.ijporl.2007.08.021.
Toh ST, Yuen HW, Goh YH. Actinomycetes colonization of tonsils: a comparative study between patients with and without recurrent tonsillitis. J Laryngol Otol 2007;121:775-8. DOI: https://doi.org/10.1017/S0022215106003185.
Aydin A, Erkiliç S, Bayazit YA, Koçer NE, Ozer E, Kanlikama M. Relation between actinomycosis and histopathological and clinical features of the palatine tonsils: a comparative study between adult and pediatric patients. Rev LaryngolOtolRhinol 2005;126:95-8.
Assimakopoulos D, Vafiadis M, Askitis P, Sivridis E, Skevas A. The incidence of Actinomyces israeli colonization in tonsillar tissue. A histopathological study. Rev Stomatol Chir Maxillofac 1992;93:122-6.
Shobha K, Kumar H, Raj D, Srinivasa K, Jayaganesh. Epidermoid Cyst in Tonsil- a rare presentation. Transworld Medical Journal 2014;2(1): 75–76.
Gulia SP, Lavanya M, Kamidi V, Arun Kumar SP. Epidermoid cyst of the tonsil: An incidental finding. Int J Adv in Case reports 2015;2:777-779.
Janarthanam J, Mahadevan S. Epidermoid cyst of submandibular region. J Oral Maxillofac Pathol 2012;16:435-437. DOI: http://www.jomfp.in/text.asp?2012/16/3/435/102511.
Rajendran R. Develpomental disturbances of oral and para oral structures. Shafers textbook of oral pathology. 6th ed. Elsevier publication a division of Reed Elsevier India private limited Noida (UP), 2009,pg.67-9.
Ong HS, Ji T, Zhang CP, Li J, Wang LZ, Li RR et al. Head and neck inflammatory myofibroblastic tumor (IMT): evaluation of clini¬copathologic and prognostic features. Oral Oncol. 2012 Feb;48(2):141-8. doi: https://doi.org/10.1016/j.oraloncology.2011.09.004. Epub 2011 Oct 19.
Coffin CM, Hornick JL, Fletcher CD. Inflammatory myofibroblastic tumor: comparison of clinicopathologic, histologic, and immunohis¬tochemical features including ALK expression in atypical and aggressive cases. Am J Surg Pathol 2007; 31: 509-520. DOI: https://doi.org/10.1097/01.pas.0000213393.57322.c7.
Coffin CM, Fletcher JA. Inflammatory myofibro¬blastic tumour. In: Fletcher CDM, Bridge JA, Hogendoorn PCW, Mertens F, editors. World Health Organization classification of tumours. WHO classification of soft tissue and bone. 4th edition. Lyon: IARc Press; 2013. pp. 83-84.
Lazaridou M, Dimitrakopoulos I, Tilaveridis I, Iordanidis F, Kontos K. Inflammatory myofibro¬blastic tumour of the maxillary sinus and the oral cavity. Oral Maxillofac Surg. 2014 Mar;18(1):111-4. doi: https://doi.org/10.1007/s10006-013-0409-2. Epub 2013 Apr 17.
Lu ZJ, Zhou SH, Yan SX, Yao HT. Anaplastic lym¬phoma kinase expression and prognosis in in¬flammatory myofibroblastic tumours of the maxillary sinus. J Int Med Res. 2009 Nov-Dec;37(6):2000-8.doi: https://doi.org/10.1177/147323000903700639.
Fujii H, Fujisada H, Kondo T, Takahashi T, Okada S. Orbital pseudotumor: histopathologi¬cal classification and treatment. Ophthalmologica 1985;190:230-42.doi: https://doi.org/10.1159/000309523.
Coffin CM, Watterson J, Priest JR, Dehner LP. Extrapulmonary inflammatory myofibroblastic tumor (inflammatory pseudotumor). A clinico¬pathologic and immunohistochemical study of 84 cases. Am J Surg Pathol 1995; 19: 859-872.doi: https://doi.org/10.1097/00000478-199508000-00001.
Babu AP, Mallik P, Pradhan S, Sobita P, Sudhiranjan TH, Bhutia NN. Tonsillar malignancy- Review of clinic-pathological presentation, diagnosis and current treatment modalities: A case series. J Med Soc 2013;27:147-150. DOI: http://www.jmedsoc.org/text.asp?2013/27/2/147/121598.
Johansen LV, Overgaard J, Overgaard M, Birkler N, Fisker A. Squamous cell carcinoma of the oropharynx: an analysis of 213 consecutive patients scheduled for primary radiotherapy. Laryngoscope. 1990 Sep;100(9):985-90. doi: https://doi.org/10.1288/00005537-199009000-00012.
Vasilakaki T, Myoteri D, Tsavari A, Skafida E, Arkoumani E, Koulia K, et al. Localised extranodal non-Hodgkin's lymphoma of the tonsil: report of a rare case. OA Case Reports 2013;10;2(11):101-2. http://www.oapublishinglondon.com/images/article/pdf/1390566080.pdf.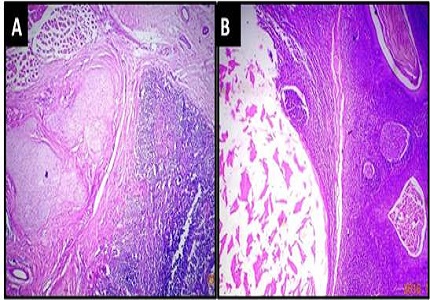 CITATION
DOI: 10.17511/ijmrr.2016.i12.14
How to Cite
1.
Ranjitsingh Sulhyan K, Dattatraya Deshmukh B, Pramod Wattamwar R. Histopathological spectrum of lesions of tonsil- A 2 year experience from tertiary care hospital of Maharashtra, India. Int J Med Res Rev [Internet]. 2016Dec.31 [cited 2021Jun.18];4(12):2164-9. Available from: https://ijmrr.medresearch.in/index.php/ijmrr/article/view/784