Omental Transplantation for limb salvage in Buerger's disease - a study in a tertiary care hospital, Bhopal
Dr. Krishnanand

Associate Professor, Department of Surgery, Chirayu Medical College & Hospital, Bhopal, M P, India

Dr. Roshan Chanchalani

Assistant Professor, Department of Surgery, Chirayu Medical College & Hospital, Bhopal, M P, India
Keywords:
Buerger's disease, Omental transplant, Omental transposition, Peripheral Vascular disease, Thromoboangitis Obliterans
Abstract
Introduction: In recent years, it has become evident that peripheral vascular disease is an important predictor of substantial coronary and cerebral vascular risk. The majority of patients present with an advanced stage of ischemia; hence, most of them require surgical intervention in the form of lumbar Sympathectomy, Omentopexy, or major or minor amputations. Patients presenting with terminal limb ischemia due to thromboangitis obliterans often have no hope for limb salvage; for such cases, omental transplantation offers a procedure which can result in improved limb circulation and limb salvage.
Objective: To study the efficacy of Omental transplantation in peripheral vascular disease.
Material and Methods: This is a prospective study done on a group of 25 patients. The patients were seen in surgical outdoor in emergency and routine hours and were diagnosed on the basis of history, clinical examination and investigations like Colour doppler and femoral arteriography in few cases. Omentopexy was done and patients were assessed on 7th post operative day, after 1 month and 3 months after the procedure.
Results: On an average the patients smoked between 10- 25 beedis per day. Amongst these cases 10 cases had non-healing ulcers and 15 had dry gangrene of toes or forefoot, with rest pain. In 15 cases, popliteal artery pulsation was absent. After operative procedure intermittent claudication was relieved in 20 patients (80%). Rest pain was relieved in all the patients at the end of 3 months (100%). Healing of ulcer occurred in 9 out of 10 patients (90%). The healing of amputated toe site occurred in 10 out of 15 patients during 3 months follow-up (66.67%).
Conclusion: Buerger's disease is limb threatening condition occurring in productive age group and its management is challenging. If carried out with right technique and knowledge about vascular omental arcade, the results of omentopexy are good and this technique can help us avoid amputations.
Downloads
Download data is not yet available.
References
1. Buerger L. Thromboangitis Obliterans: a study of the vascular lesions leading to presenile spontaneous gangrene. Am J Med Sci 1908; 136:567-580.

2. Olin JW. Thromboangitis Obliterans (Buerger's Disease). New Engl J Med 2000; 343:864-869. [PubMed]

3. Ogren M, Hedblad B, Isacsson S. Ten year cerebrovascular morbidity and mortality in 68 year old men with asymptomatic carotid stenosis. BMJ 1995; 310: 1294-129. [PubMed]

4. Tsai A, Folsom A, Rosamond W, Jones D. Ankle–brachial index and 7-year ischemic stroke incidence. The ARIC Study. Stroke 2001; 32: 1721-1724. [PubMed]

5. Bainton D, Sweetnam P, Baker I, Elwood P. Peripheral vascular disease: consequence for survival and association with risk factors in the Speedwell prospective heart disease study. Br Heart J 1994; 72: 128-132. [PubMed]

6. Newman A, Shemanski L, Manolio T. Ankle–arm index as a predictor of cardiovascular disease and mortality in the Cardiovascular Health Study. Arterioscler Thromb Vasc Biol 1999; 19: 538-545. [PubMed]

7. Fiessinger JN, Schafer M. Trial of iloprost versus aspirin treatment for critical limb ischaemia of thromboangitis obliterans. The TAO study. Lancet 1990; 335:555-557. [PubMed]

8. Talwar S, Choudhary SK, Bhan A. Buerger's disease. Indian Journal of Cardiology 1998; 1:31-34.

9. Stricht VJ, Goldstein M, Flamand JP, Belenger J. Evolution and prognosis of thromboangitis obliterans. J Cardiovasc Surg (Torino)1973; 14:9-16. [PubMed]

10. Kunlin J, Lengua F, Testart J, Pajot A. F. Thromboangiosis or thromboangitis treated by adrenalectomy and sympathectomy from 1942 to 1962. J Cardiovasc Surg (Torino) 1973 ;14:21-27. [PubMed]

11. Lau H, Cheng SK. Buerger's disease in Hong Kong: a review of 89 cases. Aust NZ J Surg 1997; 67:264-269.

12. Sasajima T, Kubo Y, Inaba M, Goh K. Plantar or dorsalis pedis artery bypass in Buerger's disease. Ann Vasc Surg 1994; 8:248-257. [PubMed]

13. Stricht VJ, Goldstein M, Flamand JP, Belenger J. Evolution and prognosis of thromboangitis obliterans. J Cardiovasc Surg (Torino)1973; 14:9-16. [PubMed]

14. Casten DF, Alday ES. Omental transfer for revascularization of the extremities. Surg Gynecol Obstet 1971; 123:301-304. [PubMed]

15. Goldsmith HS, Griffith AL, Catsimpoolas N. Increased vascular perfusion after administration of an omental lipid fraction. Surg Gynecol Obstet 1986; 162:579-583. [PubMed]

16. Goldsmith HS, Griffith AL, Kupferman A, Catsimpoolas N. Lipid Angiogenic factor from Omentum. JAMA 1984; 252:2034-2036. [PubMed]

17. Talwar S, Choudhary S K. Omentopexy for limb salvage in Buerger's disease: indications, technique and results. J Postgrad Med 2001 [cited 2013 Aug 1];47:137. [PubMed]

18. Chander J, Singh L, Lal P, Jain A, Lal P, Ramteke VK. Retroperitoneoscopic lumbar sypathectomy for buerger's disease: a novel technique. J Soc Laproendosc Surg. 2004;8(3):291–296. [PubMed]

19. Shionoya S. Buerger's disease (Thromboangiitis Obliterans). Vascular surgery, vol. 4. Philadelphia: RB Rutherford, WB Saunders; 2010. pp. 235–245.

20. Lazarides MK, Georgiadis GS, Papas TT, Nikolopoulos ES. Diagnostic criteria and treatment of Buerger's disease: a review. Int J Low Extrem Wounds. 2006;5(2):89–95. [PubMed]

21. Babu RD, Menon NG, Vaidyanathan S. Pedicled omental transplantation forend stage. Buerger's disease as a limb salvage procedure. Indian Journal of Surgery 1990; 52; 463-71.

22. Ranwaka R, Sharma R, Mathur SN, Sachdeva G. Revascularisation oflimbs by omental transfer. Ind J Surg. 1999; 61:364–366.

23. Subodh S., Mohan JC, Malik VK, Omentopexy in limbs revascularization in Buerger's disease. Indian Heart J 1994; 46; 355-357.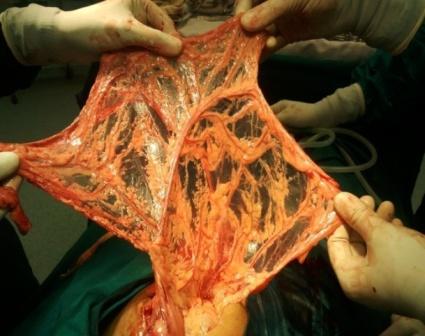 CITATION
DOI: 10.17511/ijmrr.2013.i03.04
How to Cite
1.
Krishnanand K, Chanchalani R. Omental Transplantation for limb salvage in Buerger's disease - a study in a tertiary care hospital, Bhopal. Int J Med Res Rev [Internet]. 2013Aug.31 [cited 2021May6];1(3):92-8. Available from: https://ijmrr.medresearch.in/index.php/ijmrr/article/view/15