Sonal Appliance an innovative space maintainer in management of early loss of first permanent molar: A Rare Case Report
Keywords:
Tooth Extraction, permanent first molar, premature loss of multiple deciduous molars, space maintainer
Abstract
Introduction: In preventative and interventional dentistry, keeping deciduous teeth until their natural exfoliation is critical. An early tooth or group of teeth loss might have a variety of effects. The first molar is the largest tooth in the mouth, it carries the most occlusal stress, and it affects the vertical distance between the mandible and the maxilla. Adolescent patients who have lost a permanent first molar (PFM) require early space maintenance. Case report: In this case report a successful use of modified distal shoe appliance was made in a patient whose 1st permanent molar was lost before the eruption of 2nd permanent molar. In circumstances when the permanent first molar is lost before the emergence of the permanent mandibular second molar, a unique device is described in this publication. The distal extension of a normal distal shoe appliance was extended distally along with a fixed bilateral appliance, a modified band and loop, and other components in this design. Conclusion: For individuals with bilateral molar loss, a modified distal shoe appliance is a promising option.
Downloads
Download data is not yet available.
References
1. Zamzam R. and Kouchaji C. (2021) Management of Early Loss of first Permanent Molar in Adolescent. Clinical Medical Reviews and Reports 3(5); DOI:10.31579/2690-8794/077.
2. Rezaie M, Ghapanchi J, Haghnegahdar A, Khojastehpour L, Khorshidi H, Heidari H. A radiographic evaluation of missing of permanent first molars in a group of Iranian children and adults: a retrospective study. International journal of dentistry. 2018 Apr 1;2018.
3. M. Ebrahimi, B.-A.-M. Ajami, A. R. Sarraf Shirazi, M. Afzal Aghaee, and S. Rashidi, "Dental treatment needs of permanent first molars in Mashhad schoolchildren," Journal of Dental Research, Dental Clinics, Dental Prospects, vol. 4, no. 2, pp. 52–55, 2010.
4. Saber AM, Altoukhi DH, Horaib MF, El-Housseiny AA, Alamoudi NM, Sabbagh HJ. Consequences of early extraction of compromised first permanent molar: a systematic review. BMC oral health. 2018 Dec;18(1):1-5.
5. Naik SV, Kittur S, Basappa Nadig SG, Shagale AM. Modified Halterman Appliance for management of ectopically erupting permanent molar: A case report. Contemp Pediatr. 2023;4(1):32-8.
6. Lakhani S, Noble F, Rodd H, Cobourne MT. Management of children with poor prognosis first permanent molars: an interdisciplinary approach is the key. British Dental Journal. 2023 May 26;234(10):731-6.
7. Mazhari F, Valizadeh M. Distal guide as a substitute for distal shoe space maintainer: a case series study. The Journal of Clinical Pediatric Dentistry. 2022 Nov 1;46(6):58-62.
8. Gandhi JM, Gurunathan D. Parental acceptance and patient satisfaction of using functional lingual arch space maintainer compared to conventional lingual arch space maintainer-A Questionnaire Survey. Journal of Population Therapeutics and Clinical Pharmacology. 2023 May 13;30(10):32-7.
9. Brill WA. The distal shoe space maintainer chair side fabrication and clinical performance. Pediatr Dent. 2002;24:561-5.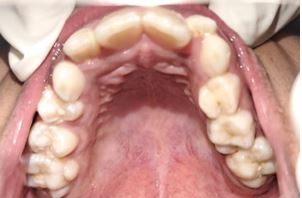 How to Cite
1.
Gupta S, Patra A, Ojha R, Das A, Baby A. Sonal Appliance an innovative space maintainer in management of early loss of first permanent molar: A Rare Case Report. Int J Med Res Rev [Internet]. 2023Sep.12 [cited 2023Sep.26];11(4):96-100. Available from: https://ijmrr.medresearch.in/index.php/ijmrr/article/view/1436
Copyright (c) 2023 Author (s). Published by Siddharth Health Research and Social Welfare Society
This work is licensed under a Creative Commons Attribution 4.0 International License.