Characteristics of polyps in Lebanese population
Antoine Abou Rached

Lebanese university school of medicine

Joyce Sanyour

Sultan Qaboos Comprehensive Cancer Center, Muscat, Oman

Jowana Saba

Lebanese university school of medicine

Melissa Abou Khalil

Lebanese university school of medicine

Rasha Matar

Sultan Qaboos Comprehensive Cancer Center, Muscat, Oman

Pierre Khalil

Lebanese university school of medicine

Saad Khairallah

Lebanese university school of medicine
Keywords:
colorectal polyps, Lebanon, Histology
Abstract
Background:
The objective of this study is to describe characteristics of the polyps in Lebanese population and evaluate the dysplasia and its relation to the polyps' locations.
Methods:
Retrospective descriptive study was conducted at the Department of National Institute of Pathology in Lebanon and comprised biopsy of colonic polyps or resected polyps from patients from 2007 to 2009. We collected demographic data and polyps' characteristics. Then, we divided patients according to age sex, location, histology.
Results:
With 2298 polyps in 1470 patients, the mean age was 57.45 with 68% aged more than 50yo. 75.6% have one polyps and multiple polyps more commonly found in older patient (> 50 years). More than 20 % of polyps found in the recto-sigmoid area. In the right colon, people older than 50 years were more likely to have polyps (19%) compared to those < 30 years (8.3%) (p < 0.05). In the rectum, people < 30 years were more likely to have polyps compared to those > 50 years (p < 0.01). Concerning the histology, tubular adenoma is the most common type and more prevalent in left colon. Hyperplastic polyps mainly found in the recto-sigmoid area and mainly in age group 30-50 in contrast to adenomatous polyps found over 50yo. Adenocarcinomas and/or degenerative polyps were founded in 5.9% of our population.
Conclusion:
This study gives valuable information on colorectal polyp in Lebanese population about age, sex, dominant histology and anatomic location. We noted a male predominance and mainly above 50 years old. The majority had single polyps, >50% of polyps were localized in the recto sigmoid. Adenomatous polyps were the most common type.
Downloads
Download data is not yet available.
References
1. Heitman SJ, Ronksley PE, Hilsden RJ, Manns BJ, Rostom A, Hemmelgarn BR. Prevalence of adenomas and colorectal cancer in average risk individuals: a systematic review and meta-analysis. Clin Gastroenterol Hepatol. 2009;7(12):1272-1278. doi:10.1016/j.cgh.2009.05.032
2. Ferlitsch M, Reinhart K, Pramhas S, et al. Sex-specific prevalence of adenomas, advanced adenomas, and colorectal cancer in individuals undergoing screening colonoscopy. JAMA. 2011;306(12):1352-1358. doi:10.1001/jama.2011.1362
3. Giacosa A, Frascio F, Munizzi F. Epidemiology of colorectal polyps. Tech Coloproctol. 2004;8 Suppl 2:s243-247. doi:10.1007/s10151-004-0169-y
4. Herszényi L. The "Difficult" Colorectal Polyps and Adenomas: Practical Aspects. DDI. 2019;37(5):394-399. doi:10.1159/000495694
5. Markowitz AJ, Winawer SJ. Management of colorectal polyps. CA Cancer J Clin. 1997;47(2):93-112. doi:10.3322/canjclin.47.2.93
6. von Renteln D, Pohl H. Polyp Resection - Controversial Practices and Unanswered Questions. Clin Transl Gastroenterol. 2017;8(3):e76. doi:10.1038/ctg.2017.6
7. Kim JH, Kang GH. Evolving pathologic concepts of serrated lesions of the colorectum. J Pathol Transl Med. 2020;54(4):276-289. doi:10.4132/jptm.2020.04.15
8. Colucci PM, Yale SH, Rall CJ. Colorectal Polyps. Clin Med Res. 2003;1(3):261-262.
9. Grahn SW, Varma MG. Factors that increase risk of colon polyps. Clin Colon Rectal Surg. 2008;21(4):247-255. doi:10.1055/s-0028-1089939
10. Kim EC, Lance P. Colorectal polyps and their relationship to cancer. Gastroenterol Clin North Am. 1997;26(1):1-17. doi:10.1016/s0889-8553(05)70280-6
11. Noffsinger AE. Serrated polyps and colorectal cancer: new pathway to malignancy. Annu Rev Pathol. 2009;4:343-364. doi:10.1146/annurev.pathol.4.110807.092317
12. Jass JR. Classification of colorectal cancer based on correlation of clinical, morphological and molecular features. Histopathology. 2007;50(1):113-130. doi:10.1111/j.1365-2559.2006.02549.x
13. Snover DC. Update on the serrated pathway to colorectal carcinoma. Hum Pathol. 2011;42(1):1-10. doi:10.1016/j.humpath.2010.06.002
14. Leggett B, Whitehall V. Role of the serrated pathway in colorectal cancer pathogenesis. Gastroenterology. 2010;138(6):2088-2100. doi:10.1053/j.gastro.2009.12.066
15. Leslie A, Carey FA, Pratt NR, Steele RJC. The colorectal adenoma-carcinoma sequence. Br J Surg. 2002;89(7):845-860. doi:10.1046/j.1365-2168.2002.02120.x
16. Bond JH. Polyp guideline: diagnosis, treatment, and surveillance for patients with colorectal polyps. Practice Parameters Committee of the American College of Gastroenterology. Am J Gastroenterol. 2000;95(11):3053-3063. doi:10.1111/j.1572-0241.2000.03434.x
17. Selby JV, Friedman GD, Quesenberry CP, Weiss NS. A case-control study of screening sigmoidoscopy and mortality from colorectal cancer. N Engl J Med. 1992;326(10):653-657. doi:10.1056/NEJM199203053261001
18. Loeve F, Boer R, Zauber AG, et al. National Polyp Study data: evidence for regression of adenomas. Int J Cancer. 2004;111(4):633-639. doi:10.1002/ijc.20277
19. Jørgensen OD, Kronborg O, Fenger C. The Funen Adenoma Follow-up Study. Incidence and death from colorectal carcinoma in an adenoma surveillance program. Scand J Gastroenterol. 1993;28(10):869-874. doi:10.3109/00365529309103127
20. Nusko G, Mansmann U, Kirchner T, Hahn EG. Risk related surveillance following colorectal polypectomy. Gut. 2002;51(3):424-428. doi:10.1136/gut.51.3.424
21. Solakoğlu T, Atalay R, Köseoğlu H, et al. Analysis of 2222 colorectal polyps in 896 patients: a tertiary referreal hospital study. Turk J Gastroenterol. 2014;25(2):175-179. doi:10.5152/tjg.2014.5059
22. Rex DK. Colonoscopy: a review of its yield for cancers and adenomas by indication. Am J Gastroenterol. 1995;90(3):353-365.
23. Hoffmeister M, Schmitz S, Karmrodt E, et al. Male sex and smoking have a larger impact on the prevalence of colorectal neoplasia than family history of colorectal cancer. Clin Gastroenterol Hepatol. 2010;8(10):870-876. doi:10.1016/j.cgh.2010.07.004
24. Laird-Fick HS, Chahal G, Olomu A, Gardiner J, Richard J, Dimitrov N. Colonic polyp histopathology and location in a community-based sample of older adults. BMC Gastroenterol. 2016;16(1):90. doi:10.1186/s12876-016-0497-1
25. McCashland TM, Brand R, Lyden E, de Garmo P, CORI Research Project. Gender differences in colorectal polyps and tumors. Am J Gastroenterol. 2001;96(3):882-886. doi:10.1111/j.1572-0241.2001.3638_a.x
26. Ashktorab H, Laiyemo AO, Lee E, et al. Prevalence and features of colorectal lesions among Hispanics: A hospital-based study. World J Gastroenterol. 2015;21(46):13095-13100. doi:10.3748/wjg.v21.i46.13095
27. Lowenfels AB, Williams JL, Holub JL, Maisonneuve P, Lieberman DA. Determinants of polyp size in patients undergoing screening colonoscopy. BMC Gastroenterol. 2011;11:101. doi:10.1186/1471-230X-11-101
28. Almadi MA, Alharbi O, Azzam N, Wadera J, Sadaf N, Aljebreen AM. Prevalence and characteristics of colonic polyps and adenomas in 2654 colonoscopies in Saudi Arabia. Saudi J Gastroenterol. 2014;20(3):154-161. doi:10.4103/1319-3767.132986
29. Khodadoostan M, Fatemi R, Maserat E, et al. Clinical and pathological characteristics of colorectal polyps in Iranian population. East Afr J Public Health. 2010;7(2):157-159.
30. Pendergrass CJ, Edelstein DL, Hylind LM, et al. Occurrence of colorectal adenomas in younger adults: an epidemiologic necropsy study. Clin Gastroenterol Hepatol. 2008;6(9):1011-1015. doi:10.1016/j.cgh.2008.03.022
31. Patel K, Hoffman NE. The anatomical distribution of colorectal polyps at colonoscopy. J Clin Gastroenterol. 2001;33(3):222-225. doi:10.1097/00004836-200109000-00011
32. Tony J, Harish K, Ramachandran TM, Sunilkumar K, Thomas V. Profile of colonic polyps in a southern Indian population. :3.
33. Qumseya BJ, Coe S, Wallace MB. The Effect of Polyp Location and Patient Gender on the Presence of Dysplasia in Colonic Polyps. Clin Transl Gastroenterol. 2012;3(7):e20. doi:10.1038/ctg.2012.14
34. Santos JM dos, Felício F, Lyra Junior HF, Martins MRC, Cardoso FB. Analysis of colorrectal polyps in 3.491 videocolonoscopies. Revista Brasileira de Coloproctologia. 2008;28(3):299-305. doi:10.1590/S0101-98802008000300005
35. Silva SM e, Rosa VF, Santos ACN dos, Almeida RM de, Oliveira PG de, Sousa JB de. Influence of patient age and colorectal polyp size on histopathology findings. Arq Bras Cir Dig. 2014;27(2):109-113. doi:10.1590/s0102-67202014000200006
36. Lieberman DA, Prindiville S, Weiss DG, Willett W, VA Cooperative Study Group 380. Risk factors for advanced colonic neoplasia and hyperplastic polyps in asymptomatic individuals. JAMA. 2003;290(22):2959-2967. doi:10.1001/jama.290.22.2959
37. Okamoto M, Shiratori Y, Yamaji Y, et al. Relationship between age and site of colorectal cancer based on colonoscopy findings. Gastrointest Endosc. 2002;55(4):548-551. doi:10.1067/mge.2002.122335
38. O'Brien MJ, Winawer SJ, Zauber AG, et al. The National Polyp Study. Patient and polyp characteristics associated with high-grade dysplasia in colorectal adenomas. Gastroenterology. 1990;98(2):371-379.
39. Gschwantler M, Kriwanek S, Langner E, et al. High-grade dysplasia and invasive carcinoma in colorectal adenomas: a multivariate analysis of the impact of adenoma and patient characteristics. Eur J Gastroenterol Hepatol. 2002;14(2):183-188. doi:10.1097/00042737-200202000-00013
40. Pommergaard H-C, Burcharth J, Rosenberg J, Raskov H. The association between location, age and advanced colorectal adenoma characteristics: a propensity-matched analysis. Scand J Gastroenterol. 2017;52(1):1-4. doi:10.1080/00365521.2016.1218929
41. Imperiale TF, Wagner DR, Lin CY, Larkin GN, Rogge JD, Ransohoff DF. Results of screening colonoscopy among persons 40 to 49 years of age. N Engl J Med. 2002;346(23):1781-1785. doi:10.1056/NEJM200206063462304
42. Carr NJ, Mahajan H, Tan KL, Hawkins NJ, Ward RL. Serrated and non-serrated polyps of the colorectum: their prevalence in an unselected case series and correlation of BRAF mutation analysis with the diagnosis of sessile serrated adenoma. J Clin Pathol. 2009;62(6):516-518. doi:10.1136/jcp.2008.061960
43. Waye JD, Bilotta JJ. Rectal hyperplastic polyps: now you see them, now you don't--a differential point. Am J Gastroenterol. 1990;85(12):1557-1559.
44. Meseeha M, Attia M. Colon Polyps. In: StatPearls. StatPearls Publishing; 2020. Accessed January 11, 2021. http://www.ncbi.nlm.nih.gov/books/NBK430761/
45. Spring KJ, Zhao ZZ, Karamatic R, et al. High prevalence of sessile serrated adenomas with BRAF mutations: a prospective study of patients undergoing colonoscopy. Gastroenterology. 2006;131(5):1400-1407. doi:10.1053/j.gastro.2006.08.038
46. Lash RH, Genta RM, Schuler CM. Sessile serrated adenomas: prevalence of dysplasia and carcinoma in 2139 patients. J Clin Pathol. 2010;63(8):681-686. doi:10.1136/jcp.2010.075507
47. Higuchi T, Sugihara K, Jass JR. Demographic and pathological characteristics of serrated polyps of colorectum. Histopathology. 2005;47(1):32-40. doi:10.1111/j.1365-2559.2005.02180.x
48. Stulc JP, Petrelli NJ, Herrera L, Mittelman A. Colorectal villous and tubulovillous adenomas equal to or greater than four centimeters. Ann Surg. 1988;207(1):65-71. doi:10.1097/00000658-198801000-00013
49. Wilcox GM, Anderson PB, Colacchio TA. Early invasive carcinoma in colonic polyps. A review of the literature with emphasis on the assessment of the risk of metastasis. Cancer. 1986;57(1):160-171. doi:10.1002/1097-0142(19860101)57:1<160::aid-cncr2820570132>3.0.co;2-n
50. Wolff WI, Shinya H. Definitive treatment of "malignant" polyps of the colon. Ann Surg. 1975;182(4):516-525. doi:10.1097/00000658-197510000-00018
51. Estrada RG, Spjut HJ. Hyperplastic polyps of the large bowel. Am J Surg Pathol. 1980;4(2):127-133. doi:10.1097/00000478-198004000-00004
52. Achord JL. Hyperplastic colon polyps do not predict adenomas. Gastroenterology. 1991;100(4):1142-1143. doi:10.1016/0016-5085(91)90297-x
53. Bensen SP, Cole BF, Mott LA, Baron JA, Sandler RS, Haile R. Colorectal hyperplastic polyps and risk of recurrence of adenomas and hyperplastic polyps. Polyps Prevention Study. Lancet. 1999;354(9193):1873-1874. doi:10.1016/s0140-6736(99)04469-4
54. Williams AR, Balasooriya BA, Day DW. Polyps and cancer of the large bowel: a necropsy study in Liverpool. Gut. 1982;23(10):835-842.
55. Vatn MH, Stalsberg H. The prevalence of polyps of the large intestine in Oslo: an autopsy study. Cancer. 1982;49(4):819-825. doi:10.1002/1097-0142(19820215)49:4<819::aid-cncr2820490435>3.0.co;2-d
56. Weston AP, Campbell DR. Diminutive colonic polyps: histopathology, spatial distribution, concomitant significant lesions, and treatment complications. Am J Gastroenterol. 1995;90(1):24-28.
57. Provenzale D, Garrett JW, Condon SE, Sandler RS. Risk for colon adenomas in patients with rectosigmoid hyperplastic polyps. Ann Intern Med. 1990;113(10):760-763. doi:10.7326/0003-4819-113-10-760
58. H S, Rg E. The significance of epithelial polyps of the large bowel. Pathol Annu. 1977;12 Pt 1:147-170.
59. Buck JL, Dachman AH, Sobin LH. Polypoid and pseudopolypoid manifestations of inflammatory bowel disease. Radiographics. 1991;11(2):293-304. doi:10.1148/radiographics.11.2.2028064
60. Margulis AR, Goldberg HI, Lawson TL, et al. The overlapping spectrum of ulcerative and granulomatous colitis: a roentgenographic-pathologic study. Am J Roentgenol Radium Ther Nucl Med. 1971;113(2):325-334. doi:10.2214/ajr.113.2.325
61. Politis DS, Katsanos KH, Tsianos EV, Christodoulou DK. Pseudopolyps in inflammatory bowel diseases: Have we learned enough? World J Gastroenterol. 2017;23(9):1541-1551. doi:10.3748/wjg.v23.i9.1541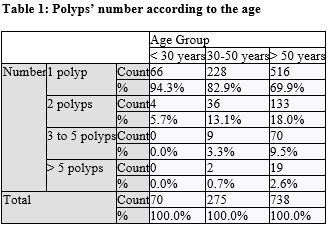 How to Cite
1.
Abou Rached A, Sanyour J, Saba J, Abou Khalil M, Matar R, Khalil P, Khairallah S. Characteristics of polyps in Lebanese population. Int J Med Res Rev [Internet]. 2023Mar.9 [cited 2023Mar.27];11(1):1-. Available from: https://ijmrr.medresearch.in/index.php/ijmrr/article/view/1407
Copyright (c) 2023 Author (s). Published by Siddharth Health Research and Social Welfare Society
This work is licensed under a Creative Commons Attribution 4.0 International License.