Distal Radial Artery Access (DRA) Vs. Transradial Access (TRA): Current Evidence
Yashasvi Chugh

Interventional Cardiologist and Structural Heart Disease Interventionist, Baylor Scott &White Heart and VascularHospital, Dallas Fortworth, Texas, USA

Sunita Chugh

Principal MO, Non–invasive cardiology, Heart and Vascular Institute, Fortis Memorial Research Institute, Gurugram,Haryana, India

Sanjay Kumar Chugh

Director of Cardiology and Interventional Cardiology, Aarvy Healthcare Superspeciality Hospital, Gurugram,Haryana, India
Keywords:
Distal radial artery access (DRA), standard transradial access (TRA), radial artery occlusion (RAO), anatomical snuffbox, Primary Percutaneous Coronary Intervention, randomized and non-randomized studies, meta-analyses
Abstract
Introduction: Transradial access (TRA) is currently recommended over the transfemoral (TFA)route as default, for percutaneous coronary interventions (PCI) and coronary angiography in allpatients, by the European and American Guidelines, because of reduced risk of bleeding, vascularcomplications and mortality especially in acute and high -risk patients.
Aims and objectives: Distalradial artery access (DRA) via the anatomical snuffbox is a safe and feasible alternative to standardtransradial access (TRA). This review aims to study and discuss the endpoints in recent studiescomparing DRA with TRA for coronary procedures to conclude the merits and demerits of DRA Vs.TRA.
Material and Methods: The evidence from several randomized and non-randomized studiesand meta-analyses comparing DRA with TRA is reviewed. Results: Though access failures andcrossovers are reported to be higher with DRA compared to TRA; most studies have shown nodifference in vascular complications in patients undergoing procedures via DRA or TRA.
Results ofsome randomized controlled trials between DRA Vs. TRA for coronary procedures, including PrimaryPercutaneous Coronary Intervention in ST-elevation myocardial infarction (STEMI) are available andare discussed; while others are underway for evaluation of radial artery occlusion (RAO) and otherend-points.
Conclusion: DRA takes more time, and fails more often compared to TRA; though timeto hemostasis is less and forearm hematoma is unreported with DRA. The Jury is still out on RAObetween DRA Vs. TRA; but the meticulous application of RAO prevention practices is the key toachieving low RAO
Downloads
Download data is not yet available.
References
1. Neumann F.J., Sousa-Uva M., Ahlsson A., et al. "2018 ESC/EACTS guidelines on myocardial revascularization". Eur Heart J 2019;40:87-165.
2. Lawton J.S., Tamis-Holland J.E., Bangalore S., et al. "2021 ACC/AHA/SCAI guideline for coronary artery revascularization: a report of the American College of Cardiology/American Heart Association Joint Committee on Clinical Practice Guidelines". J Am Coll Cardiol 2022;79:e21-e129.
3.Kaledin AL, Kochanov IN, Seletskiĭ SS, Arkharov IV, Burak TIa, Kozlov KL. [Peculiarities of arterial access in endovascular surgery in elderly patients]. Adv Gerontol. 2014;27(1):115-9. Russian. PMID: 25051767.
4.Amato JJ, Solod E, Cleveland RJ. A "second" radial artery for monitoring the perioperative pediatric cardiac patient. J Pediatr Surg. 1977 Oct;12(5):715-7. doi: 10.1016/0022-3468(77)90399-2. PMID: 915663.
5.Pyles ST, Scher KS, Vega ET, Harrah JD, Rubis LJ. Cannulation of the dorsal radial artery: a new technique. Anesth Analg. 1982 Oct;61(10):876-8. PMID: 7125255.
6.Babunashvili A, Dundua D. Recanalization and reuse of early occluded radial artery within 6 days after previous transradial diagnostic procedure. Catheter Cardiovasc Interv. 2011 Mar 1;77(4):530-6. doi: 10.1002/ccd.22846. PMID: 20939038.
7.Valsecchi O, Vassileva A, Cereda AF, Canova P, Satogami K, Fiocca L, Guagliumi G. Early Clinical Experience With Right and Left Distal Transradial Access in the Anatomical Snuffbox in 52 Consecutive Patients. J Invasive Cardiol. 2018 Jun;30(6):218-223. Epub 2018 Mar 15. PMID: 29543187.34-50.
8. Kiemeneij F. Left distal transradial access in the anatomical snuffbox for coronary angiography (ldTRA) and interventions (ldTRI). EuroIntervention. 2017 Sep 20;13(7):851-857. doi: 10.4244/EIJ-D-17-00079. PMID: 28506941.
9. Eid-Lidt G., Rodriguez A.R., Castellanos J.J., et al. "Distal radial artery approach to prevent radial artery occlusion trial". J Am Coll Cardiol Intv 2021;14:378-385.
10. Tsigkas G., Papageorgiou A., Moulias A., et al. "Distal or traditional transradial access site for coronary procedures: a single-center, randomized study". J Am Coll Cardiol Intv 2022;15:22-32.
11. Chugh Y, Kanaparthy NS, Piplani S, Chugh S, Shroff A, Vidovich M, Nolan J, Mamas M, Chugh SK. Comparison of distal radial access versus standard transradial access in patients with smaller diameter radial Arteries(The distal radial versus transradial access in small transradial ArteriesStudy: D.A.T.A - S.T.A.R study). Indian Heart J. 2021 Jan-Feb;73(1):26-34. doi: 10.1016/j.ihj.2020.11.002. Epub 2020 Nov 11. PMID: 33714406; PMCID: PMC7961259.
12. Adel Aminian, Gregory A. Sgueglia, Marcus Wiemer, Joëlle Kefer, et al. Distal Versus Conventional Radial Access for Coronary Angiography and Intervention: The DISCO RADIAL Trial, JACC:Cardiovascular Interventions, Volume 15, Issue 12,2022,Pages 1191-1201,ISSN 1936-8798, https://doi.org/10.1016/j.jcin.2022.04.032. (https://www.sciencedirect.com/science/article/pii/S1936879822008974)
13. Chugh SK1, Chugh S, Chugh Y, Rao SV. Feasibility and utility of pre-procedure ultrasound imaging of the arm to facilitate transradial coronary diagnostic and interventional procedures (PRIMAFACIE-TRI). Catheterization and Cardiovascular Interventions : Official Journal of the Society for Cardiac Angiography & Interventions, 26 Feb 2013, 82(1):64-73. DOI: 10.1002/ccd.24585 PMID: 22887352 .
14. Pancholy S., Coppola J., Patel T., Roke-Thomas M. "Prevention of radial artery occlusion—Patent hemostasis evaluation trial (PROPHET study): a randomized comparison of traditional versus patency documented hemostasis after transradial catheterization". Catheter Cardiovasc Interv 2008;72:3: 335-340. https://doi.org/10.1002/ccd.21639.
15. Samir B. Pancholy, Ivo Bernat, Olivier F. Bertrand, and Tejas M. Patel. Prevention of Radial Artery Occlusion After Transradial Catheterization: The PROPHET-II Randomized Trial. J Am Coll Cardiol Intv. 2016 Oct, 9 (19) 1992–1999

16.Mina Iskander,Fady Iskander, Mohammed Osman, & Ryan Kaple . Distal Radial Versus Conventional Radial Artery Access: An Updated Meta-Analysis | Journal of the American College of Cardiology. Vol. 78 No. (19_Supplement_S) B163. . https://www.jacc.org/doi/10.1016/j.jacc.2021.09.1250.
17 Prasad RM.,Pandrangi P. ,Pandrangi G. Yoo H., et al. Meta-Analysis Comparing Distal Radial Artery Approach Versus Traditional for Coronary Procedures. The American Journal of Cardiology . 1;164:52-56; 2022. doi: 10.1016/j.amjcard.2021.10.034. Epub 2021 Nov 20. PMID: 34815063 https://doi.org/10.1016/j.amjcard.2021.10.034.
18.Y Sattar, U Talib, M Faisaluddin , et al Meta-analysis comparing Distal radial versus traditional radial percutaneous coronary intervention or angiography.Am J Cardiol 2022;00:1-9.
19 F., Jolly S.S., Mehta S.R., et al. "Prediction of radial crossover in acute coronary syndromes: derivation and validation of the MATRIX score". EuroIntervention Published online August11, 2021.qhttps://doi.org/10.4244/EIJ-D-21-00441.
20 Meo D., Falsaperla D., Modica A., et al. "Proximal and distal radial artery approaches for endovascular percutaneous procedures: anatomical suitability by ultrasound evaluation". Radiol Med 2021;126:4: 630-635.
21 Valgimigli M., Gagnor A., Calabró P., et al. "Radial versus femoral access in patients with acute coronary syndromes undergoing invasive management: a randomised multicentre trial". Lancet 2015;385:9986: 2465-2476. https://doi.org/10.1016/S0140-6736(15)60292-6.

22 Valgimigli M., Frigoli E., Leonardi S., et al. "Radial versus femoral access and bivalirudin versus unfractionated heparin in invasively managed patients with acute coronary syndrome (MATRIX): final 1-year results of a multicentre, randomised controlled trial". Lancet 2018;392:10150: 835-848. https://doi.org/10.1016/S0140-6736(18)31714-8

23.Sgueglia GA, Hassan A, Harb S, Ford TJ, Koliastasis L, Milkas A, Zappi DM, Navarro Lecaro A, Ionescu E, Rankin S, Said CF, Kuiper B, Kiemeneij F. International Hand Function Study Following Distal Radial Access: The RATATOUILLE Study. JACC Cardiovasc Interv. 2022 Jun 27;15(12):1205-1215. doi: 10.1016/j.jcin.2022.04.023. Epub 2022 May 17. PMID: 35595672.
https://doi.org/10.1007/s11547-020-01299-4.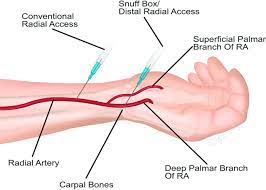 How to Cite
1.
Yashasvi Chugh, Sunita Chugh, Sanjay Kumar Chugh. Distal Radial Artery Access (DRA) Vs. Transradial Access (TRA): Current Evidence. Int J Med Res Rev [Internet]. 2022Nov.7 [cited 2023Dec.2];10(5):147-53. Available from: https://ijmrr.medresearch.in/index.php/ijmrr/article/view/1400
Copyright (c) 2022 Author (s). Published by Siddharth Health Research and Social Welfare Society
This work is licensed under a Creative Commons Attribution 4.0 International License.