A Rare Presentation of a Common Disease: A Diagnostic Dilemma
Somnath Maitra

Associate Professor, Department of General Medicine, JIMSH, Budge Budge, Kolkata, West Bengal, India

https://orcid.org/0000-0001-7906-3570

Sk Adnan Yusuf

Senior Resident, Department of General Medicine, JIMSH, Budge Budge, Kolkata, West Bengal, India

Koushik Ray

Assistant Professor, Department of Anatomy, JIMSH, Budge Budge, Kolkata, West Bengal, India

Rahul Singla

Senior Resident, Department of Radiology, JIMSH, Budge Budge, Kolkata, West Bengal, India

Jiban Krishna De

Professor, Department of Radiology, JIMSH, Budge Budge, Kolkata, West Bengal, India

Subhadeep Basu

2nd year DNB PGT ,Department of General Medicine, JIMSH, Budge Budge, Kolkata, West Bengal, India
Keywords:
Co infection , Plasmodium vivax , Plasmodium falciparum , splenic infarct
Abstract
Malaria affects millions of people across the globe .The classical clinical features may be absent, but the rapid diagnosis helps in early treatment and thus avoids complications .We present a case of co infection of Plasmodium  vivax and Plasmodium falciparum malaria in a female patient presenting with fever and pain abdomen and incidental detection of splenic infarct .The co infection  is uncommon and treatment should target both to avoid complications . Also,  the exact pathogenesis is un known and though splenic infarct is uncommon and missed due to lack of symptoms , it should be followed up.
Downloads
Download data is not yet available.
References
Cox-Singh, Janet, et al. Plasmodium knowlesi malaria in humans is widely distributed and potentially life threatening." Clinical infectious diseases 46.2 (2008): 165-171.
Marchand RP, Culleton R, Maeno Y, Quang NT, Nakazawa S. Co-infections of Plasmodium knowlesi, P. falciparum, and P. vivax among Humans and Anopheles dirus Mosquitoes, Southern Vietnam. Emerg Infect Dis. 2011 Jul;17(7):1232-9. doi: 10.3201/eid1707.101551.
William, Timothy, et al. Severe Plasmodium knowlesi malaria in a tertiary care hospital, Sabah, Malaysia." Emerging infectious diseases 17.7 (2011): 1248.
Centers for Disease Control and Prevention. Malaria. Available at http://www.cdc.gov/malaria. Accessed: Sep 15, 2011.
Zingman, Barry S., and Brant L. Viner. Splenic complications in malaria: case report and review." Clinical Infectious Diseases 16.2 (1993): 223-232.
Cinquetti G, Banal F, Rondel C, Plancade D, de Saint Roman C, Adriamanantena D, et al. Splenic infarction during Plasmodium ovale acute malaria: first case reported." Malaria journal 9.1 (2010): 1-3.
Kim A, Park YK, Lee JS, Chung MH, Kim ES. A case of symptomatic splenic infarction in vivax malaria." The Korean journal of parasitology 45.1 (2007): 55.
Imbert, Patrick, Christophe Rapp, and Pierre A. Buffet. Pathological rupture of the spleen in malaria: analysis of 55 cases (1958–2008)." Travel medicine and infectious disease 7.3 (2009): 147-159.
Nores M, Phillips EH, Morgenstern L, Hiatt JR. The clinical spectrum of splenic infarction." The American surgeon 64.2 (1998): 182.
Charoenpan P, Indraprasit S, Kiatboonsri S, Suvachittanont O, Tanomsup S. Pulmonary edema in severe falciparum malaria. Hemodynamic study and clinicophysiologic correlation. Chest. 1990 May;97(5):1190-7. doi: 10.1378/chest.97.5.1190.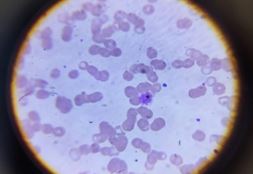 How to Cite
1.
Somnath Maitra, Sk Adnan Yusuf, Koushik Ray, Rahul Singla, Jiban Krishna De, Subhadeep Basu. A Rare Presentation of a Common Disease: A Diagnostic Dilemma. Int J Med Res Rev [Internet]. 2022Jan.27 [cited 2022Jun.28];9(6):399-02. Available from: https://ijmrr.medresearch.in/index.php/ijmrr/article/view/1358
Copyright (c) 2022 Author (s). Published by Siddharth Health Research and Social Welfare Society
This work is licensed under a Creative Commons Attribution 4.0 International License.