Clinico-Histopathological Correlation of Non-NeoplasticDermatological Lesions
Vibhuti Kumar

Chief of lab, Dr Lal Path Lab, Purnea, Bihar, India

Anita Sharan

Professor, Department of Pathology, D.Y. Patil University School of Medicine, Nerul, Navi Mumbai, India

Sunita Poriya

Assistant Professor, Geetanjali Medical College, Udaipur, Rajasthan, India

Sonia kundu

Additional Senior Medical Officer, , Civil Hospital, Panipat, Haryana, India
Keywords:
Leprosy, Non-Neoplastic skin lesions, Psoriasis, Papulo-squamous lesions, Vesicobullous lesions
Abstract
Objective: Non-neoplastic skin disorders are more common than neoplastic skin disorders whichhave included Infectious diseases, non-infectious erythematous lesions, papular & squamousdisorders, connective tissue diseases, non-infectious vesiculobullous / Vesiculopustular disorderse.tc. The pattern of skin diseases varies from one country to another and across different parts ofthe same country. So due to the variable spectrum, the histopathology of skin diseases is varied.Each clinical presentation is common to different histopathological pictures & thus definitely requireshistopathology for confirmation.
Design: This study was conducted by Dr D. Y. Patil Medical Collegeand Hospital, Navi Mumbai from October 2018 to October 2020. Subjects: One hundred and fiftynon-neoplastic specimens of skin biopsies submitted in the histopathology; Department of Pathologywere considered as the subjects of the study.
Material and Methods: Histopathological resultswere presented in tabular and graphical forms. Mean, median, standard deviation and ranges werecalculated for quantitative data. The Chi-square test and t-test with p<0.001 was consideredsignificant.
Results: The mean age of our study participants was 41.9 years with a standarddeviation of 36.5 years. The majority of our study participants were females: 29.4 % of patientspresented with infectious lesions, 22.7 % of patients presented with papulosquamous lesions, and12.7 % of patients presented with vesiculobullous lesions. The most common infectious non-neoplastic skin lesion was leprosy, the most common papulosquamous skin lesion was dermatitis,and the commonest vesiculobullous skin lesion was Pemphigus Vulgaris.
Conclusion: An integratedapproach by dermatologists and pathologists is recommended to increase the accuracy of diagnosisand for better management of the patient
Downloads
Download data is not yet available.
References
REFERENCES
1. Johnson BL, Yan AC. Congenital diseases (genodermatoses) In: Elder De, Elenitsas R, Elenitsas R, Johnson BL, Murphy GF, Xu X, editors. Lever's histopathology of the skin.
2. Singh AK, Singh S, Singh R, Singh HK. A Study on Clinico-histopathological Correlation of Skin Diseases in a Dermatological Setting. Indian Journal of Public Health Research & Development. 2016 Jan 1;7(1).
3. Singh AK, Singh S, Singh R, Singh HK. A Study on Clinico-histopathological Correlation of Skin Diseases in a Dermatological Setting. Indian Journal of Public Health Research & Development. 2016 Jan 1;7(1).
4. Lever WF. Histology of the skin. Histopathology of the Skin. Philadelphia. 1990:9-43.
5. Alguire PC, Mathes BM. Skin biopsy techniques for the internist. Journal of general internal medicine. 1998 Jan;13(1):46-54.
6. Sleiman R, Kurban M, Abbas O. Maximizing diagnostic outcomes of skin biopsy specimens. International journal of dermatology. 2013 Jan;52(1):72-8.
7. Weedon D. Weedon's Skin Pathology E-Book: Expert Consult-Online and Print. Elsevier Health Sciences; 2009 Oct 30.
8. A Fox BJ, Odom RB. Papulosquamous diseases: a review. Journal of the American Academy of Dermatology. 1985 Apr 1;12(4):597-624.
9. Megha Sharma. Clinicopathological study of non-Neoplastic skin lesions, JEBMH. 2020; 7(11).
10. Prajapati D, Patel D, Goswami D. Non neoplastic skin lesions: A histopathological study based on punch biopsy. International Journal of Clinical and Diagnostic Pathology. 2020;3(3):01-05.
11. Bisht M, Arya A, Choudhry BC. Histomorphological analysis and clinical correlation of neoplastic and non-neoplastic skin lesions: a study in a tertiary care centre of Western Uttar Pradesh, India. Int J Res Med Sci 2020; 8:2820-7.
12. Vijay S Veldurty, Pathological study of non-neoplastic skin lesions by punch biopsy, IJRMS, Volume10.1820. /2320-6012
13. d'Costa G, Bharambe BM. Spectrum of non-infectious erythematous, papular and squamous lesions of the skin. Indian journal of dermatology. 2010 Jul;55(3):225.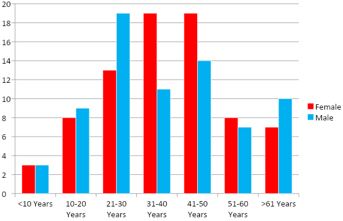 How to Cite
1.
Vibhuti Kumar, Anita Sharan, Sunita Poriya, Sonia kundu. Clinico-Histopathological Correlation of Non-NeoplasticDermatological Lesions. Int J Med Res Rev [Internet]. 2022Mar.6 [cited 2022Aug.20];10(1):24-0. Available from: https://ijmrr.medresearch.in/index.php/ijmrr/article/view/1351
Copyright (c) 2022 Author (s). Published by Siddharth Health Research and Social Welfare Society
This work is licensed under a Creative Commons Attribution 4.0 International License.