Study of ANC and immediate PNC mothers admitted with severe anemia in GMC Chandrapur
Dr. Deepti V Shrirame

Assistant Professor, Department of Obstetrics and Gynecology, Chandrapur, Maharashtra, India

Dr. M.R. Waikar

Professor and HOD, Department of Obstetrics and Gynecology, Chandrapur, Maharashtra, India
Keywords:
Severe anemia, Maternal mortality, ANC, PNC
Abstract
Maternal mortality continues to be a major health problem in the developing world. About 20% of cases of maternal mortality are due to anemia (preventable cause).
Objectives:1. To define the geographical areas around Chandrapur from where the cases of anemia are referred. 2. To co-relate variables like maternal age, gestational age, parity and the time elapsed between last childbirth and current pregnancy.
Materials and Methods: Hb of ANC and immediate PNC patients referred with severe anemia was estimated with Sahli's Haemoglobinometer.
Inclusion criteria:257 ANC and immediate postpartum patients admitted between July 2016 to September 2016 with severe anemia and transfused with blood.
Exclusion criteria: anemia due to acute blood loss.
Results:77.8%severe anemia cases were between 21 to 30 years.22% were from Chandrapur taluka.12.8%cases from Rajura and10.12% from Korpana taluka,68.26% cases had gestational age more than 28 weeks.59.92%cases were multipara. In 84.42% of cases last childbirth was less than 3 years.20%cases were of sickle cell anemia patients. There were no cases of abruption placentae, surgical wound infection and maternal mortality. No patient had postpartum haemorrhage as were managed with active management of the third stage of labour and prophylactic 3 tablets of misoprostol per rectum. There were 12 preterm deliveries with no intrauterine deaths.
Conclusion: Peripheral preventive services must be strengthened on a priority basis in Chandrapur, Ballarpur, Rajura and Korpana talukas which belong to south Chandrapur where the tribal area is predominant. Probable causes in these areas might be related to culture, ignorance, dietary habits and availability of medical staff which needs to be addressed. Effective counselling regarding early registration, restriction of parity, contraception for spacing births, diet and iron and folic acid supplementation is essential for preventing anemia.
Downloads
Download data is not yet available.
References
DC Dutta, Medical and Surgical Illness Complicating Pregnancy, Haematological Disorders in DC Dutta's Textbook of obstetrics Hiralal Konar 2015;20:303-319.
KOSCHORKE A, Egbor M, Bhide A. Haematological Disorders and Red-Cell Alloimmunization in Pregnancy. Arias' Practical Guide to High-Risk Pregnancy and Delivery: A South Asian Perspective. 2015:233.
WHO.Managing complications in pregnancy and childbirth:A guide for midwives and doctors.Integrated management of pregnancy and childbirth(Draft Document).WHO;2000.
WHO. Pregnancy, childbirth, postpartum and newborn care:A guide for essential practice.Geneva:WHO;2003.
Suryanarayana R, Chandrappa M, Santhuram AN, Prathima S, Sheela SR. Prospective study on prevalence of anemia of pregnant women and its outcome: A community based study. Journal of family medicine and primary care. 2017;6(4):739. doi: 10.4103/jfmpc.jfmpc3317.
De Benoist B, Mc Lean E, Egli I, Cogswell M. Worldwide Prevalence of anemia1993-2005:WHO Global Database on Anemia.Geneva:World Health Organiszation;2008.
Marahatta R. Study of anaemia in pregnancy and its outcome in Nepal Medical College Teaching Hospital, Kathmandu, Nepal. Nepal Medical College journal: NMCJ. 2007;9(4):270-4.
Hashim N, Farooqi M, Naqvi S, Jaffery HF. Anemia; moderate to severe during pregnancy. Professional Med J2014;21(2):247-252.
Kalaivani K. Prevalence and consequences of anemia in pregnancy.Indian Jmed Res.2009;130:627-33.
Ivan EA, Mangaiarkkarasi A. Evaluation of anemia in booked antenatal mothers during the last trimester.J Clin Diagn Res.2013;7:2487-90. doi:10.7860/JCDR/2013/6370.3586.
Rohilla M, Raveendram A, Dhaliwal LK, Chopra S. Severe anemia in pregnancy: A tertiary hospital experience from northern India.J Obstet Gynaecol.2010;30(7):694-6. doi:10.3109/01443615.2010509821.
Nair M, Choudhary MK, Choudhary SS, Kakoty SD, Sarma UC, Webster P, et al. Association between maternal anaemia and pregnancy outcomes: A cohort study in Assam, India. BMJ Glob Health.2016;1:e000026. doi: 10.1136/bmjgh-2015-000026.
Rukuni R. Bhattacharya S. Murphy MF. Roberts D. Stanworth SJ. Knight M Maternal and neonatal outcome of antenatal anemia in a Scottish population :a retrospective cohort study. Acta Obstet Gynecol Scand.2016;95:555-564. doi: 10.1111/aogs.12862.
Obse N, Mossie A, Gobena T. Magnitude of anaemia and associated risk factors among pregnant women attending antenatal care in Shalla Woreda, West Arsi Zone, Oromia Region, Ethiopia. Ethiop J Health Sci. 2013;23:165–73.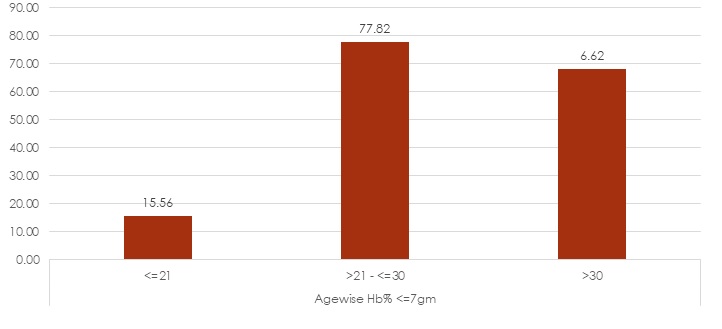 CITATION
DOI: 10.17511/ijmrr.2021.i01.06
How to Cite
1.
Dr. Deepti V Shrirame, Dr. M.R. Waikar. Study of ANC and immediate PNC mothers admitted with severe anemia in GMC Chandrapur. Int J Med Res Rev [Internet]. 2021Feb.28 [cited 2023Sep.26];9(1):41-5. Available from: https://ijmrr.medresearch.in/index.php/ijmrr/article/view/1242
Copyright (c) 2021 Author (s). Published by Siddharth Health Research and Social Welfare Society
This work is licensed under a Creative Commons Attribution 4.0 International License.