Prevalence of diastolic dysfunction in Normotensive diabetics below 45 years of age
Dr. Nitesh Sukhwani

Associate Professor, Department of Medicine, Peoples College Of Paramedical Science & Research Center, Bhopal, Madhya Pradesh, India

Dr. Mohit Jain

Resident DNB Cardiology, 2nd year, Bansal Hospital, Bhopal, Madhya Pradesh, India
Keywords:
Diabetes, Normotensive, Diastolic dysfunction, ECHO
Abstract
Introduction: Dengue rarely affects the heart but clinical symptoms of cardiac involvement may range greatly from silent illness to severe myocarditis resulting in death. Clinical features are asymptomatic and most are transient among patients with DF/DHF.
Material and methods: It was an observational study conducted at the Department of General Medicine, Peoples College of Medical Sciences and Research Centre, Bhopal. The total duration of the study was One and a half years from November 2016 to APR 2018. All normotensive diabetic patients less than 45 years of age presenting to the Department of General Medicine, Peoples College of Medical Sciences and Research Centre, Bhopal during one and half years from which data was collected using as per given proforma.
Results: In the present study, It was found that significant Pearson's correlation between age of diabetics and diastolic changes in ECHO, and serum creatinine and diastolic changes in ECHO. The rest of the parameters like blood urea, blood pressure, RBS, FBS, PPBS, and duration of diabetes were not significantly correlated.
Conclusion: It was concluded that in the present study, diabetes mellitus is itself a risk factor for developing diastolic dysfunction though its prevalence increases with increasing age, serum creatinine and there is no association found between duration of diabetes and diastolic dysfunction. So screening of every young normotensive diabetic for diastolic dysfunction should be done to prevent early cardiovascular disease.
Downloads
Download data is not yet available.
References
Kannel WB, Hjortland M, Castelli WP. Role of diabetes in congestive heart failure: the Framingham Study. Am J Cardiol. 1974;34(1):29-34. doi: 10.1016/0002-9149(74)90089-7.
Zarich SW, Nesto RW: Diabetic cardiomyopathy. Am Heart J. 1989;118(5 Pt 1):1000-1012. doi: 10.1016/0002-8703(89)90236-6.
Raev DC. Which left ventricular function is impaired earlier in the evolution of diabetic cardiomyopathy? An echocardiographic study of young type I diabetic patients. Diabetes Care. 1994;17(7):633-639. doi: 10.2337/diacare.17.7.633.
American Diabetes Association. Classification and diagnosis of diabetes. Diabetes Care 2017;40(1): S11-S24. doi: 10.2337/dc17-S005.
Ashour K. Early Detection of Diastolic Dysfunction in Diabetic Patients (Single Center Cross Sectional Study). J Heart Cardiovasc Res 2018;2(1:3).
Milwidsky A, Maor E, Kivity S, Berkovitch A, Zekry SB, Tenenbaum A, et al. Impaired fasting glucose and left ventricular diastolic dysfunction in middle-age adults: a retrospective cross-sectional analysis of 2971 subjects. Cardiovasc Diabetol. 2015;14(1):119. doi: 10.1186/s12933-015-0282-4.
Suresh G, Alva R, Prakash P, Saya R. Prevalence of asymptomatic left ventricular diastolic dysfunction in type 2 diabetic patients and healthy controls: a comparative study. Arch Med Health Sci. 2017;5(1):30-33. doi: 10.4103/amhs.amhs_92_16.
Patil VC, Patil HV, Shah KB, Vasani JD, Shetty P. Diastolic dysfunction in asymptomatic type 2 diabetes mellitus with normal systolic function. J Cardiovasc Dis Res. 2011;2(4):213-222. doi: 10.4103/0975-3583.89805.
Liu JE, Robbins DC, Palmieri V, Bella JN, Roman MJ, Fabsitz R, et al. Association of albuminuria with systolic and diastolic left ventricular dysfunction in type 2 diabetes: The Strong Heart Study. J Am Coll Cardiol. 2003;41(11):2022-2028. doi: 10.1016/s0735-1097(03)00403-0.
Felício JS, Pacheco JT, Ferreira SR, Plavnik F, Moisés VA, Kohlmann O, et al. Hyperglycemia and nocturnal systolic blood pressure are associated with left ventricular hypertrophy and diastolic dysfunction in hypertensive diabetic patients. Cardiovasc Diabetol. 2006;5(1):19. doi: 10.1186/1475-2840-5-19.
Russo C, Jin Z, Homma S, Rundek T, Elkind MS, Sacco RL, et al. Effect of diabetes and hypertension on left ventricular diastolic function in a high-risk population without evidence of heart disease. Eur J Heart Fail. 2010;12(5):454-461. doi: 10.1093/eurjhf/hfq022.
From AM, Scott CG, Chen HH. Changes in diastolic dysfunction in diabetes mellitus over time. Am J Cardiol. 2009;103(10):1463-1466. doi: 10.1016/j.amjcard.2009.01.358.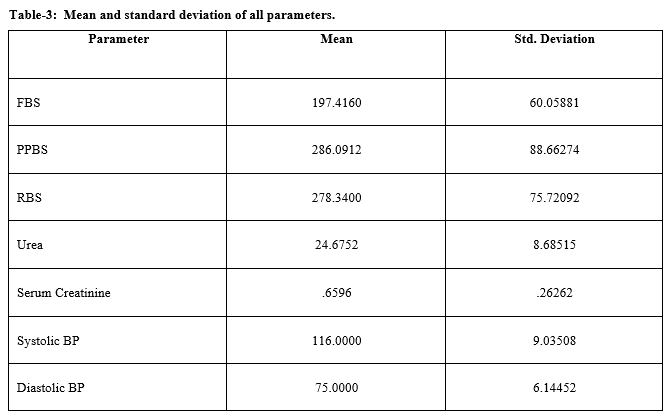 CITATION
DOI: 10.17511/ijmrr.2020.i06.08
How to Cite
1.
Dr. Nitesh Sukhwani, Dr. Mohit Jain. Prevalence of diastolic dysfunction in Normotensive diabetics below 45 years of age. Int J Med Res Rev [Internet]. 2020Dec.31 [cited 2021Jan.23];8(6):424-8. Available from: https://ijmrr.medresearch.in/index.php/ijmrr/article/view/1239
Copyright (c) 2021 Author (s). Published by Siddharth Health Research and Social Welfare Society
This work is licensed under a Creative Commons Attribution 4.0 International License.