The Potential of Prenatal Diagnosis in the Early Detection of Congenital Malformations
Cristina-Crenguta Albu

Associate Professor, Department of Genetics, University of Medicine and Pharmacy "Carol Davila", Bucharest, Romania

https://orcid.org/0000-0001-9783-149X

Dinu-Florin Albu

Associate Professor, Department of Obstetrics Gynecology, Clinical Hospital of Obstetrics and Gynecology "Prof. Dr. Panait Sirbu", Bucharest, Romania

https://orcid.org/0000-0002-4157-2334

Stefan-Dimitrie Albu

PhD Student, Doctoral School, University of Medicine and Pharmacy "Carol Davila", Bucharest, Romania

https://orcid.org/0000-0002-1315-723X
Keywords:
Ultrasound investigation, Prenatal diagnosis, Lobar hydrocephalus, Transposition of the great vessels
Abstract
We present a unique association of fetal malformations very early diagnosed by ultrasound examination, at 14 weeks of gestation. A 28-year-old pregnant female, was addressed in a private medical center from Bucharest, Romania, for a routine ultrasound screening. A detailed ultrasound evaluation of the fetus showed numerous and significant cephalic and heart malformations. The ultrasound examination of the fetal head suggest the diagnosis of fetal lobar hydrocephalus, and the ultrasound examination of the fetal heart suggest the transposition of the great vessels. The parents were informed about the severity of the fetal malformations and decided to terminate the pregnancy due to medical reasons. Anatomopathological examination confirmed the prenatal diagnosis. First trimester ultrasonography was crucial in the early prenatal diagnosis and management of the malformed fetus with a unique association of fetal malformations.
Downloads
Download data is not yet available.
References
Partington MD. Congenital hydrocephalus. Neurosurg Clin N Am 2001;12(4):737-742, ix.
Tully HM, Dobyns WB. Infantile hydrocephalus: a review of epidemiology, classification and causes. Eur J Med Genet 2014;57(8):359-368. doi: 10.1016/j.ejmg.2014.06.002.
Zhang J, Williams MA, Rigamonti D. Genetics of human hydrocephalus. J Neurol 2006;253(10):1255-1266.
doi: 10.1007/s00415-006-0245-5.
Venkataramana NK, Mukundan CR. Evaluation of functional outcomes in congenital hydrocephalus. J Pediatr Neurosci 2011;6(1):4-12. doi: 10.4103/1817-1745.84399.
Martins P, Castela E. Transposition of the great arteries. Orphanet J Rare Dis. 2008;3:27.
doi: 10.1186/1750-1172-3-27.
Albu CC, Albu DF, Albu SD, Patrascu A, Musat AR, Goganau A. Early Prenatal Diagnosis of an Extremely Rare Association of Down Syndrome and Transposition of the Great Vessels. Rev Chim 2019;70:2574-2578.
doi.org/10.37358/RC.19.7.7383
Rao PS. Management of Congenital Heart Disease: State of the Art-Part II-Cyanotic Heart Defects. Children (Basel) 2019;6(4):54. doi: 10.3390/children6040054.
Unolt M, Putotto C, Silvestri LM, Marino D, Scarabotti A, Massaccesi V, et al. Transposition of great arteries: new insights into the pathogenesis. Front Pediatr 2013;1:11. doi: 10.3389/fped.2013.00011.
Forcelini CM, Mallmann AB, Crusius PS, Seibert CA, Crusius MU, Zandoná DI, et al. Down syndrome with congenital hydrocephalus: case report. Arq Neuropsiquiatr 2006;64(3B):869-871. doi: 10.1590/s0004-282x2006000500031.
Kashyap N, Pradhan M, Singh N, Yadav S. Early Detection of Fetal Malformation, a Long Distance Yet to Cover! Present Status and Potential of First Trimester Ultrasonography in Detection of Fetal Congenital Malformation in a Developing Country: Experience at a Tertiary Care Centre in India. J Pregnancy 2015;2015:623059. doi: 10.1155/2015/623059.
Karim JN, Roberts NW, Salomon LJ, Papageorghiou AT. Systematic review of first-trimester ultrasound screening for detection of fetal structural anomalies and factors that affect screening performance. Ultrasound Obstet Gynecol 2017;50(4):429-441. doi: 10.1002/uog.17246.
Montaguti E, Balducci A, Perolo A, Emanuela Angeli E, Gargiulo G, Pilu G, et al. Prenatal diagnosis of congenital heart defects and voluntary termination of pregnancy. Am J Obstet Gynecol MFM 2020;2:100207. doi.org/10.1016/j.ajogmf.2020.100207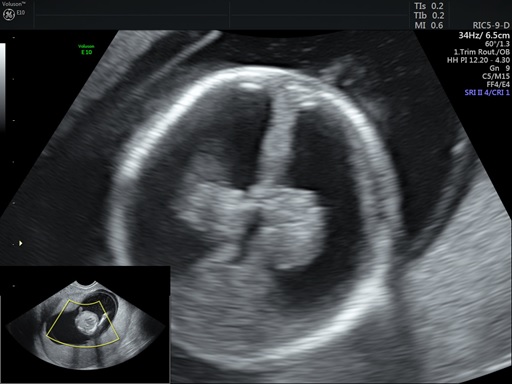 CITATION
DOI: 10.17511/ijmrr.2021.i01.08
How to Cite
1.
Albu C-C, Albu D-F, Albu S-D. The Potential of Prenatal Diagnosis in the Early Detection of Congenital Malformations. Int J Med Res Rev [Internet]. 2021Feb.28 [cited 2023Sep.26];9(1):54-7. Available from: https://ijmrr.medresearch.in/index.php/ijmrr/article/view/1233
Copyright (c) 2021 Author (s). Published by Siddharth Health Research and Social Welfare Society
This work is licensed under a Creative Commons Attribution 4.0 International License.