Management of multiple rib fractures-results from a Major Trauma Centre with the review of the existing literature
Dr. D. Chowdhury

Specialty Registrars, Emergency Medicine, Royal Preston Hospital, England, United Kingdom

Dr. P. Okoh

Specialty Registrars, Emergency Medicine, Royal Preston Hospital, England, United Kingdom

Dr. H. Dambappa

Specialty Registrars, Emergency Medicine, Royal Preston Hospital, England, United Kingdom
Keywords:
Rib Fracture, Trauma, Pain Management
Abstract
Introduction: Rib fractures are amongst the most common fractures following major trauma presenting to the Emergency Department. The impact of rib fractures is even more significant in the patient with underlying chronic respiratory conditions.
Aim: To assess our current management of rib fractures at our trauma center. Method: The current study collected our data from the TARN Registry primarily focussing on patients with multiple rib fractures. The main components were the analgesic requirement of our patients. The number of rib fracture stabilization procedures and the average number of ribs fixed were also studied.
Results: The data were collected retrospectively over 12 months. There were 313 patients identified as having chest wall injuries. From the data, 41.9% (131) of patients were over the age of 65 years. A significant proportion of our patients 34.5% (108) were noted to have multiple rib fractures (>3 Ribs). It was noted that 3% (9) of the 313 patients required operations. The average of the patients included in the study was noted to be 61 years with an age range of 17-92 years.
Conclusion: The mainstay management of rib fracture is a provision of adequate analgesia and the prevention of respiratory complications that can all stem from poor ventilatory function amongst other patient factors and injury patterns. Through the decades, surgical stabilization has gained pace and has found its niche in the management of rib fractures.
Downloads
Download data is not yet available.
References
Battle C, Lovett S, Hutchings H, Evans PA. Predicting outcomes after blunt chest wall trauma: development and external validation of a new prognostic model. Crit Care. 2014;18(3):R98. doi:10.1186/cc13873.
Holcomb JB, McMullin NR, Kozar RA, Lygas MH, Moore FA. Morbidity from rib fractures increases after age 45. J Am Coll Surg. 2003;196(4):549-555. doi: 10.1016/S1072-7515(02)01894-X.
Nirula R, Diaz JJ Jr, Trunkey DD, Mayberry JC. Rib fracture repair: indications, technical issues, and future directions. World J Surg. 2009;33(1):14-22. doi: 10.1007/s00268-008-9770-y.
Acute Pain Management for adult patients with fractured ribs Sr G. Nixon Dr E Baird et al. Ref 9/2017.
May L, Hillermann C, Patil S. Rib fracture management. Bja Education. 2016;16(1):26-32. doi: 10.1093/bjaceaccp/mkv011.
He Z, Zhang D, Xiao H, Zhu Q, Xuan Y, Su K, et al. The ideal methods for the management of rib fractures. J Thorac Dis. 2019;11(8):S1078-S1089. doi:10.21037/jtd.2019.04.109.
Tohidi M, O'Sullivan D, Groome P, Yach JD. Surgical fixation of multiple rib fractures and the flail chest: A Meta-analysis and review of evidence. Orthopaedic Proceedings. 2020;102-B(7):47-47.
de Moya M, Nirula R, Biffl W. Rib fixation: Who, What, When. Trauma Surg Acute Care Open. 2017;2(1):e000059. doi: 10.1136/tsaco-2016-000059.
de Moya M, Bramos T, Agarwal S, Fikry K, Janjua S. Pain as an indication for rib fixation: a bi-institutional pilot study. J Trauma. 2011;71(6):1750-1754. doi: 10.1097/TA.0b013e31823c85e9.
Tanaka H, Yukioka T, Yamaguti Y. Surgical stabilization of internal pneumatic stabilization? A prospective randomized study of management of severe flail chest patients. J Trauma. 2002;52(4):727-732. discussion 732. doi: 10.1097/00005373-200204000-00020.
Nickerson TP, Thiels CA, Kim BD, Zielinski MD, Jenkins DH, Schiller HJ. Outcomes of complete versus partial surgical stabilization of flail chest. World J Surg, 2016;40(1):236–241 doi: 10.1007/s00268-015-3169-3.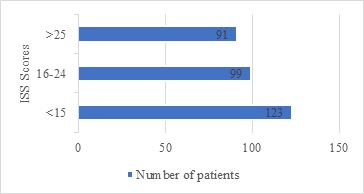 CITATION
DOI: 10.17511/ijmrr.2020.i06.01
How to Cite
1.
Dr. D. Chowdhury, Dr. P. Okoh, Dr. H. Dambappa. Management of multiple rib fractures-results from a Major Trauma Centre with the review of the existing literature. Int J Med Res Rev [Internet]. 2020Dec.23 [cited 2021Jan.23];8(6):379-85. Available from: https://ijmrr.medresearch.in/index.php/ijmrr/article/view/1227
Copyright (c) 2020 Author (s). Published by Siddharth Health Research and Social Welfare Society
This work is licensed under a Creative Commons Attribution 4.0 International License.