Case Report: Fibrosarcoma in Maxilla in Youngest
Dr. Bhavuk Vanza

Assistant Professor, Department of Oral & Maxillofacial Surgery, Government Dental College, Indore, Madhya Pradesh, India

Dr. Amit Rawat

Associate Professor, Department of Oral & Maxillofacial Surgery, Government Dental College, Indore, Madhya Pradesh, India

Dr. Rashi Yadav

Assistant Professor, Department of Oral & Maxillofacial Surgery, Government Dental College, Indore, Madhya Pradesh, India

Dr. Umesh Patel

Professor in Pediatrics, RKDF Medical College, Bhopal, Madhya Pradesh, India
Keywords:
Fibrosarcoma, Maxilla
Abstract
Fibrosarcomas are rare but highly fulminant and aggressively malignant neoplasm which occurs as a result of mutated spindle-shaped fibroblasts. According to WHO, they are soft tissue sarcoma commonly present seldom at cutis. The etiology of such a malignancy is obscured nevertheless it has several predisposing factors like pre-existing pathology but the commonest of them is radiation. Mesenchymal malignancies were initially over-diagnosed and were the epicenter of diagnostic dilemma to the pathologist, but with the advent of Vimentin staining and immunohistochemistry, the diagnostic front has fairly advanced for fibrosarcomas. Incidence of Fibrosarcoma in Maxilla accounts for less than 0.1%, when compared to other head and neck malignancies, and is predominantly found between 2nd to 6th decades of life. Various approaches have been documented in the literature regarding its treatment, but aggressive surgical excision remains the mainstay of treating Fibrosarcomas. The role of adjuvant medicinal therapies have been well debated but do have a conclusive outcome. Through this article, we want to highlight and document a case, which occurred at an exceptionally young age, at a site that had no predisposing factors but has proven immunohistochemical diagnosis and was rapidly fulminating and aggressively malignant. The preoperative diagnosis of the patient was inconclusive reporting it to be a mesenchymal tumor, therefore, the patient was treated with the intraoral approach for wide surgical resection. The surgical specimen was subjected to immunohistochemistry with Vimentin staining which reported it to be a Fibrosarcomas, therefore the patient was advised chemotherapy, yet the prognosis is guarded.
Downloads
Download data is not yet available.
References
Weiss SW, Goldblum JR. Fibrosarcoma. In: Enzinger and Weiss's Soft Tissue Tumors. 5th ed. New Delhi: Elsevier; 2008. p. 303 30.
Wadhwan V, Chaudhary MS, Gawande M. Fibrosarcoma of the oral cavity. Indian J Dent Res 2010;21(2):295-298. Available from: https://www.ijdr.in/text.asp?2010/21/2/295/66640.
Guillou L, Folpe AL. Fibroblastic and Fibrohistiocytic Tumors. In: Folpe AL, Inwards CY. (eds.). Bone and Soft Tissue Pathology. Elsevier. Philadelphia, PA. 2010.
Augsburgerl D, Peter J, Nelson, Kalinski T, Udelnow A, Knosel T, Hofstette M, et al. Current diagnostics and treatment of fibrosarcoma –perspectives for future therapeutic targets and strategies. Oncotarget, 2017;8(61):104638-104653. doi: 10.18632/oncotarget.20136.
Shrivastava S, Nayak SK, Nayak P, Sahu S. Fibrosarcoma of Maxilla: A case report. Journal of Oral & Maxillofacial Pathology 2016;20(1):162. doi: 10.4103/0973-029X.180983.
Thway K. Pathology of soft tissue sarcomas. Clinical Oncol. 2009;21(9):695-705. doi: 10.1016/j.clon.2009.07.016.
Toro JR, Travis LB, Wu HJ, Zhu K, Fletcher CD, Devesa SS. Incidence patterns of soft tissue sarcomas, regardless of primary site, in the surveillance, epidemiology and end results program, 1978–2001: An analysis of 26,758 cases. Int J Cancer. 2006;119(12):2922-30. doi: 10.1002/ijc.22239.
Arora K. Soft tissue Tumors, Fibrosarcoma of soft tissue, adult. Available at http://www.pathologyoutlines.com/topic/ softtissuefibrosarcoma.html.
Wadhwan V, Chaudhary MS, Gawande M. Fibrosarcoma of the oral cavity. Indian J Dent Res 2010; 21(2): 295 298. Available from: https://www.ijdr.in/text.asp?2010/21/2/295/66640.
ESMO/European Sarcoma Network Working Group. Soft tissue and visceral sarcomas: ESMO Clinical Practice Guidelines for diagnosis, treatment and follow-up. Ann Oncol. 2014;29(4):iv51–iv67.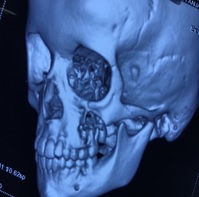 CITATION
DOI: 10.17511/ijmrr.2020.i06.09
How to Cite
1.
Dr. Bhavuk Vanza, Dr. Amit Rawat, Dr. Rashi Yadav, Dr. Umesh Patel. Case Report: Fibrosarcoma in Maxilla in Youngest. Int J Med Res Rev [Internet]. 2020Dec.31 [cited 2021Jan.23];8(6):457-60. Available from: https://ijmrr.medresearch.in/index.php/ijmrr/article/view/1180
Copyright (c) 2021 Author (s). Published by Siddharth Health Research and Social Welfare Society
This work is licensed under a Creative Commons Attribution 4.0 International License.