A study on nephropathy in type2 diabetes individuals in coastal Andhra Pradesh, India
Dr. Avapati Raja Sekhar

Associate Professor, Department of General Medicine, GSL Medical College, Rajahmundry, Andhra Pradesh, India

Dr. Nallamothu Murali Krishna

Associate Professor, Department of General Medicine, GSL Medical College, Rajahmundry, Andhra Pradesh, India

Dr. Bhaskar Dorapudi

Resident, Department of General Medicine, GSL Medical College, Rajahmundry, Andhra Pradesh, India

Dr. T Jaya Chandra

Scientist in-charge, Central Research laboratory, GSL Medical College, Rajahmundry, Andhra Pradesh, India
Keywords:
Diabetes, Kidney, Microalbuminuria, Nephropathy
Abstract
Introduction: Diabetes nephropathy (DN) is an important, life-threatening microvascular complication of diabetes mellitus (DM). With this, a study was conducted to find the association between type 2 DM and DN.
Materials and Methods: The study was conducted in the department of general medicine, GSL Medical College. Type 2 diabetic subjects who attended the outpatient and inpatient wards, aged > 30 years were included in the study, known renal disease/ were not considered. Albumin creatinine ratio was measured by immune turbidometry using a microalbuminuria test kit provided by ERBA MANHEIM GERMANY. Serum creatinine was done by creatininase enzymatic method, eGFR was calculated using the CKD-EPI equation. P<0.05 was considered statistically significant.
Results: A total of 150 DM participants were included in the study; mean serum creatinine was 1.59 + 1.25 with a range from 0.4 to 8.7 mg/dl and mean eGFR of the study participants was 73.65 + 40.428 ml/min/m2 with a range from 7 to 162 ml/min/m2. DN was detected in 45% (67) participants.
Conclusions: The present study reveals that there was significant evidence to support that microalbuminuria or proteinuria in patients with diabetes is a potential risk factor not only for kidney function impairment but also as a marker for high risk of cardiovascular complications.
Downloads
Download data is not yet available.
References
Zhenhua He. Diagnosis and Treatment of Diabetic Nephropathy in Type 1 and Type 2 Diabetes Patients. J Mol Biomark Diag. 2016;7:5. doi: 10.4172/2155-9929.1000295.
Ragnar Pálsson, MD and Uptal D. Patel, MD Cardiovascular Complications of Diabetic Kidney Disease Adv Chronic Kidney Dis. 2014;21(3):273-280. doi: 10.1053/j.ackd.2014.03.003.
Alvin C. Powers, Diabetes Mellitus: Complications Harrison's Principles of Internal Medicine. 19th edition, 2015.
Mogensen CE, Christensen CK, Vittinghus E. The stages in diabetic renal disease: with emphasis on the stage of incipient diabetic nephropathy. Diabetes. 1983;32(2):64-78. doi: 10.2337/diab.32.2.S64.
Unnikrishnan R, Rema M, Pradeepa R. Prevalence and risk factors of diabetic nephropathy in an urban south Indian population: the Chennai Urban Rural Epidemiology Study (CURES 45). Diabetes Care. 2007;30(8):2019-2024. doi: 10.2337/dc06-2554.
Shaw PK, Baboe F, van Es LA, van der Vijver JC, van de Ree MA, de Jonge N, et al. South-Asian Type 2 Diabetic Patients Have Higher Incidence and Faster Progression of Renal Disease Compared With Dutch- European Diabetic Patients, Diabetes Care. 2006;29(6):1383-1388. doi: 10.2337/dc06-0003.
R. Retnakaran Cromme, R., Szekessy, T. Risk Factors for Renal Dysfunction in Type 2 Diabetes U.K. Prospective Diabetes Study. Diabetes. 2006;55(6):1832-1839. doi: 10.2337/db05-1620.
Wirta OR, Pasternack AI, Oksa HH, Mustonen JT, Koivula TA, Helin HJ, et al. Occurrence of late specific complications in type II (non-insulin-dependent) diabetes mellitus. J Diabetes Complications. 1995;9(3): 177-185. doi: 10.1016/1056-8727(94)00034-l.
Collins VR, Dowse GK, Plehwe WE, Imo TT, Toelupe PM et al. High prevalence of diabetic retinopathy and nephropathy in Polynesians of Western Samoa. Diabetes Care. 1995;18(8):1140-1149. doi: 10.2337/diacare.18.8.1140.
Krairittichai U. Prevalence and risk factors of diabetic nephropathy among Thai patients with type 2 diabetes mellitus. J Med Assoc Thai. 2011;94(2):1-5.
Hong D, Zheng T, Jia-qing S, Jian W, Zhihong L, Lei-shi L. Nodular glomerular lesion: A later stage of diabetic nephropathy? Diabetes Res Clin Pract. 2007;78(2):189-195. doi: 10.1016/j.diabres.2007.03.024.
Miyazato J, Horio T, Takiuchi S, Kamide KO, Sasaki S, et al. Left ventricular diastolic dysfunction in patients with chronic renal failure: impact of diabetes mellitus, Diabetes UK. Diabetic Med. 2005;22(6): 730-736. doi: 10.1111/j.1464-5491.2005.01500.x.
Caramori M, Fioretto P, Mauer M. The need for early predictors of diabetic nephropathy risk: is albumin excretion rate sufficient? Diabetes. 2000;49(9):1399-1408. doi: 10.2337/diabetes.49.9.1399.
Younes N, Hanai K, Suzuki K. Comparison of Urinary Albumin-Creatinine Ratio and Albumin Excretion Rate in the Diabetes Control and Complications Trial/Epidemiology of Diabetes Interventions and Complications study clinic. J Am Soc Nephrol. 2010;5(7):1235-1242. doi: 10.2215/CJN.07901109.
Fisher H. Comparison of Associations of Urine Protein-Creatinine Ratio Versus Albumin-Creatinine Ratio with Complications of CKD: A Cross-sectional Analysis. Am J Kidney Dis. 2013;62(6):313-320. doi: 10.1053/j.ajkd.2013.07.013.
Watanabe Y. A Cross-sectional Survey of Chronic Kidney Disease and Diabetic Kidney Disease in Japanese Type 2 Diabetic, Patients at Four Urban Diabetes Clinics. Inter Med. 2009;48(6):411-414. doi: 10.2169/internalmedicine.48.1691.
Sanjeev Kumar, Brenner BM, Toto RD. Correlation of DN and HbA1C in Newly Diagnosed Type 2 Diabetic Patients of Western UP. Inter J Sci Res. 2014;4(12):221-225. doi: 10.21276/ijcmr.2019.6.4.40.
Birakta Debbarma, Mohanram A, Zhang Z, Shahinfar S, Keane WF. Significance of Microalbuminuria in Newly Diagnosed type 2 Diabetes Mellitus. IOSR J Den Med Sci. 2015;14(8):40-47. doi: 10.9790/0853-14814047.
Levey AS, Stevens LA, Schmid CH, Zhang Y, Castro AF, et al. A new equation to estimate glomerular filtration rate. Ann Intern Med. 2009;150(9):604-612. doi: 10.7326/0003-4819-150-9-200905050-00006.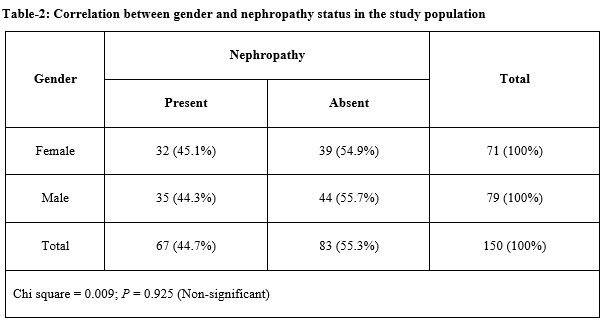 CITATION
DOI: 10.17511/ijmrr.2020.i05.01
How to Cite
1.
Dr. Avapati Raja Sekhar, Dr. Nallamothu Murali Krishna, Dr. Bhaskar Dorapudi, Dr. T Jaya Chandra. A study on nephropathy in type2 diabetes individuals in coastal Andhra Pradesh, India. Int J Med Res Rev [Internet]. 2020Oct.28 [cited 2020Dec.5];8(5):338-43. Available from: https://ijmrr.medresearch.in/index.php/ijmrr/article/view/1169
Copyright (c) 2020 Author (s). Published by Siddharth Health Research and Social Welfare Society
This work is licensed under a Creative Commons Attribution 4.0 International License.