Fournier's gangrene: a review of 38 cases in a tertiary hospital
Dr Araboina Upender

Associate Professor, Department of General Surgery, Mahatma Gandhi, Memorial Hospital, Kakatiya Medial College, Warangal, Telangana State, India

Dr Goparaju Shanti Kumar

Assistant Professor, Department of General Surgery, Mahatma Gandhi, Memorial Hospital, Kakatiya Medial College, Warangal, Telangana State, India

Dr Dodda Ramesh Kumar

Professor, Department of General Surgery, Mahatma Gandhi, Memorial Hospital, Kakatiya Medial College, Warangal, Telangana State, India

Dr Sheelam Kalavathi

Postgraduate, Department of General Surgery, Mahatma Gandhi, Memorial Hospital, Kakatiya Medial College, Warangal, Telangana State, India
Keywords:
Fournier's gangrene, Necrotizing fasciitis, Infective necrotizing fasciitis
Abstract
Aim of the study: To study the incidence, age distribution, mode of presentation, abnormalities in biochemical parameters, to lay down parameters for prognostication and study the outcome of fournier's gangrene.
Methodology: This prospective study was conducted upon 38 patients diagnosed with Fournier's gangrene in surgical unit of our institute from November 2007 – October 2009.
Results: Total number of surgical admissions in our institution during the period from November 2007 – October 2009 were 11,507. Of which, the number of cases of Fournier's Gangrene were 38 (Incidence - 0.33%).
Conclusion: Fournier's gangrene is associated with high mortality.
Downloads
Download data is not yet available.
References
1. Baurienne H Sur une plaie contuse qui s'est terminee par le sphacele de le scrotum. J Med Chir Pharm 1764; 20: 251-56.

2. Fournier JA Gangrene foudroyante de la verge. Medecin Pratique1883; 4: 589 -97.

3. J. Torremadé Barreda, M. Millán Scheiding, C. Suárez Fernández, M. Cuadrado Campaña, J. Rodríguez Aguilera, E. Franco Miranda Gangrena de Fournier: Estudio retrospectivo de 41 casos Cir Esp, 87 (2010), pp. 218-223 doi: 10.1016/j.ciresp.2009.12.012.

4. Smith GL, Bunker CB, Dinneen MD. Fournier's gangrene. Br J Urol. 1998 Mar;81(3):347-55.

5. Luján Marco S, Budía A, Di Capua C, Broseta E, Jiménez Cruz F. Evaluation of a severity score to predict the prognosis of Fournier's gangrene. BJU Int. 2010 Aug;106(3):373-6. doi: 10.1111/j.1464-410X.2009.09075.x. Epub 2009 Nov 17.

6. Sabiston textbook of surgery, 19 th edition:2052.

7. Rajbhandari SM, Wilson RM. Unusual infections in diabetes. Diabetes Res Clin Pract.1998Feb;39(2):123-8.

8. Clayton MD, Fowler JE Jr, Sharifi R, Pearl RK. Causes, presentation and survival of fifty-seven patients with necrotizing fasciitis of the male genitalia. Surg Gynecol Obstet. 1990 Jan;170(1):49-55.

9. Aşci R, Sarikaya S, Büyükalpelli R, Yilmaz AF, Yildiz S. Fournier's gangrene: risk assessment and enzymatic debridement with lyophilized collagenase application. Eur Urol. 1998;34(5):411-8.

10. Baskin LS, Carroll PR, Cattolica EV, McAninch JW. Necrotising soft tissue infections of the perineum and genitalia. Bacteriology, treatment and risk assessment. Br J Urol. 1990 May;65(5):524-9.

11. Cohen MS. Fournier's gangrene – American Urological Association Update 1986 Series 5,6.

12. Blanchard RJ. Fulminating nonclostridial gasforming infection: a case of necrotizing fasciitis. Can J Surg. 1975 Jul;18(4):339-41, 344.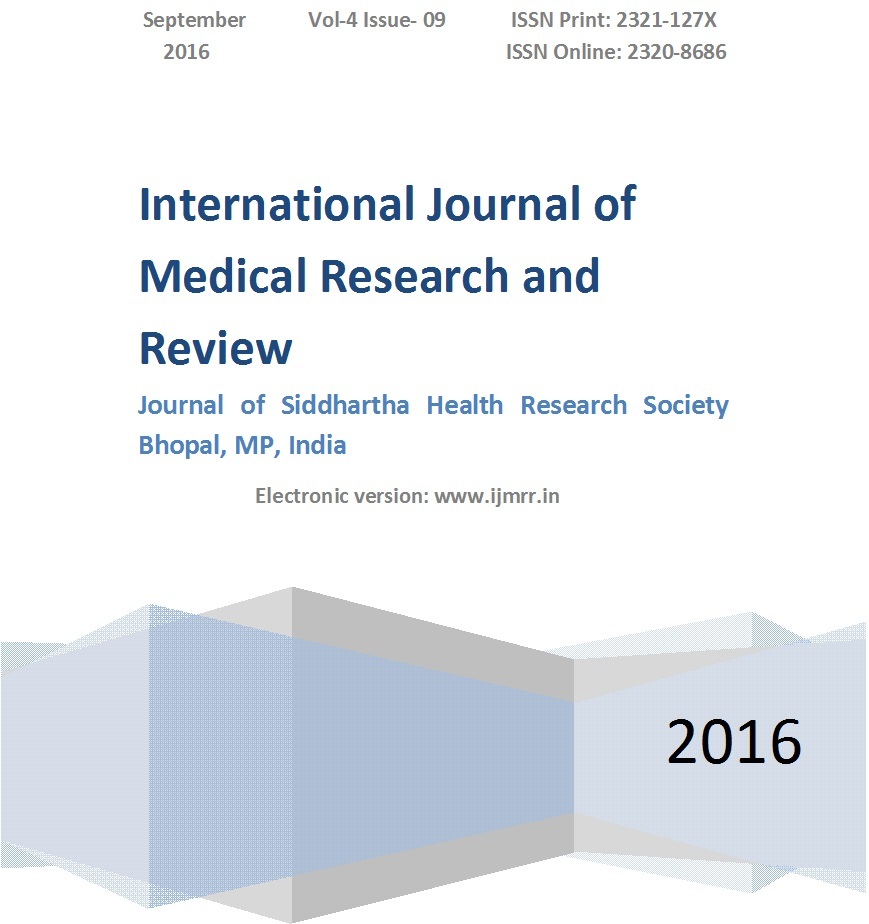 How to Cite
1.
Upender A, Shanti Kumar G, Ramesh Kumar D, Kalavathi S. Fournier's gangrene: a review of 38 cases in a tertiary hospital. Int J Med Res Rev [Internet]. 2016Sep.30 [cited 2020Apr.8];4(9):1591-5. Available from: https://ijmrr.medresearch.in/index.php/ijmrr/article/view/1149