Assessment of levels of Vitamin D and Leptin in comparison of BMI among medical students
Dr. J. Sivakumar

Assistant Professor, Department of Biochemistry, Meenakshi Medical College, Kancheepuram, Tamil Nadu, India

Dr. Ursula Sampson

Professor and Head, Department of Biochemistry, Meenakshi Medical College, Kancheepuram, Tamil Nadu, India

Mr. J. Kumar

Tutor, Department of Biochemistry, Meenakshi Medical College, Kancheepuram, Tamil Nadu, India
Keywords:
Vitamin D, Obesity, Leptin
Abstract
Introduction: Vitamin D is one of fat-soluble vitamin that plays an important role in the absorption of calcium and phosphate. Deficiency of Vitamin D is unrecognized in many parts of the world. Leptin is a hormone which is derived from adipose tissue. Studies have shown that vitamin D has a negative and powerful control on leptin secretion by vitamin D by acting on the adipose tissue.
Aim and Objectives: The study was done to study the relationship between Vitamin D and Leptin based on Body mass index among the medical students.
Materials and methods: Vitamin D Leptin and Body mass index were the parameters measured in the study group. Individuals with an age group of 19-23 years of both sexes were included in the study. Individuals above the age of 23 years, those with renal and liver disorders, individuals with hormonal disorders, individuals on vitamin D supplementation were excluded in the study. Vitamin D was measured by Enzyme-Linked Immunosorbent Assay (ELISA) method. Leptin was measured by Enzyme-Linked Immunosorbent Assay (ELISA) method. BMI is calculated by the formula weight in kilograms divided by height in metre square.
Results: The results have shown that there is a decrease in vitamin D levels with increasing BMI. (pvalue≤0.001). furthermore, there is an increase in leptin levels with an increase in BMI. (pvalue≤0.001).
Conclusion: The study has put forth a suggestion that leptin and vitamin D has a causal relationship between them based on Body Mass index. Adequate vitamin D levels will maximize the effect of maintaining normal leptin levels as high levels of leptin could contribute to obesity-related disorders.
Downloads
Download data is not yet available.
References
Holick MF. Vitamin D: the underappreciated D-lightful hormone that is important for skeletal and cellular health. Curr Opin Endocrinol Diabetes.2002;9(1):87-98. doi: https://doi.org/10.1097/00060793-200202000-00011.
Tangpricha V, Koutkia P, Rieke SM, Chen TC, Perez AA, Holick MF. Fortification of orange juice with vitamin D: a novel approach to enhance vitamin D nutritional health. Am J Clin Nutr. 2003;77(6):1478-1483. doi: https://doi.org/10.1093/ajcn/77.6.1478.
Webb AR, deCosta BR, Holick MF. Sunlight regulates the cutaneous production of vitamin D3 by causing its photodegradation. J Clin Endocrinol Metab. 1989;68(5):882-887. doi: https://doi.org/10.1210/jcem-68-5-882.
Clemens TL, Adams JS, Henderson SL, Holick MF. Increased skin pigment reduces the capacity of skin to synthesise vitamin D3. Lancet. 1982;1(8263):74-76. doi: https://doi.org/10.1016/s0140-6736(82)90214-8.
Matsuoka LY, Ide L, Wortsman J, MacLaughlin JA, Holick MF. Sunscreens supress cutaneous vitamin D3 synthesis. J Clin Endocrinol Metab. 1987;64(6):1165-1168. doi: https://doi.org/10.1210/jcem-64-6-1165.
Bikle DD. Vitamin D: role in skin and hair. In: Feldman D, ed. Vitamin D. Vol 1. 2nd ed. Elsevier Academic Press; 2005:609-630. San Diego, California.
Hosomi J, Hosoi J, Abe E, Suda T, Kuroki T. Regulation of terminal differentiation of cultured mouse epidermal cells by 1 alpha,25-dihydroxyvitamin D3. Endocrinol. 1983;113(6):1950-1957. doi: https://doi.org/10.1210/endo-113-6-1950.
Smith EL, Walworth NC, Holick MF. Effect of 1α,25-dihydroxyvitamin D3 on the morphologic and biochemical differentiation of cultured human epidermal keratinocytes grown in serum-free conditions. J Invest Dermatol. 1986;86(6):709-714. doi: https://doi.org/10.1111/1523-1747.ep12276343.
Heaney RP, Dowell MS, Hale CA, Bendich A. Calcium absorption varies within the reference range for serum 25-hydroxyvitamin D. J Am Coll Nutr. 2003;22(2):142-146. doi: https://doi.org/10.1080/07315724.2003.10719287.
Binkley N, Krueger D, Cowgill CS, Plum L, Lake E, Hansen KE, et al. Assay variation confounds the diagnosis of hypovitaminosis D: a call for standardization. J Clin Endocrinol. Metab. 2004; 89(7):3152-3157. doi: https://doi.org/10.1210/jc.2003-031979.
Lips P, Chapuy MC, Dawson-Hughes B, Pols HA, Holick MF. An international comparision of serum 25-hydroxyvitamin D measurements. Osteoporos Int. 1999;9(5):394-397. doi: https://doi.org/10.1007/s001980050162.
Maetani M, Maskarinec G, Franke AA, Cooney RV. Association of leptin, 25-hydroxyvitamin D, and parathyroid hormone in women. Nutri Can. 2009;61(2):225-231. doi: https://dx.doi.org/10.1080%2F01635580802455149.
Schwartz GG, Skinner HG. Vitamin D status and cancer: new insights. Curr Opin Clin Nutr Metabolic Care. 2007;10(1):6-11. doi: https://doi.org/10.1097/mco.0b013e328011aa60.
Spina CS, Tangpricha V, Uskokovic M, Adorinic L, Maehr H, et al. Vitamin D and cancer. Anticancer Res. 2006; 26(4A):2515-2524.
Wu K, Feskanich D, Fuchs CS, Willett WC, Hollis BW, et al. A nested case control study of plasma 25-hydroxyvitamin D concentrations and risk of colorectal cancer. J Natl Cancer Inst. 2007;99(14):1120-1129. doi: https://doi.org/10.1093/jnci/djm038.
Zittermann A. Vitamin D and disease prevention with special reference to cardiovascular disease. Prog Biophys Mol Biol. 2006;92(1):39-48. doi: https://doi.org/10.1016/j.pbiomolbio.2006.02.001.
Autier P, Gandini S. Vitamin D supplementation and total mortality: a meta-analysis of randomized controlled trials. Arch Intern Med. 2007;167(16):1730-1737.
Dong F, Ren J. Fitness or fatness—the debate continues for the role of leptin in obesity-associated heart dysfunction. Curr Diabetes Rev. 2007;3(3):159-164. doi: https://doi.org/10.2174/157339907781368959.
Calle EE, Thun MJ, Petrelli JM, Rodriguez C, Heath CW. Body-mass index and mortality in a prospective cohort of U.S. adults. New Engl J Med. 1999;341(15):1097-1105. doi: https://doi.org/10.1056/nejm199910073411501.
Moghaddam AA, Woodward M, Huxley R. Obesity and risk of colorectal cancer: a meta-analysis of 31 studies with 70,000 events. Cancer Epidem Biomarkers Prev. 2007;16(12):2533-2547. doi: https://doi.org/10.1158/1055-9965.epi-07-0708.
WHO Mean Body Index (BMI) World Health Organization. Available at https://www.who.int/gho/ncd/risk_factors/bmi_text/en/.
Renehan AG, Tyson M, Egger M, Heller RF, Zwahlen M. Body-mass index and incidence of cancer: a systematic review and meta-analysis of prospective observational studies. Lancet. 2008;371(9612):569-578. doi: https://doi.org/10.1016/s0140-6736(08)60269-x.
Buschemeyer WC III, Freedland SJ. Obesity and prostate cancer: epidemiology and clinical implications. Eur Urol. 2007;52(2):331-343. doi: https://doi.org/10.1016/j.eururo.2007.04.069.
Matsunuma A, Kawane T, Maeda T, Hamada S, Horiuchi N. Leptin corrects increased gene expression of renal 25-hydroxyvitamin D3–1-hydroxylase and-24-hydroxylase in leptin-deficient,ob/ob mice. Endocrinol. 2004;145(3):1367-1375. doi: https://doi.org/10.1210/en.2003-1010.
Glauber HS, Vollmer WM, Nevitt MC, Ensrud KE, Orwoll ES. Body weight versus body fat distribution, adiposity, and frame size as predictors of bone density. J Clin Endocrinol Metab. 1995;80(4):1118-1123. doi: https://doi.org/10.1210/jcem.80.4.7714079.
Menendez C, Lage M, Peino R, Baldelli R, Concheiro P, et al.: Retinoic acid and vitamin D (3) powerfully inhibit in vitro leptin secretion by human adipose tissue. J Endocrinol. 2001;170(2):425-431. doi: https://doi.org/10.1677/joe.0.1700425.
Park K. Text book of preventive and social Medicine 19th ed, page 335.
Konradsen S, Ag H, Lindberg F, Hexeberg S, Jorde R. Serum 1,25-dihydroxy vitamin D is inversely associated with body mass index. Eur J Nutr. 2008;47(2):87-91. doi: https://doi.org/10.1007/s00394-008-0700-4.
Li J, Byrne ME, Chang E, Jiang Y, Donkin SS, Buhman KK et al. 1alpha,25-DihydroxyvitaminD hydroxylase in adipocytes.J Steroid Biochem Mol Biol. 2008;112(1-3):122-126. doi: https://doi.org/10.1016/j.jsbmb.2008.09.006.
Trayhurn P, Wood IS. Adipokines: inflammation and the pleiotropic role of white adipose tissue. Brit J Nutr. 2004; 92(3):347-355. doi: https://doi.org/10.1079/bjn20041213.
Pelleymounter MA, Cullen MJ, Baker MB, Hecht R, Winters D, Boone T, et al. Effects of the obese gene product on body weight regulation in ob/ob mice. Sci.1995,269(5223):540-543. doi: https://doi.org/10.1126/science.7624776.
Lönnqvist F, Arner P, Nordfors L, Schalling M. Overexpression of the obese (ob) gene in adipose tissue of human obese subjects. Nat Med. 1995;1(9):950-953. doi: https://doi.org/10.1038/nm0995-950.
De Vos P, Saladin R, Auwerx J, Staels B. Induction of ob gene expression by corticosteroids is accompanied by body weight loss and reduced food intake. J Biol Chem. 1995;270(27):15958-15961. doi: https://doi.org/10.1074/jbc.270.27.15958.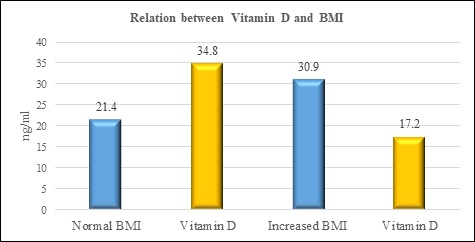 CITATION
DOI: 10.17511/ijmrr.2020.i01.08
How to Cite
1.
J. S, Sampson U, J. K. Assessment of levels of Vitamin D and Leptin in comparison of BMI among medical students. Int J Med Res Rev [Internet]. 2020Feb.13 [cited 2023Dec.2];8(1):51-6. Available from: https://ijmrr.medresearch.in/index.php/ijmrr/article/view/1133