Deep venous thrombosis induced by intravenous thrombogenic drugs
Dr. Chito Singh Thokchom

Associate Professor (CTVS), Department of Surgery, RIMS, Imphal, Manipur, India

Dr. Chinglensana Laitonjam

Assistant Professor, Department of Surgery, RIMS, Imphal, Manipur, India

Dr. Sunilkumar Singh Salam

Assistant Professor, Department of Surgery, RIMS, Imphal, Manipur, India

Dr. Yumnam Priyabarta Singh

Assistant Professor, Department of Radiodiagnosis, RIMS, Imphal, Manipur, India

Dr. Nongmaithem Mackson

Senior Resident, Department of Surgery, RIMS, Imphal, Manipur, India
Keywords:
Venous thrombosis, Prothrombin time, Thrombophlebitis, Intravenous drug user
Abstract
Background: Deep vein thrombosis (DVT) is a major preventable cause of morbidity and mortality worldwide with the potential to cause a dreaded pulmonary embolism (PE). Disease and patient-specific considerations are preferably incorporated into therapeutic options for effective management.
Materials and methods: Sixty-eight cases of acute deep vein thrombosis were treated within a period of 3 years from January 2016. All the cases were subjected to routine investigations with the Doppler study of the affected limb. Low molecular weight heparin (dalteparin) was administered in all the cases for a period of 15 days and the Doppler study was repeated at the end of the drug therapy. After the course of low molecular weight heparin, the patients were given acenocoumarol 2mg daily. Estimation of partial thromboplastin time and prothrombin time were performed before starting and during the treatment of the low molecular weight heparin and acenocoumarol regularly. A venogram was done only when the repeated Doppler study revealed unsatisfactory response to low molecular weight heparin therapy. Eight cases underwent thrombectomy and the postoperative period was uneventful.
Results: Age group of 21-30 years was most affected (80.8%) with right lower limb being the commonest affected site of injection and associated lesions.
Conclusion: DVT in the young population remains a challenge to the evaluating clinician. A variety of disease states can alter the anticoagulant factors. Urgent diagnosis and appropriate intervention carry paramount importance.
Downloads
Download data is not yet available.
References
Singh I I: Integrated Rapid Intervention and Care Project (RIAC) Manipur, RIAC Guideline Booklet Manipur State AIDS Control Society Research and Development Wing, Lamphelpat, Imphal-4, 2nd Edition 2004 Jan.pp1-16.
Callen S, Florence E, Phillippe M, Van Der Planken M, Colebunders R. Mixed arterial and venous thromboembolsm in a person with HIV infection. Scand J Infect Dis. 2003;35(11-12):907-908. doi: https://doi.org/10.1080/00365540310017014.
Zinner MJ, Zuidema GD, Lowery BD. Septic non-suppurative thrombophlebitis. Arch Surg. 1976;111(2): 122-125. doi: https://doi.org/10.1001/archsurg.1976.01360200028005.
Saber AA, Aboolian A, LaRaja RD, Baron H, Hanna K. HIV/AIDS and the risk of Deep Vein Thrombosis: a study of 45 patients with lower extremity involvement. Am Surg. 2001;67(7):645-647.
Fah F, Zimmerli W, Jardi M, Ronal AS. Septic Deep Venous Thrombosis in Intravenous Drug Users. Swiss Med Wely. 2002;132(27-28):386-392.
Stein JM, Pruitt BA. Suppurative thrombophlebitis a lethal iatrogenic disease. N Engl K Med. 1970, 282(26):1452-1425. doi: https://doi.org/10.1056/nejm197006252822603.
Niemeyer HW, Grabitz K, Buhl R, Wust HJ, Sandmann W. Surgical treatment of septic deep venous thrombosis. Surg. 1995;118(1):49-53. doi: https://doi.org/10.1016/s0039-6060(05)80009-1.
Munster AM. Septic thrombophlebitis a surgical disorder. JAMA. 1974,230(7):1010-1011. doi: https://doi.org/10.1001/jama.1974.03240070044027
Ang AK, Brown OW. Septic Deep Vein Thrombosis. J Vascular Surg. 1986;4(6):563-566. doi: https://doi.org/10.1016/0741-5214(86)90170-9.
Tanimowo M. Deep Vein Thrombosis as a manifestation of the acquired immunodeficiency syndrome? A case report. Cent Afr. J Med. 1996;42(11):327-328.
Garrison RN, Richardson JD, Fry DE. Catheter associated Septic Thrombophlebitis. Southern Medical J. 1982;75(8):917-919. doi: https://doi.org/10.1097/00007611-198208000-00004.
McColl MD, Tait RC, Greer IA, Walker ID. Injecting drug use is a risk factor for deep vein thrombosis in women in Glasgow. Br J Haematol. 2001;112(3):641-643. doi: https://doi.org/10.1046/j.1365-2141.2001.02633.x.
Russell M, Dawson D. Best evidence topic report. Low molecular weight heparin for intravenous drug users with deep vein thrombosis. Emerg Med J. 2004;21(6):711. doi: https://doi.org/10.1136/emj.2004.019653.
Cooke VA, Fletcher AK. Deep vein thrombosis among injecting drug users in Sheffield. Emerg Med J. 2006;23(10):777-779. doi: https://dx.doi.org/10.1136%2Femj.2005.033688.
Syed FF, Beeching NJ. Beeching Lower-limb deep-vein thrombosis in a general hospital: risk factors, outcomes and the contribution of intravenous drug use. QJM. 2005;98(2):139-145. doi: https://doi.org/10.1093/qjmed/hci020.
Malone PC, Agutter PS. The aetiology of deep venous thrombosis. QJM. 2006;99(9):581-593. doi: https://doi.org/10.1093/qjmed/hcl070.
Mackenzie AR, Laing RB, Douglas JG, Greaves M, Smith CC. High prevalence of iliofemoral venous thrombosis with severe groin infection among injecting drug users in North East Scotland: successful use of low molecular weight heparin with antibiotics. Postgrad Med J. 2000;76(899):561-565. doi: https://doi.org/10.1136/pmj.76.899.561.
Campbell IA, Bentley DP, Prescott RJ, Routledge PA, Shetty HG, Williamson IJ. Anticoagulation for three versus six months in patients with deep vein thrombosis or pulmonary embolism, or both: randomised trial. BMJ. 2007;334(7595):674. doi: https://doi.org/10.1136/bmj.39098.583356.55.
Boutitie F, Pinede L, Schulman S, Agnelli G, Raskob G, Julian J, et al. Influence of preceding length of anticoagulant treatment and initial presentation of venous thromboembolism on risk of recurrence after stopping treatment: analysis of individual participants' data from seven trials. BMJ. 2001;342:d3036. doi: https://doi.org/10.1136/bmj.d3036.
Kahn SR, Ducruet T, Lamping DL, Arsenault L, Miron MJ, Roussin A, et al. Prospective evaluation of the health-related quality of life in patients with deep venous thrombosis. Arch Intern Med. 2005;165(10):1173-1178. doi: https://doi.org/10.1001/archinte.165.10.1173.
Shrier I, Kahn SR. Effect of physical activity after recent deep venous thrombosis: a cohort study. Med Sci Sports Exerc. 2005;37(4):630-634. doi: https://doi.org/10.1249/01.mss.0000158192.07412.89.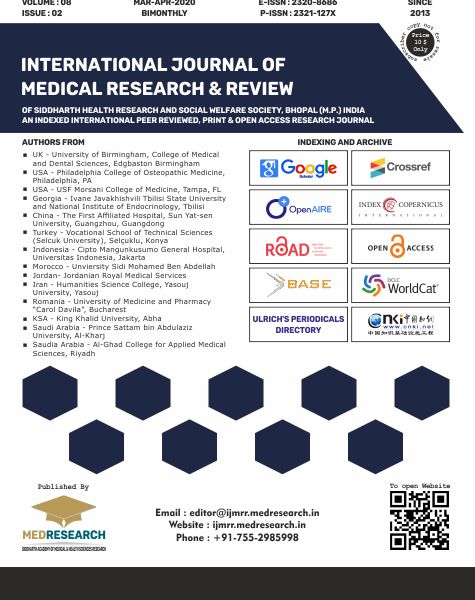 How to Cite
1.
Dr. Chito Singh Thokchom, Dr. Chinglensana Laitonjam, Dr. Sunilkumar Singh Salam, Dr. Yumnam Priyabarta Singh, Dr. Nongmaithem Mackson. Deep venous thrombosis induced by intravenous thrombogenic drugs. Int J Med Res Rev [Internet]. 2020Feb.20 [cited 2020Apr.5];8(1):86-1. Available from: https://ijmrr.medresearch.in/index.php/ijmrr/article/view/1129