Spectrum of MRI abnormalities in pediatric seizures
Dr. Manoj Mathur

Professor, Department of Radiodiagnosis, Govt. Medical College and Rajindra Hospital, Patiala, Punjab, India

Dr.Simran Jeet Singh

Junior Resident, Department of Radiodiagnosis, Govt. Medical College and Rajindra Hospital, Patiala, Punjab, India

Dr. Navpreet Kaur

Senior Resident, Department of Pediatrics, PGIMER, Chandigarh, Punjab, India

Dr. Dimple Mittal

Junior Resident, Department of Radiodiagnosis, Govt. Medical College and Rajindra Hospital, Patiala, Punjab, India

Dr.Yogesh Garg

Junior Resident, Department of Radiodiagnosis, Govt. Medical College and Rajindra Hospital, Patiala, Punjab, India

Dr. Ankit Raikhy

Consultant Minimal Access Surgery, Department of Radiodiagnosis, Govt. Medical College and Rajindra Hospital, Patiala, Punjab, India
Keywords:
Hypoxic ischemic injury, Inflammatory granuloma, Neurocysticercosis, Seizures
Abstract
Background: Seizure is a pediatric emergency. Accurate determination of the etiology of seizures is very important to start an effective treatment. The study aims to determine the spectrum of Imaging abnormalities by Magnetic Imaging Resonance (MRI) in children who presented with seizures.
Methods: It is a hospital-based prospective observational study which was carried out in Government Medical College and Rajindra Hospital, Patiala. This study included 50 pediatric patients in the age group between 0 months to 18 years who were referred to the Department of Radiodiagnosis for brain MRI between October 2017 to September 2019.
Results: Neuroimaging abnormality was found in 19 (38%) cases. 31 (62%) patients had no abnormal finding. The most common imaging findings were inflammatory granuloma in 5 (10%) patients. Other findings were- Hypoxic-ischemic injury (HII) in 4 (8%), Mesial temporal sclerosis in 2(4%), cerebral atrophy in 1(2%), Hemorrhage in 1(2%), Tuberous sclerosis in 1(2%), Focal cortical dysplasia in 1(2%), Lissencephaly in 1 (2%), Joubert syndrome in 1(2%), and Arachnoid cyst in 1 (2%) patients.
Conclusion: The MRI was able to identify brain lesions in 38% of pediatric patients who presented with seizures. The study revealed inflammatory granuloma as the commonest cause of seizures in children, followed by Hypoxic-Ischemic Injury. Early recognition of potentially treatable diseases helps in timely treatment and arrest of disease progression. It is recommended to use MRI as a primary investigation during the evaluation and management of pediatric seizures.
Downloads
Download data is not yet available.
References
Sahdev R, Rao A, Sinha S. Neuroimaging in pediatric seizures.Int J Res Med Sci. 2017;5(1):295-299. doi: http://dx.doi.org/10.18203/2320-6012.ijrms20164566.
Johnston MV. Seizures in childhood. In: Kliegman RM, Behrman RE (eds.) Nelson textbook of paediatrics. (18th ed.) Philadelphia: Saunders; 2010;2457-2470.
Saini N, Baghel A. Neuroimaging abnormalities in children with first afebrile seizure. J Dent Med Sci.2013;5(5):21-24.
Silverstein FS, Jensen FE. Neonatal seizures. Ann Neurol. 2007;62(2):112-120. doi: https://doi.org/10.1002/ana.21167.
Clancy RR. Summary proceedings from neurology group on neonatal seizures. Pediatr. 2006;117(3):23-27. doi: https://doi.org/10.1542/peds.2005-0620D.
Talebian A, Jahangiri M, Masoudi AN, Akbari H, Sadat Z. The etiology and clinical evaluations of neonatal seizures in Kashan, Iran. Iran J Child Neurol. Spring. 2015;9(2):29-35.
Volpe JJ. Neonatal seizures. In: Neurology of the Newborn. Philadelphia, PA: WB Saunders. 2001:178-214.
Hallberg B, Blennow M. Investigations for neonatal seizures. Semin Fetal Neonatal Med. 2013;18(4):196-201. doi: https://doi.org/10.1016/j.siny.2013.03.001.
Ronen GM, Buckley D, Penney S, Streiner DL. Long-term prognosis in children with neonatal seizures: a population-based study. Neurol. 2007;69(19):1816-1822. doi: https://doi.org/10.1212/01.wnl.0000279335.85797.2c.
Tekgul H, Gauvreau K, Soul J, Murphy L, Robertson R. Stewart R, et al. The Current Etiologic Profile and Neurodevelopmental outcome of seizures in term new-born infants. Pediatr. 2006;117(4):1270-1280. doi: https://doi.org/10.1542/peds.2005-1178.
Leth H, Toft PB, Herning M, Peitersen B, Lou HC. Neonatal seizures associated with cerebral lesions shown by magnetic resonanace imaging. Arch Dis Child Fetal Neonatal Ed. 1997;77(2): F105–F110.
Pal DK. Epilepsy control in the 21st century: leave no child behind. Epilepsia 2003;44(3):273-275. doi: https://doi.org/10.1046/j.1528-1157.2003.52202.x.
Gulati P, Jena A, Tripathi R.P, Gupta A.K. Magnetic resonance imaging in childhood epilepsy. Indian Pediatri. 1991;28(7):761-765.
McCoy B, Benbadis SR. Approach to refractory childhood seizures. Therapy. 2010;7(5):497-506.
Kohelet D, Shochat R, Lusky A, Reichman B. Risk factors for neonatal seizures in very low birth weight infants: population-based survey. J Child Neurol. 2004;19(2):123-128. doi: https://doi.org/10.1177%2F08830738040190020701.
Volpe JJ. Neonatal seizures. In: Volpe JJ (eds.). Neurology of the newborn. (5th ed.) Philadelphia: Saunders/Elsevier; 2008;203-245.
Glass HC, Sullivan JE. Neonatal seizures. Curr Treat Options Neurol. 2009;11(6):405-413. doi: https://doi.org/10.1007/s11940-009-0045-1.
Silverstein FS, Jensen FE, Inder T, Hellstrom-Westas L, Hirtz D, Ferriero DM. Improving the treatment of neonatal seizures: National Institute of Neurological Disorders and Stroke workshop report. J Pediatr. 2008;153(1):12-15. doi: https://doi.org/10.1016/j.jpeds.2008.01.041.
Jensen FE. Neonatal Seizures: An Update on Mechanisms and Management. Clin Perinatol. 2009;36(4):881-900. doi: https://doi.org/10.1016/j.clp.2009.08.001.
Schmitt B, Wohlrab G, Sander T, Steinlein OK, Hajnal BL. Neonatal seizures with tonic clonic sequences and poor developmental outcome. Epilepsy Res. 2005;65(3):161-168. doi: https://doi.org/10.1016/j.eplepsyres.2005.05.009.
Idro R, Gwer S, Kahindi M, Gatakaa H, Kazungu T, Ndiritu M et al. The incidence, aetiology and outcome of acute seizures in children admitted to a rural Kenyan district hospital. BMC Pediatr. 2008;8:5-15. doi: https://doi.org/10.1186/1471-2431-8-5.
Rauch DA, Carr E, Harrington J. Inpatient Brain MRI for New-Onset Seizures: Utility and Cost Effectiveness. Clin Pediatr (Phila). 2008;47(5):457-460. doi: https://doi.org/10.1177/0009922807313766.
Shaik SJM, Ratnavelu E, Balakrishnan U, Amboiram P, Ninan B, Chandrasekharan A. Spectrum of magnetic resonance imaging abnormalities in neonatal seizures in a tertiary care hospital in india. Int J Contemp Pediatr.2016;3(4):1150-1155. doi: http://dx.doi.org/10.18203/2349-3291.ijcp20163114.
Kramer U, Nevo Y, Reider-Groswasser I, Sheuer E, Meyer JJ, Leitner Y, et al. Neuroimaging of children with partial seizures. Seizure. 1998;7(2):115-118. doi: https://doi.org/10.1016/S1059-1311(98)80066-6.
Chaurasia R, Singh S, Mahur S, Sachan P. Imagingin pediatric epilepsy: spectrum of abnormalities detected on MRI. J Evol Med Dent Sci. 2013;19(2):3377-3385. doi: https://doi.org/10.14260/jemds/707.
Kalnin AJ, Fastenau PS, deGrauw TJ, Musick BS, Perkins SM, Johnson CS et al. Magnetic resonance imaging findings in children with a first recognized seizure. Pediatr Neurol. 2008;39(6):404-414. doi: https://dx.doi.org/10.1016%2Fj.pediatrneurol.2008.08.008.
Ibrahim K, Appleton R. Seizures as the presenting symptom of brain tumours in children. Seizure.2004;13(2):108-112. doi: https://doi.org/10.1016/S1059-1311(03)00083-9.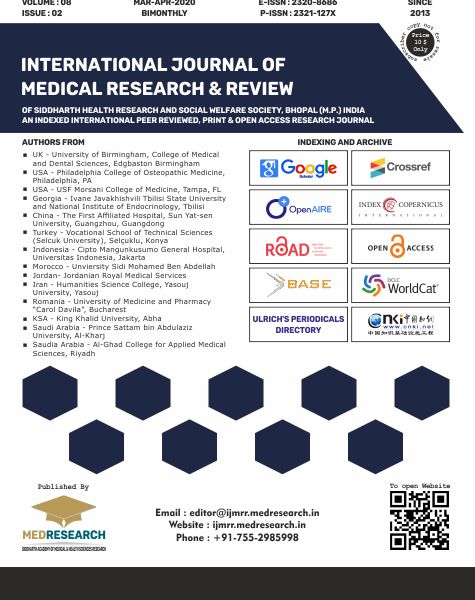 How to Cite
1.
Mathur M, Jeet Singh S, Kaur N, Mittal D, Garg Y, Raikhy A. Spectrum of MRI abnormalities in pediatric seizures. Int J Med Res Rev [Internet]. 2020Feb.17 [cited 2020Apr.5];8(1):69-5. Available from: https://ijmrr.medresearch.in/index.php/ijmrr/article/view/1120