Application of Thyroid Peroxidase (TPO) and Hector Battifora Mesothelial-1 (HBME-1) immunohistochemical markers in the diagnosis of papillary thyroid carcinoma of the thyroid
Dr. Vasundhara Singh

Junior Resident, Department of Pathology, Government Medical College, Amritsar, Punjab, India

Dr. Permeet Kaur Bagga

Associate Professor, Department of Pathology, Government Medical College, Amritsar, Punjab, India

Dr. Bikramjeet Singh

Associate Professor, Department of Surgery, Government Medical College, Amritsar, Punjab, India

Dr Jaideep

Assistant Professor, Department of Pathology, Government Medical College, Amritsar, Punjab, India
Keywords:
TPO, HBME-1, Papillary Thyroid Carcinoma, Immunohistochemistry
Abstract
Background: Thyroid cancer is the most common endocrine malignancy accounting for >90% of malignancies of endocrine glands. The inter and intraobserver variation in the histomorphological diagnosis of Papillary Thyroid Carcinomas may sometimes pose a diagnostic difficulty. Application of IHC biomarkers may play an active or complementary role in their accurate classification.
Aim: The present study was conducted to evaluate if HBME-1 and TPO immunohistochemical analysis can reliably differentiate papillary carcinomas from other thyroid lesions.
Material and Methods: 50 cases of benign and malignant thyroid lesions were taken. Immunohistochemical staining for HBME-1 and TPO was performed. HBME-1 and TPO score was interpreted as absent and positive. Medical records were retrieved and their clinical data, surgical treatment, and pathological findings were noted.
Results: Out of 50 cases, 19 (73.1%) cases were diagnosed PTC, 4 (15.4%) cases were FTC, 3(11.5%) cases were of MTC and 24 cases of benign thyroid lesions. TPO expression was found positive in 91.7% of cases of Benign thyroid lesions. In malignant thyroid lesions, negative expression of TPO was seen in 63.16%, 0% and 33.33% of PTC, FCT, and MCT respectively. HBME-1 showed negative expression in 83.3% of cases of benign thyroid lesions. Whereas, in malignant thyroid lesion HBME-1 expression was positive in 78.95%, 50% and 0% cases of PTC, FCT, and MCT respectively.
Conclusion: Testing for expression of HBME-1 has been shown to improve the diagnostic accuracy for thyroid malignant nodules. The combination of HBME-1, and TPO may contribute to an accurate diagnosis of papillary thyroid carcinoma.
Downloads
Download data is not yet available.
References
Hodgson NC, Button J, Solorzano CC. Thyroid cancer: is the incidence still increasing? Ann Surg Oncol. 2004;11(12):1093-1097. doi: https://doi.org/10.1245/ASO.2004.03.066.
Pellegriti G, Frasca F, Regalbuto C, Squatrito S, Vigneri R. Worldwide increasing incidence of thyroid cancer: update on epidemiology and risk factors. J Cancer Epidemiol. 2013;2013. doi: https://doi.org/10.1155/2013/965212.
Dinets A, Hulchiy M, Sofiadis A, Ghaderi M, Höög A, Larsson C, et al. Clinical, genetic, and immunohistochemical characterization of 70 Ukrainian adult cases with post-Chornobyl papillary thyroid carcinoma. Eur J Endocrinol. 2012;166(6):1049-1060. doi: https://doi.org/10.1530/EJE-12-0144.
Nguyen QT, Lee EJ, Huang MG, Park YI, Khullar A, Plodkowski RA. Diagnosis and treatment of patients with thyroid cancer. Am Health Drug Benefits. 2015;8(1):30.
Stathathos N, Ringel. Molecular markers of thyroid nodules. In Adv Mol Cell Endocrinol. 2006:4;19-34. doi: https://doi.org/10.1016/S1569-2566(04)04002-5.
De Micco C, Vasko V, Garcia S, Zoro P, Denizot A, Henry JF. Fine-needle aspiration of thyroid follicular neoplasm: diagnostic use of thyroid peroxidase immunocytochemistry with monoclonal antibody 47. Surg. 1994;116(6):1031-1035.
Wu G, Wang J, Zhou Z, Li T, Tang F. Combined staining for immunohistochemical markers in the diagnosis of papillary thyroid carcinoma: improvement in the sensitivity or specificity? J Int Med Res. 2013;41(4):975-983. doi: https://doi.org/10.1177/0300060513490617.
Fedchenko N, Reifenrath J. Different approaches for interpretation and reporting of immunohistochemistry analysis results in the bone tissue - a review. Diagn Pathol. 2014;9:221. doi: https://doi.org/10.1186/s13000-014-0221-9.
Kilfoy BA, Zheng T, Holford TR, Han X, Ward MH, Sjodin A, et al. International patterns and trends in thyroid cancer incidence, 1973-2002. Cancer Causes Control. 2009; 20(5):525-531. doi: https://doi.org/10.1007/s10552-008-9260-4.
Papotti M, Rodriguez J, De Pompa R, Bartolazzi A, Rosai J. Galectin-3 and HBME-1 expression in well-differentiated thyroid tumors with follicular architecture of uncertain malignant potential. Mod Pathol. 2005;18(4):541-546. doi: https://doi.org/10.1038/modpathol.3800321.
Al Zaher N, Al Salam S, El Teraifi H. Thyroid carcinoma in the United Arab Emirates: perspectives and experience of a tertiary care hospital. Hematol Oncol Stem Cell Ther. 2008;1(1):14-21. doi: https://doi.org/10.1016/s1658-3876(08)50055-0.
Sumana BS, Shashidhar S, Shivarudrappa AS. Galectin-3 Immunohistochemical Expression in Thyroid Neoplasms. J Clin Diagn Res. 2015;9(11):EC07-EC11. doi: https://doi.org/10.7860/JCDR/2015/16277.6760.
Dwivedi SS, Khandeparkar SG, Joshi AR, Kulkarni MM, Bhayekar P, Jadhav A et al. Study of immunohistochemical markers (CK-19, CD-56, Ki-67, p53) in differentiating benign and malignant solitary thyroid nodules with special reference to papillary thyroid carcinomas J Clin Diagn Res. 2016;10(12):EC14-EC19. doi: https://doi.org/10.7860/JCDR/2016/22428.9114.
Sack MJ, Astengo-Osuna C, Lin BT, Battifora H, LiVolsi VA. HBME-1 immunostaining in thyroid fine-needle aspirations: a useful marker in the diagnosis of carcinoma. Mod path: 1997;10(7):668-674.
Miettinen M, Kärkkäinen P. Differential reactivity of HBME-1 and CD15 antibodies in benign and malignant thyroid tumours. Virchows Archiv. 1996;429(4-5):213-219. doi: https://doi.org/10.1007/BF00198336.
Cheung, C, Ezzat, S., Freeman JL, Rosen BI, Asa SL. Immunohistochemical Diagnosis of Papillary Thyroid Carcinoma. Mod Pathol, 2001;14(4):338-342. doi: https://doi.org/10.1038/modpathol.3880312.
De Micco C, Savchenko V, Giorgi R, Sebag F, Henry JF. Utility of malignancy markers in fine-needle aspiration cytology of thyroid nodules: comparison of Hector Battifora mesothelial antigen-1, thyroid peroxidase and dipeptidyl aminopeptidase IV. Br J Cancer. 2008;98(4):818-823. doi: https://doi.org/10.1038/sj.bjc.6604194.
Nga ME, Lim GS, Soh CH, Kumarasinghe MP. HBME-1 and CK19 are highly discriminatory in the cytological diagnosis of papillary thyroid carcinoma. Diagn Cytopathol. 2008;36(8):550-556. doi: https://doi.org/10.1002/dc.20841.
Mase T, Funahashi H, Koshikawa T, Imai T, Nara Y, Tanaka Y, et al. HBME-1 immunostaining in thyroid tumors especially in follicular neoplasm. Endocr J. 2003;50(2):173-177. doi: https://doi.org/10.1507/endocrj.50.173.
Liu Z, Xun X, Wang Y, Mei L, He L, Zeng W, et al. MRI and ultrasonography detection of cervical lymph node metastases in differentiated thyroid carcinoma before reoperation. Am J Transl Res. 2014;6(2):147-154.
De Matos PS, Ferreira AP, de Oliveira Facuri F, Assumpcao LV, Metze K, et al Usefulness of HBME‐1, cytokeratin 19 and galectin-3 immunostaining in the diagnosis of thyroid malignancy. Histopathology. 2005;47(4):391-401. doi: https://doi.org/10.1111/j.1365-2559.2005.02221.x.
Palo S, Biligi DS. Differential diagnostic significance of HBME-1, CK19 and S100 in various thyroid lesions.Malays J Pathol. 2017;39(1):55-67.
Zhu X, Sun T, Lu H, Zhou X, Lu Y, Cai X et al. Diagnostic significance of CK19, RET, galectin-3 and HBME-1 expression for papillary thyroid carcinoma. J Clin Pathol. 2010;63(9):786-789. doi: http://dx.doi.org/10.1136/jcp.2010.076901.
Griffith OL, Melck A, Jones SJ, Wiseman SM. Meta-analysis and meta-review of thyroid cancer gene expression profiling studies identifies important diagnostic biomarkers. J Clin Oncol. 2006;24(31):5043-5051. doi: https://doi.org/10.1200/JCO.2006.06.7330.
Weber KB, Shroyer KR, Heinz DE, Nawaz S, Said MS, Haugen BR. The use of a combination of galectin-3 and thyroid peroxidase for the diagnosis and prognosis of thyroid cancer. Am J Clin Pathol. 2004;122(4):524-31. doi: https://doi.org/10.1309/UUQTE505PTN5QJ7M.
Arcolia V, Journe F, Renaud F, Leteurtre E, Gabius HJ, Remmelink M, et al. Combination of galectin-3, CK19 and HBME-1 immunostaining improves the diagnosis of thyroid cancer. Onco lett 2017;14(4):4183-4189. doi: https://doi.org/10.3892/ol.2017.6719.
Henry JF, Denizot A, Porcelli A, Villafane M, ZoroP, Garcia S et al. Thyroperoxidase immunodetection for the diagnosis of malignancy on fine-needle aspiration of thyroid nodules. World J. Surg.1994;18(4):529-534. doi: https://doi.org/10.1007/BF00353756.
Schmitt AC, Cohen C, Siddiqui MT. Paired box gene 8, HBME-1, and cytokeratin 19 expression in preoperative fine-needle aspiration of papillary thyroid carcinoma: diagnostic utility. Cancer Cytopathol. 2010;118(4):196-202. doi: https://doi.org/10.1002/cncy.20082.
Raggio E, Camandona M, Solerio D, Martino P, Franchello A, Orlandi F, et al. The diagnostic accuracy of the immunocytochemical markers in the pre-operative evaluation of follicular thyroid lesions. J Endocrinol Invest. 2010;33:378–381. doi: https://doi.org/10.1007/BF03346607.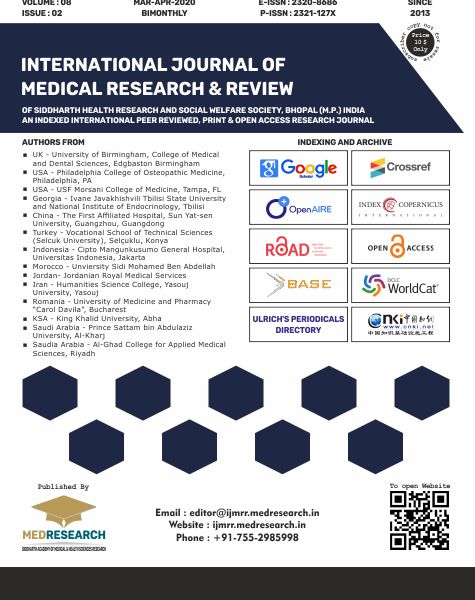 How to Cite
1.
Singh V, Kaur Bagga P, Singh B, Jaideep. Application of Thyroid Peroxidase (TPO) and Hector Battifora Mesothelial-1 (HBME-1) immunohistochemical markers in the diagnosis of papillary thyroid carcinoma of the thyroid. Int J Med Res Rev [Internet]. 2020Feb.29 [cited 2020Apr.5];8(1):110-7. Available from: https://ijmrr.medresearch.in/index.php/ijmrr/article/view/1111