A single-centre experience of scrub typhus in a tertiary care centre - a re-emerging infection
Dr. Debananda Sahoo

Assistant Professor, Department of Internal Medicine, AIIMS, Bhubaneswar, Odisha, India

Dr. Debasish Maikap

Senior Resident, Department of Rheumatology, KIMS, Bhubaneswar, Odisha, India

Dr. Lalatendu Mohanty

Professor, Department of Internal Medicine, KIMS, Bhubaneswar, Odisha, India

Dr. Shubhransu Patro

Professor, Department of Internal Medicine, KIMS, Bhubaneswar, Odisha, India

Dr. Sudhansu Sekhar Panda

Professor, Department of Internal Medicine, KIMS, Bhubaneswar, Odisha, India

Dr. Ambika Prasad Mohanty

Professor, Department of Internal Medicine, KIMS, Bhubaneswar, Odisha, India
Keywords:
Scrub Typhus, Eschar, Orientia tsutsugamushi, Acute febrile illness
Abstract
Background: Scrub typhus is a documented disease in Himachal Pradesh, but there have been few clinico-epidemiological studies in this area. The present study is done with IgM ELISA as a diagnostic test which has higher sensitivity and specificity as most of the previous studies had used Weil Felix test as a diagnostic test.
Methodology: This was a prospective observational study. All the patients more than 18 years of age with positive IgM ELISA for scrub typhus with/without eschar were included. The clinical profile was observed. IgM scrub typhus was done by ELISA.
Results: Total of 39 patients were observed between July 2016 to Dec 2016. Maximum patients were observed in August, September, and October. Fever with Headache was the most common presenting complaint. Eschar was present in 10 % patients. Complications were seen in 76.92 %. The mortality rate was 0 %.
Conclusion: The varied presentations and high rate of complications require a high index of suspicion for Scrub Typhus. The general physicians should be sensitized for the early diagnosis and treatment to reduce morbidity and mortality.
Downloads
Download data is not yet available.
References
Vivekanandan M, Mani A, Priya YS, Singh AP, Jayakumar S, Purty S. Outbreak of scrub typhus in Pondicherry. J Assoc Physicians India. 2010;58:24-28. pmid:20649095
Jayaprakash V, Vamsikrishna M, Indhumathi E, Jayakumar M. Scrub typhus-associated acute kidney injury: A study from a South Indian Tertiary Care Hospital. Saudi J Kid Dis Transplantat. 2019;30(4):883-890. Available from: http://www.sjkdt.org/text.asp?2019/30/4/883/265464.
Mathai E, Lloyd G, Cherian T, Abraham O. C., Cherian A. M. Serological evidence for the continued presence of human rickettsioses in southern India. Ann Trop Med Parasitol. 2001;95(4):395-398. doi: https://doi.org/10.1080/00034980120065804.
Varghese G, Abraham O, Mathai D, Thomas K, Aaron R, Kanitha M, et al. Scrub typhus among hospitalised patients with febrile illness in South India: Magnitude and clinical predictors. J Infect. 2006;52(1):56-60. doi: https://doi.org/10.1016/j.jinf.2005.02.001.
Kamarasu K, Malathi M, Rajagopal V, Subramani K, Jagadeeshramasamy D, Mathai E. Serological evidence for wide distribution of spotted fevers and typhus fever in Tamil Nadu. Indian J Med Res. 2007;126(2):128-130. pmid:17932437
Mahajan SK, Rolain J-M, Sankhyan N, Kaushal RK, Raoult D. Pediatric scrub typhus in Indian Himalayas. Indian J Pediatr. 2008;75(9):947-949. doi: https://doi.org/10.1007/s12098-008-0198-z.
Somashekar HR, Moses PD, Pavithran S, Mathew LG, Agarwal I, Rolain JM, et al. Magnitude and features of scrub typhus and spotted fever in children in India. J Trop Pediatr. 2006;52(3):228-229. doi: https://doi.org/10.1093/tropej/fmi096.
Ittyachen AM. Emerging infections in Kerala: a case of scrub typhus. Natl Med J India. 2009;22(6):333-334.
Sharma A, Mahajan S, Gupta ML, Kanga A, Sharma V. Investigation of an outbreak of scrub typhus in the himalayan region of India. JPN J Infect Dis. 2005;58(4):208-210.
Jang MO, Jang HC, Kim UJ, Ahn JH, Kang SJ, Jung SI, et al. Outcome of intravenous azithromycin therapy in patients with complicated scrub typhus compared with that of doxycycline therapy using propensity-matched analysis. Antimicrob Agents Chemother. 2014;58(3):1488-1493. doi: https://doi.org/10.1128/AAC.01996-13.
Narvencar KP, Rodrigues S, Nevrekar RP, Dias L, Dias, L, et al. Scrub typhus in patients reporting with acute febrile illness at a tertiary health care institution in Goa. Indian J Med Res. 2012;136(6):1020-1024.
Dass R, Deka NM, Duwarah SG, Barman H, Hoque R, Mili D, et al. Characteristics of pediatric scrub typhus during an outbreak in the North Eastern region of India: Peculiarities in clinical presentation, laboratory findings and complications. Indian J Pediatr. 2011;78(11):1365 1370. doi: https://doi.org/10.1007/s12098-011-0470-5.
Rathi NB, Rathi AN, Goodman MH, et al. Rickettsial diseases in central India: proposed clinical scoring systemfor early detection of spotted fever. Indian Pediatr. 2011;48:867-872.
Vikrant S, Dheer SK, Parashar A, Gupta D, Thakur S, Sharma A, et al. Scrub typhus associated acute kidney injury—a study from a tertiary care hospital from western Himalayan state of India. Renal Fail. 2013;35(10):1338-1343. doi: https://doi.org/10.3109/0886022X.2013.828257.
Sirisanthana V, Puthanakit T, Sirisanthana T. Epidemiologic, clinical andlaboratory features of scrub typhus in thirty Thai children. Pediatr Infect Dis J. 2003;22(4):341-345.
Jim WT, Chiu NC, Chan WT, Ho CS, Chang JH, Huang SY, et al. Clinical manifestations, laboratory findings and complications of pediatric scrub typhus in eastern Taiwan. Pediatr Neonatol. 2009;50(3):96-101. doi: https://doi.org/10.1016/S1875-9572(09)60043-7.
Khan SA, Dutta P, Khan AM, Topno R, Borah J, Chowdhury P, et al. Re-emergence of scrub typhus in Northeast India. Int J Infect Dis. 2012;16(12):e889-e890. doi: https://doi.org/10.1016/j.ijid.2012.05.1030.
Mahajan SK, Rolain JM, Kashyap R, Bakshi D, Sharma V, Prasher BS et al. Scrub typhus in Himalayas. Emerg Infect Dis. 2006;12(10):1590-1592. doi: https://doi.org/10.3201/eid1210.051697.
Ramyasree A, Kalawat U, Rani ND, Chaudhary A. Seroprevalence of scrub typhus at a tertiary care hospital in Andhra Pradesh. Indian J Med Microbiol. 2015;33(1):68 72. doi: https://doi.org/10.4103/0255-0857.148381.
Varghese GM, Janardhanan J, Trowbridge P, Peter JV, Prakash JA, SathyendraS, et al. Scrub typhus in South India: clinical and laboratory manifestations, genetic variability, and outcome. Int J Infect Dis. 2013;17(11):e981-987.
Mathai E, Rolain JM, Verghese GM, Abraham OC, Mathai D, Mathai M, et al. Outbreak of scrub typhus in Southern India during the cooler months. Ann N Y Acad Sci. 2003;990:359-364. doi: https://doi.org/10.1111/j.1749-6632.2003.tb07391.x.
Stephen S, Kandhakumari G, Pradeep J, Vinithra SM, Pakirsamy K, et al. Scrub typhus in South India: a re-emerging infectious disease. Jap J Infect Dis. 2013;66(6):552-554. doi: https://doi.org/10.7883/yoken.66.552.
Varghese GM, Mathew A, Kumar S, Abraham OC, Trowbridge P, Mathai E. Differential diagnosis of scrub typhus meningitis from bacterial meningitis using clinical and laboratory features. Neurol India. 2013;61(1):17-20. doi: https://doi.org/10.4103/0028-3886.107919.
Kumar K., Saxena V.K., Thomas T.G., and Lal S. Outbreak investigation of scrub typhus in Himachal Pradesh (India). J Commun Dis. 2004;36(4):277-283.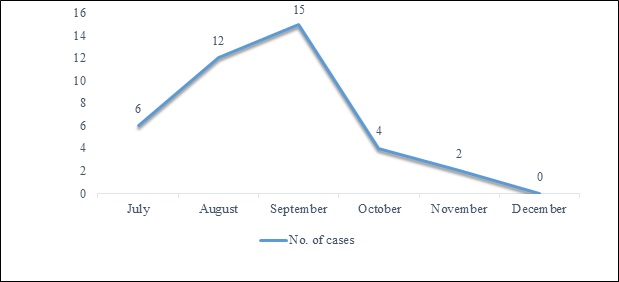 CITATION
DOI: 10.17511/ijmrr.2020.i01.09
How to Cite
1.
Sahoo D, Maikap D, Mohanty L, Patro S, Panda S, Mohanty A. A single-centre experience of scrub typhus in a tertiary care centre - a re-emerging infection. Int J Med Res Rev [Internet]. 2020Feb.13 [cited 2023Dec.2];8(1):57-2. Available from: https://ijmrr.medresearch.in/index.php/ijmrr/article/view/1101